5 Reddit Stocks To Buy in 2021
The popular choice for those who want to stay informed is Reddit stocks to buy. Although Reddit is not the only platform you should find penny stocks to buy, but it is a great platform for discovering trending stocks. During the pandemic, there are more and more people going online than the previous years.
People have come together on several Subreddits like r/RedditPennyStocks and r/WallStreetBets to discuss which companies are worth buying. This was the main cause of the surge seen in AMC and GME stocks several months ago, and it is now true for other stocks, especially the trending ones.
One thing you need to keep in mind is that penny stocks can be very volatile. But, when you combine the social media aspect, you will then see them become even more volatile. Investors should keep this in mind and use it to their advantage when they can. So, with all this in mind, let us check out five Reddit penny stocks to buy.
Clover Health Investments Corp (NASDAQ: CLOV)
MediciNova Inc. (NASDAQ: MNOV)
AMC Entertainment Holdings Inc (NYSE: AMC)
Sphere 3D Corp. (NASDAQ: ANY)
GEO Group (NYSE:GEO)
Clover Health Investments Corp (NASDAQ: CLOV)
Clover Health is a next-generation risk organization. Its primary mission is to achieve health equity for all Americans. The company's mission is focused on seniors who have lacked the finances or access to affordable quality healthcare.
The company provides great care, with a business model built around improving medical outcomes and lowering avoidable costs. The company's platform is called Clover Assistant, aggregating patient data from the health ecosystem to support the clinical decision-making process effectively.
Clover Health will double its geographical footprint. The expansion will bring Clover Medicare Advantage plans to individuals throughout 209 countries across nine states. This expansion is currently subject to approval by CMS.
Medicare Advantage Plans currently cover 108 countries, serving 66,3000 members. With the expansion, the company will have an additional 101 countries.
Andrew Toy, the president of Clover Health, commented that it would allow more seniors to access Clover's high-value plans, even in rural areas. The company believes that empowering the wide network of physicians with Clover Assistant will enhance quality care with lower medical costs.
The company will continue to expand its plans to eligible in the underserved communities.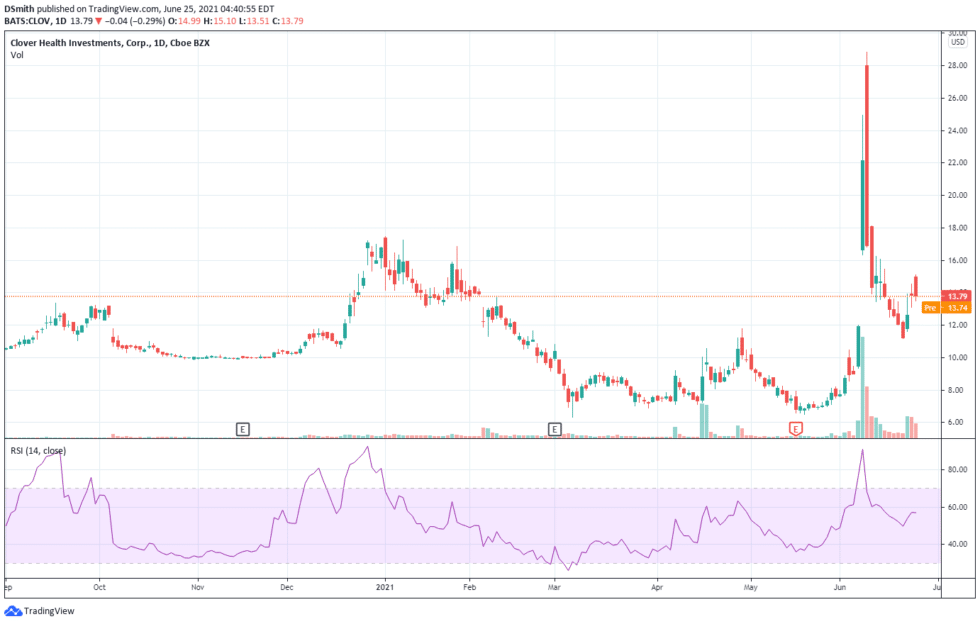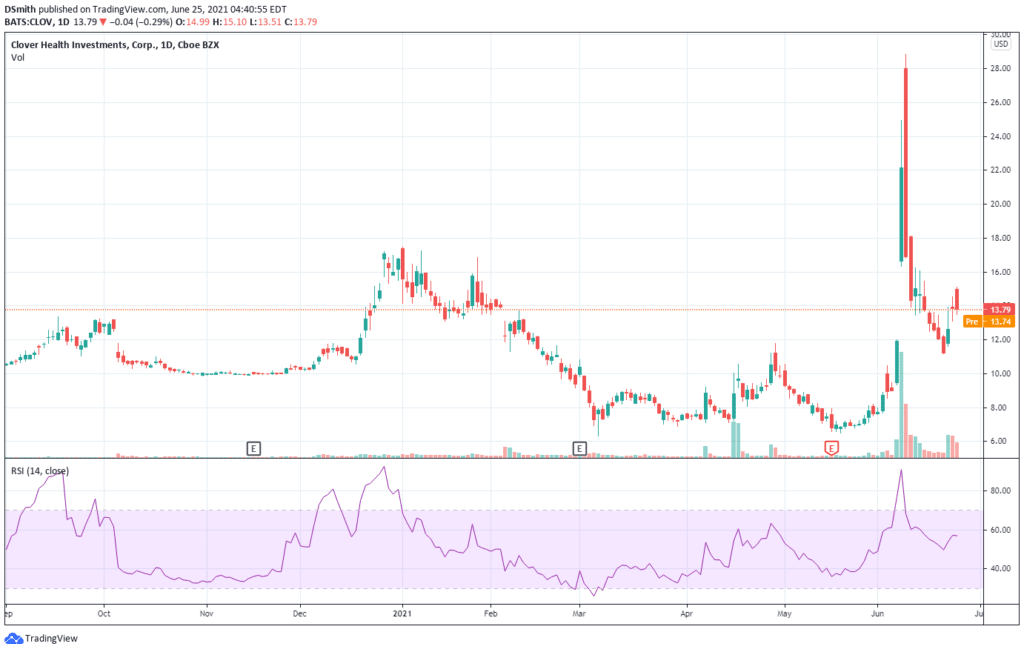 When looking at the CLOV chart, we can see the buying frenzy that occurred right after earnings from the middle of May to June 9, 2021.
Consequently, the stock fell from $29 to $11.09. The stock is currently priced at $13.79. The question is will we witness another surge in price moving forward? Did CLOV make it onto your watchlist, and is the company worth more research?
MediciNova Inc. (NASDAQ: MNOV)
MediciNova is a clinical-stage biopharmaceutical company. They develop innovative late-stage pipelines of small molecule therapies, treating inflammatory, fibrotic, and neurodegenerative diseases. Currently, the company has 11 programs in clinical development. They include MN-166 (ibudilast), a phase 3 for amyotrophic lateral sclerosis. And degenerative cervical myelopathy, a phase 3 ready for multiple sclerosis.
MediciNova announced positive results for the Phase 2 trial of MN-166 (ibudilast) for alcohol abuse disorder. The compound was tested for several effects, including mood, neural reward signals, and heavy drinking.
Ibudilast's overall results show a positive effect on patients, resulting in a reduction in heavy drinking. The company believes that the study's positive results have increased the company's valuation from $26.50 to $28.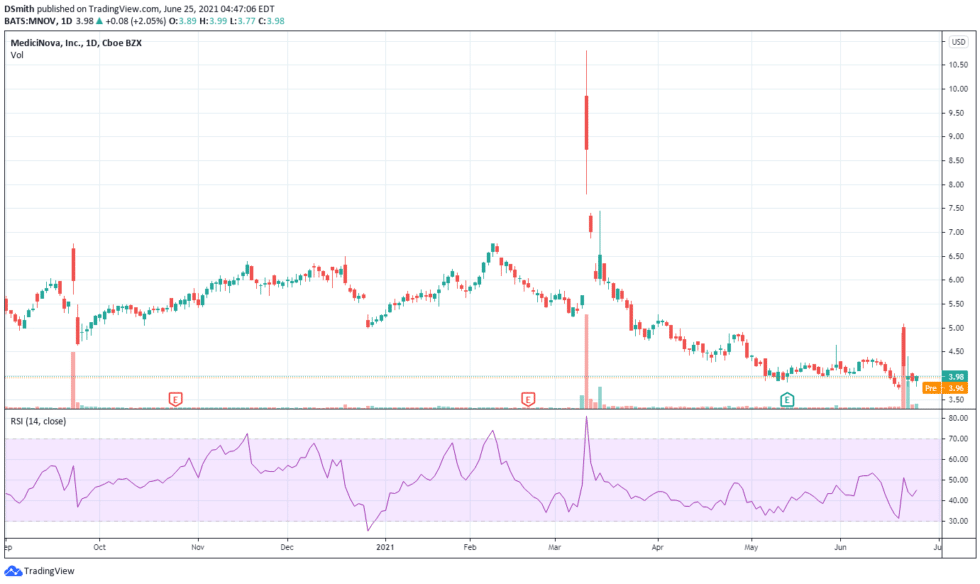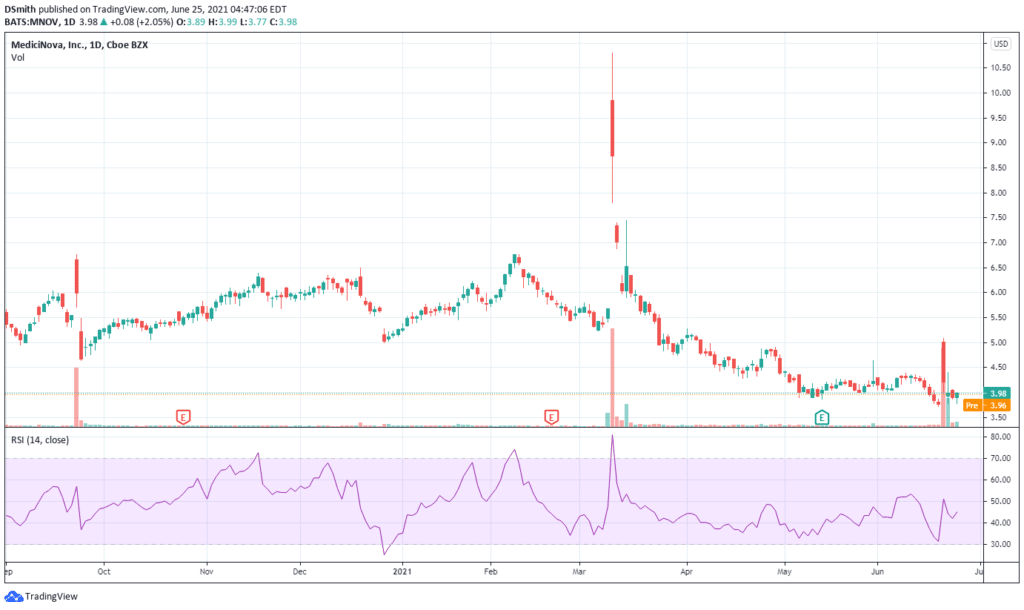 When you look at the MNOV chart, you can see the huge surge in price on March 10, 2021. Prices surged from $5 to $10 within a few days. After that, the price came down hard, reaching roughly $4. We can see prices ranging from the beginning of May to the current prices of $3.98. Is there more upside potential in this stock? Is MNOV worth further research?
AMC Entertainment Holdings Inc (NYSE: AMC)
AMC Entertainment, through its subsidiaries, is involved in theatrical exhibitions. The company owns and operates theatres.
Back on March 12, 2021, it operated roughly 1000 theatres and a whopping 10,700 screens throughout the U.S and Globally.
AMC Entertainment witnessed a roller coaster year. The pandemic closures sent the stock plummeting. But currently, it is making a comeback due to the retail investors on social media. We witnessed prices rising from $3 to $60 at the start of June.
Even though the stock has dipped, investors are still wondering if they can still cash in.
If investors move on to another stock, AMC's share price will be determined by the company's actual value. And their declines may not be a swift as their assets. Indeed, the majority of meme stocks will eventually see falling prices again.
It is not possible to say whether AMC's stock has peaked or if it still has further to go. It is possibly not the wisest investment at this time; even the executives are telling you this.
Overall, it is best to focus on companies with strong business models and advantages to become market leaders. It could be brand recognition, a unique product, making the company continually profitable.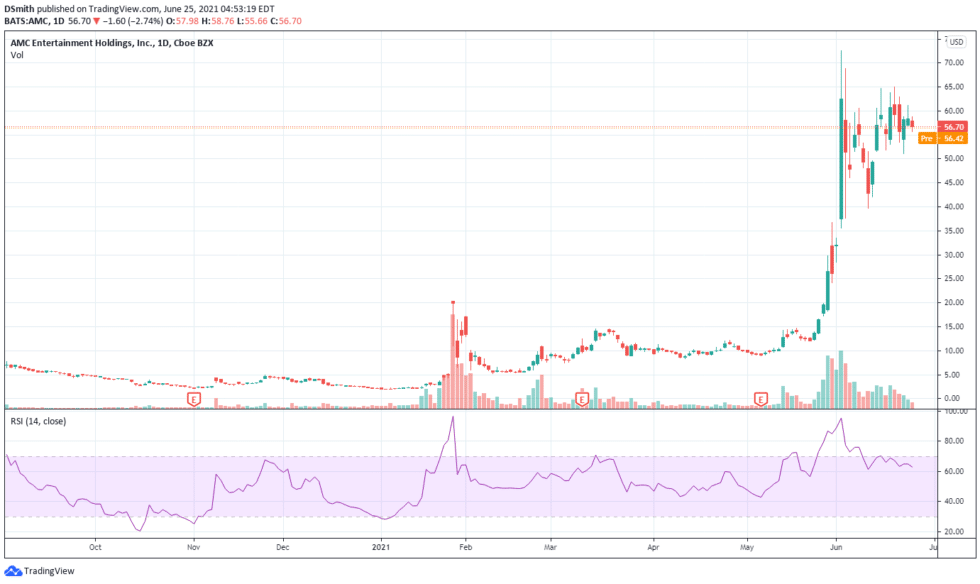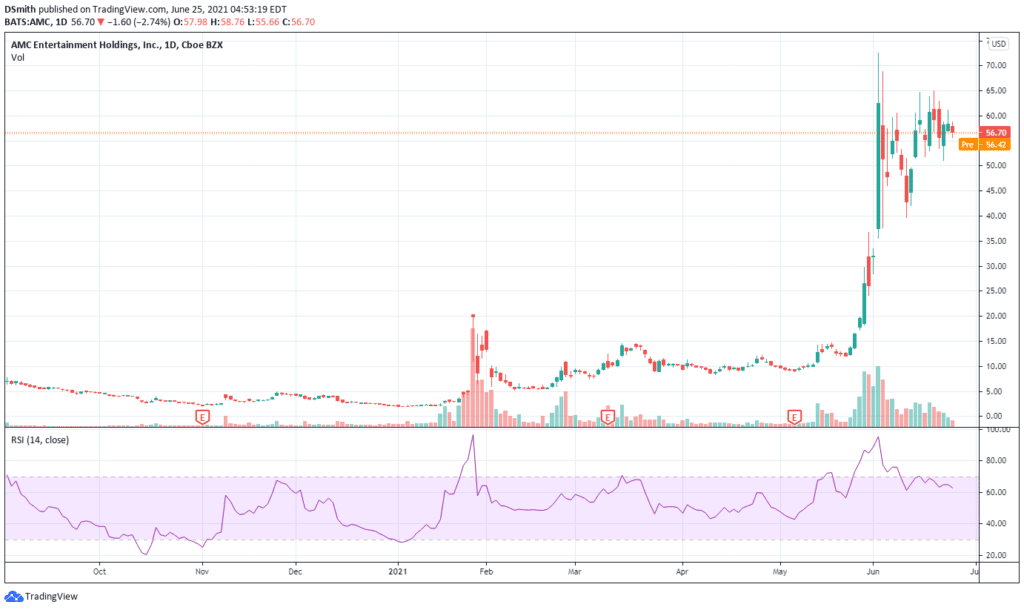 Looking at the AMC chart, you can see the meteoric rise from May 21 at $12.92 to June 2 at $72, all within a few days. Prices now seem to be correcting, demonstrating a flag-like pattern or possible triangle. Prices are currently at $56.70. Could there be another surge in price to the upside? Did AMC make it onto your watchlist?
Sphere 3D Corp. (NASDAQ: ANY)
Sphere 3D has an impressive portfolio of brands including, SnapServer®, HVE ConneXions, and UCX ConneXions. The company is dedicated to helping customers in achieving their IT goals.
Sphere 3D announced a merger with a private company focused on mining bitcoin with renewable energy. Upon completion, the company will change its name to Gryphon Digital Mining Inc. The company will expand the mining operations, using Sphere 3D's enterprise solutions to optimize the process.
Peter Tassiopoulos, the CEO, commented that Gryphon's focus on using renewable energy would set the bar for mining companies in the future. The company has been engineering GPU-based systems for several years, and we will aim to enhance the operations of Gryphon. Sphere 3D believes that the merger will create meaningful value to shareholders.
Rob Chang from Gryphon commented that they are excited about the partnership and their public listing on Nasdaq. The company will look forward to expanding its operations in their large-scale renewable, cryptocurrency mining solutions. The entry onto Nasdaq will increase visibility to continue its strategic vision.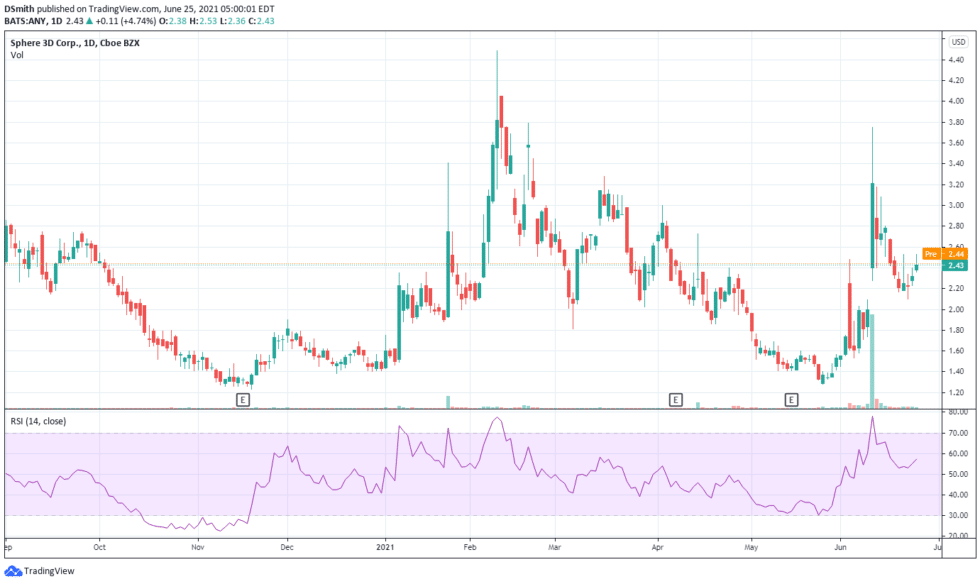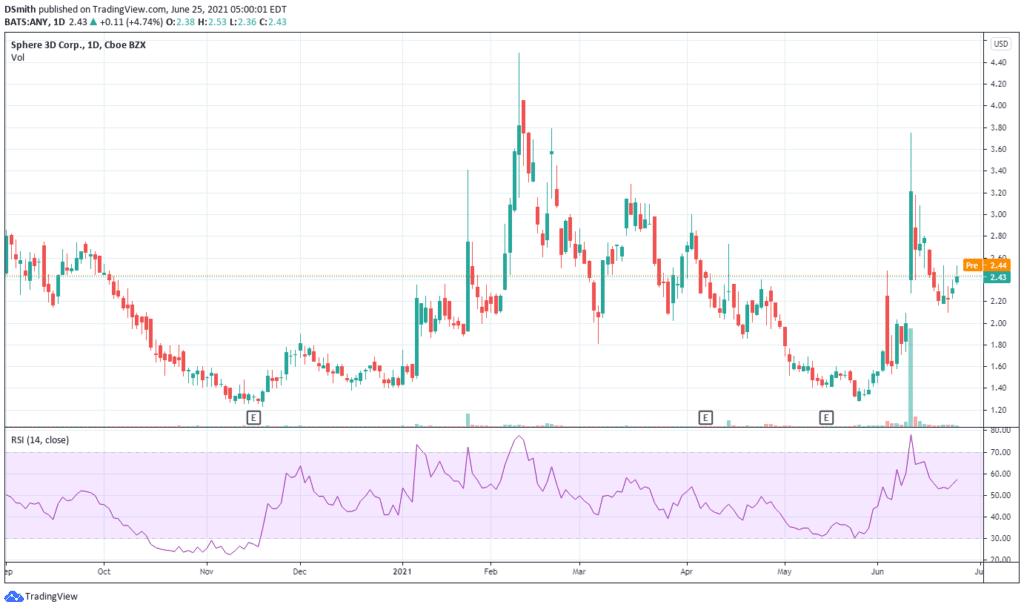 Looking at the ANY chart, we can see prices rising from May 25 to June 10, 2021. Prices increased from $1.32 to $3.76 right after earnings. If you look at the volume, you can see a spike in buying pressure on June 10. Prices are now taking a pause and at $2.43. Is it a dip for a further rally to the upside? Do you think ANY is worth investigating?
GEO Group (NYSE:GEO)
GEO Group is the first fully integrated real estate investment trust. The company specializes in financing, design, development, and operations throughout the United States, Australia, United Kingdom, and South Africa.
Geo is a leader in monitoring, enhanced in-custody rehabilitation, community-based programs, and more. The company's worldwide operations include management and ownership of 123 facilities, with a workforce of roughly 23,000 professionals.
At the beginning of June, GEO Group shares rose by 11%, as the Reddit followers latched onto it. It is yet another stock that has been heavily sold short.
It is true investors have adopted the GEO Group as the next meme stock.
GEO is not in danger of going out of business anytime soon. The company is structured as a real estate investment trust. But the company can survive, and maybe GEO will reinstate the dividend, but piling onto a stock based on the number of shares being sold, is not the ideal way to invest.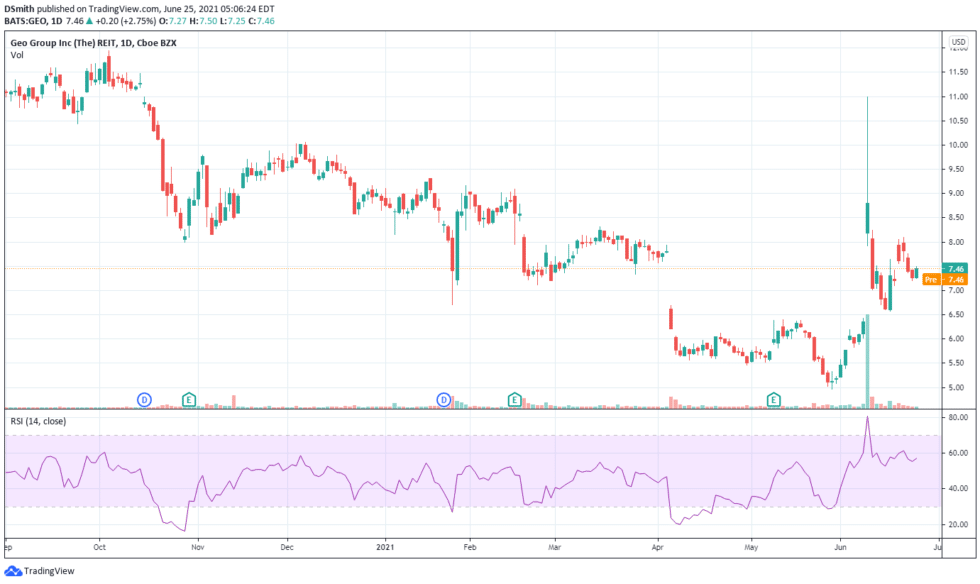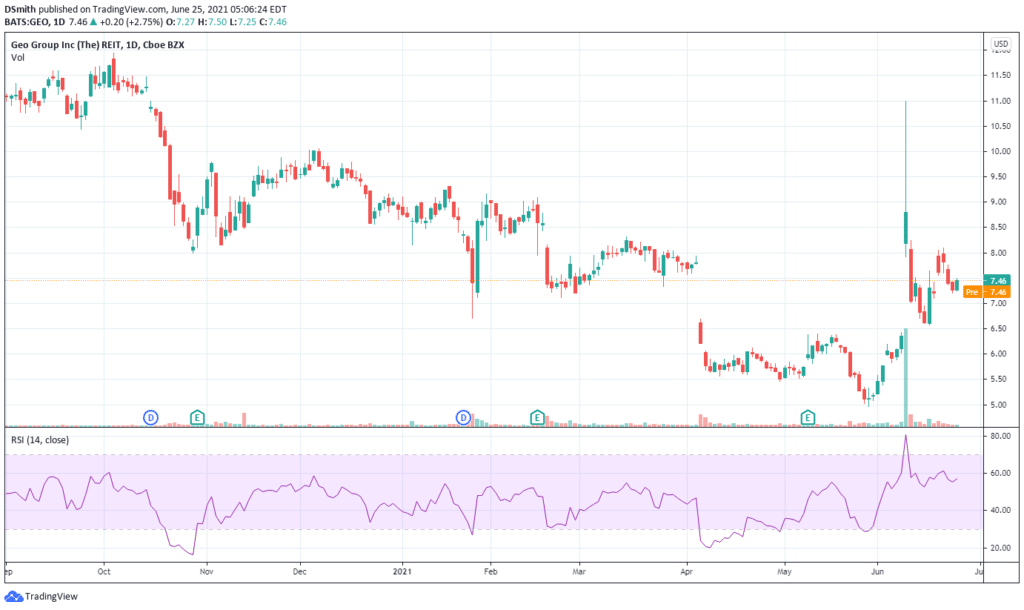 When you look at the GEO chart, you can see the buying pressure from May 27 to June 9. Prices surged from $5 to $11 in a few days, with heavy volume witnessed on June 9, creating a sizeable gap up. Price consequently came back and closed the gap and is now at $7.46.
Is this a correction indicating further upside potential? Did GEO make it to your watchlist, and could this be an interesting stock to watch?
Conclusion
Finding Reddit stocks to buy can often be a challenge. You have hundreds of stocks to choose from. Throughout social media, you can see a variety of penny stocks being discussed daily.
While building a list of Reddit stocks to buy can often be a great option, investors should be prepared to utilize their research before jumping in. All this into consideration, which Reddit penny stocks to buy are you watching now?