Are you looking for mining penny stocks? Let's look at 4 penny stocks.
4 Mining Penny Stocks To Add To Your Watchlist
Investors will normally turn to mining penny stocks to avoid economic or political turmoil. But recently, more traders have been turning to these stocks because of their growth potential. The mining sector and penny stocks within it have a lot to offer. Some of these companies exist within the mining industry.
These can include pure-play mining penny stocks that mine metal ore. Or it could be companies involved in mining equipment production or recycling of metal.
In only one year, the SPDR and S&P metals and Mining ETF (NYSE: XME) returned 136%. If you compare it to the Russel 1000, it returned 48% for the same period. The figures represent ETF March levels.
Investors looking for value in the mining industry should first decide on the area they wish to invest in. Many companies are operating in precious metals, including gold and silver. These stocks are historically more stable than other metals and are often used as a haven. There are also several stocks mining everything from battery production to rare earth metals. All of these niches could hold value, but it will ultimately depend on your trading goals. Considering these factors, here are some mining penny stocks to watch now.
Peabody Energy Corp. (NYSE: BTU)
Peabody Energy is a market leader in coal production and provides essential products to emerging and developed countries. The commitment to their sustainability and activities ultimately shapes the company for the future.
Peabody Energy had a recent surge when their shares increased by 15.4. The jump was due to increased volume when a higher-than-average amount of shares changed hands in just one session.
Peabody Energy has been working hard to improve its balance sheet. The company is positioned to benefit from met coal demand and seaborne thermal. When we recover from the pandemic, it will result in fresh customer demand for the company.
If you consider the high natural gas prices in the U.S resulting from increased usage. Then Peabody has positioned the gain with the thermal coal demands.
The general census for Peabody is a revised EPS of 39.9% higher, and this positive trend on earning rating revision can translate into price appreciation. So, keep an eye on BTU to see if the recent jump can provide more strength in the future.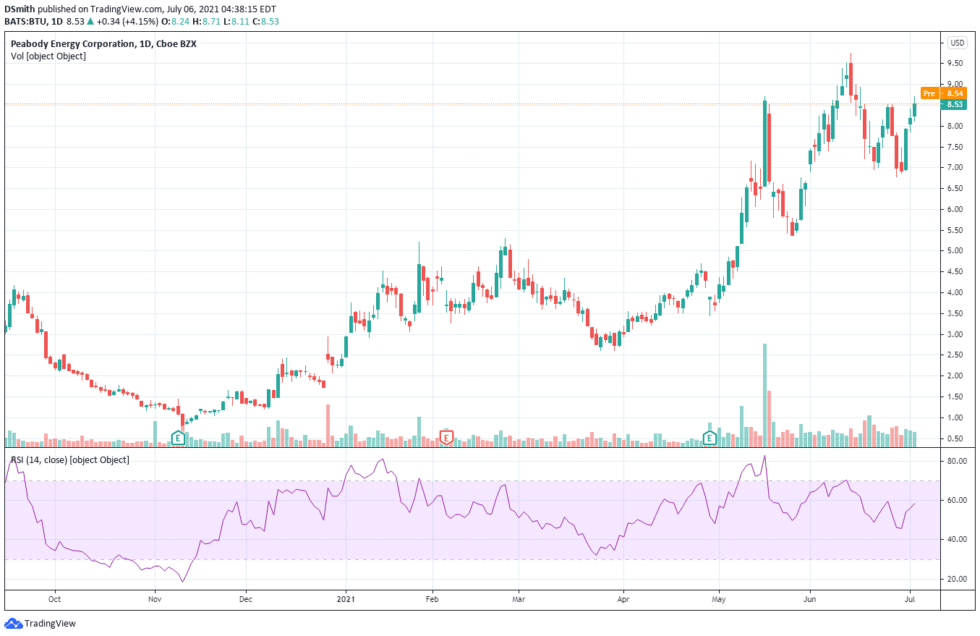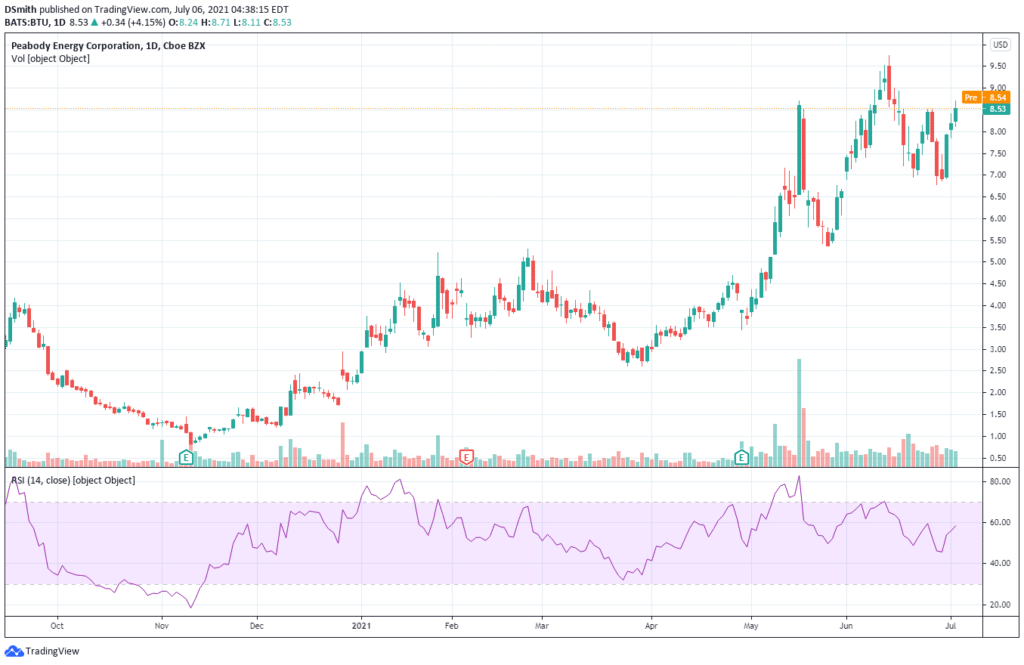 Looking at the BTU chart, you can see prices increase from April right up to now. Prices have increased from around $3 to $8.50 within a short time. When you look at the volume, it is stable, and prices are now trading at $8.53. The question is, is there more upside movement on the horizon for this stock? Did BTU make it onto your watchlist?
Taseko Mines Ltd. (NYSE: TGB)
Taseko Mines is a mining company that develops and operates mineral properties. The company mainly explores gold, copper, and silver deposits.
Currently, it holds 75% interest in the Gibraltar mine situated in British Columbia. Also, it has 100% interest in the Yellowhead copper project and several other projects located in British Columbia and Arizona.
The returns over last year have been strong, with prices surging to 300%. So, investors may not be too concerned about the recent fall. But the real question is, how is the business doing?
Taseko Mines EPS moved from loss to profit over the last year, and the results are a great improvement. So, it is no surprise that the market likes growth. When companies demonstrate these results, it can be a great time to take a closer look.
It is great to see the shareholders being rewarded with 300% over the last year, which implies that the company is doing better and improving its bottom line. The increase could also indicate a real business momentum. Now is time to delve deeper into this stock.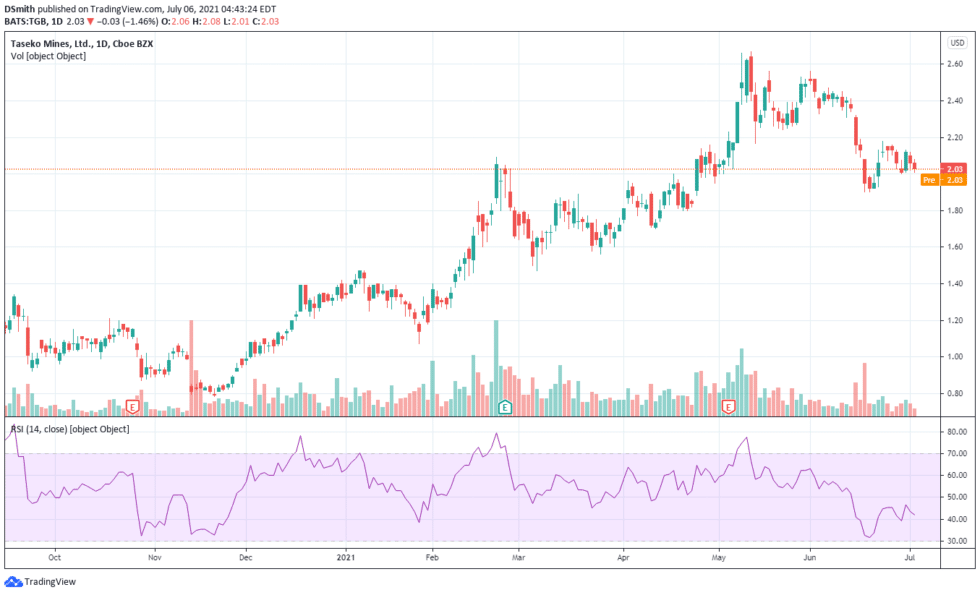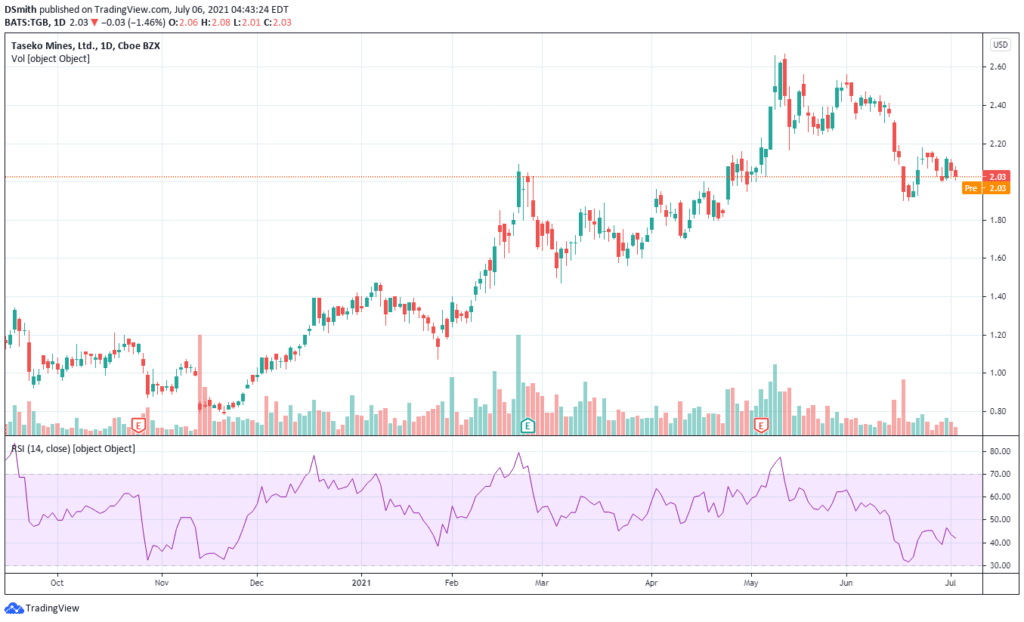 From the beginning of the year, prices increased from $1 to $2.60. Currently, TGB is slowing down and is now trading at $2.03. When you look at the volume, it has been stable. The question is, will we see another surge in price in the coming months? Is TGB a good stock to watch?
Centerra Gold Inc. ( CG.TO)
Centerra Gold is a Canadian-based gold mining company. It mainly focuses on developing, exploring, operating, and acquiring gold properties throughout North America and other markets globally. It is one of the most significant gold producers in Central America, owning three mines including, Mount Milligan Mine in British Columbia and a few more.
Suppose you take a closer look at Centerra Gold. You might discover that it has strong financials, meaning that the stock could potentially see an increase over the long term.
Indeed, the markets often reward companies demonstrating good financials.
Looking at Centerra Gold's ROE, it looks impressive at 21%, compared to the industry average of 15%. For ten years, Centerra has paid dividends, meaning that the company is serious about sharing profits with shareholders.
Overall, the stock's performance has been good, and it is also great to see the company reinvesting its profits at a high rate of return.
Ultimately this has enabled the company to have a good amount of growth in its earnings. Analysts predict that the growth rate may slow down due to the broader expectations of the industry.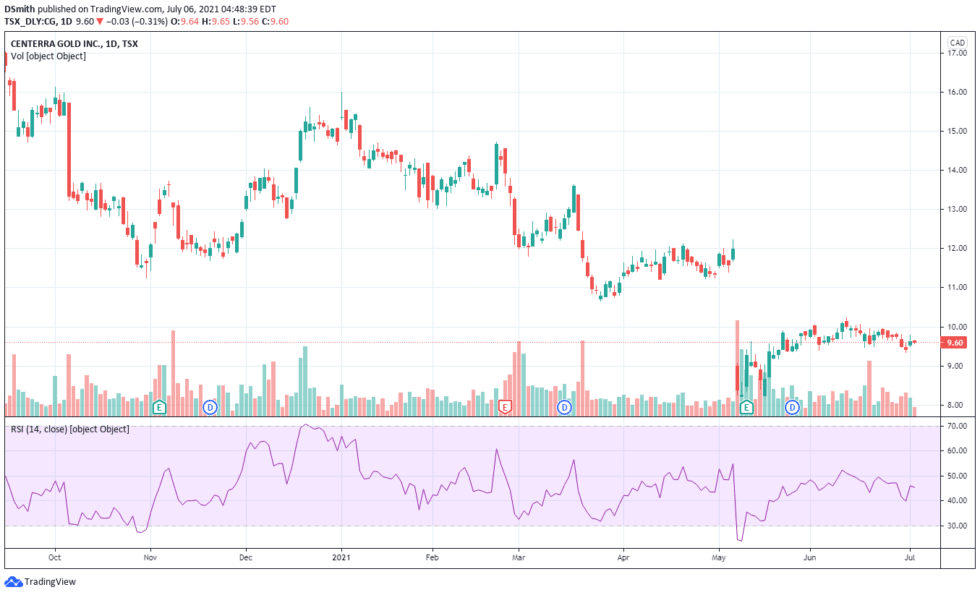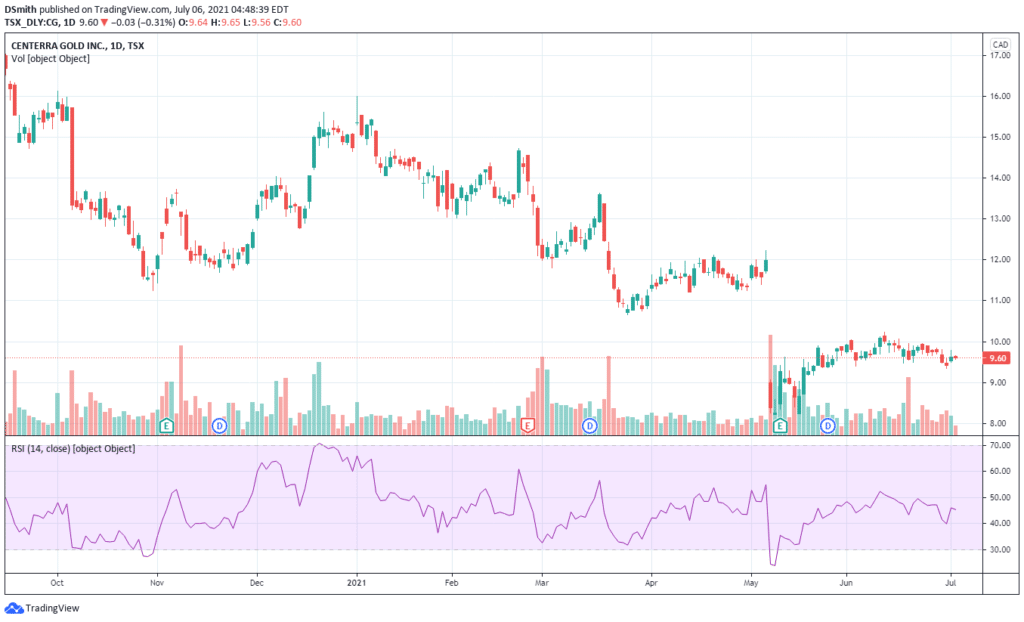 CG's prices have been declining since the start of the year up until recently. Volume has been stable in this stock, and more selling pressure has been witnessed recently. Will CG recover and increase in price within the next few months, or will the price continue to decline? Is CG worth more investigation?
Denison Mines Corp. (NYSE: DNN)
Denison Mines is primarily engaged in uranium development and exploration. The company has interests in northern Saskatchewan and Canada. The company's leading project is the 90% owned Wheeler River Uranium Project, which also happens to be the largest undeveloped project in northern Saskatchewan. Currently, the company has several ownerships in projects and mines.
Recently, Denison Mines soared by 14% back in May, but it performed in line with its peers, all up by the same amount. But Denison is different from its peers because it has the biggest asset, a mine development called Wheeler Project.
Over recent months, we have witnessed the number of uranium companies increase in price due to the strong prices of uranium. These factors probably play a big role in Denison's increase.
Denison has been getting in on the arbitrage and buying its stockpiles of uranium, funded by stock sales, and taking advantage of over a 90% price increase during the first five months of 2021. The stock sales appear to have set the company up for the next 2-years of their uranium stockpile and developments.
Denison's might not be the ideal stock for some investors, given that building a mine can take a long time. However, more aggressive traders will find this stock very interesting. Uranium production will occur in 2024, meaning that it could be the ideal time for uranium demand to pick up. The company is using the market interest in uranium stocks to its advantage. The only thing left for the company to do is make sure the Wheeler project goes smoothly.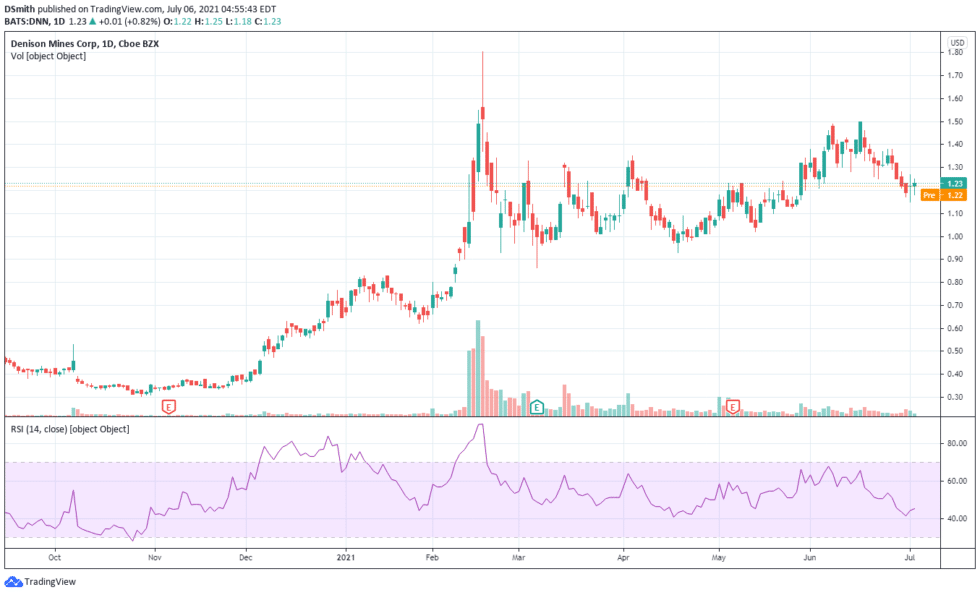 Overall, the performance of DNN has been stable throughout the year. Prices have been trading between $1 and $1.50. Recently sellers have pushed the price to $1.23. The volume has been quite low since February this year. Will buying pressure come in for DNN in the coming months, which will push the prices higher? Is DNN an interesting stock to watch?
Conclusion
There are so many mining penny stocks to discover and research. Investors need to be aware that the gold commodity prices are at their all-time highs.
Some investors would consider this as a safe investment when other markets are not performing as well.
Usually, when investors see the prices crashing in other industries, it could mean an interest in gold-related stocks or mining stocks. So, with this in mind, what mining penny stocks are you watching right now?