Check Out These 4 Stocks Under 50 cents Attracting Attention.
Are You Looking To Trade Cheap Penny Stocks? How Are These 4 Stocks under 50 cents?
Indeed, penny stocks come in all shapes and sizes, and there is something for every type of trader. Whether you are looking for stocks under $5 or searching for stock under 0.10 cents, you can even find some penny stocks under 0.01 cents. But it is always important to keep in mind that the lower the stock price, the higher the volatility.
Often the reasons behind this volatility are simple. Lower prices equal fewer price movements for any significant percentage changes. For example, you have bought some stocks under $5, trading around $4.50.  If the price moves 5 cents, then you have a very nominal change in percentage values.
Often, when it comes to stocks under 50 cents, a 4-cent move can change 40% or more. So, before jumping in, you have to weigh up your risk to reward. Study the market, discover the average volume, and do your research to identify the catalysts driving the stock. Everyone wants to make money quickly, especially when you are dealing with stocks under 50 cents. But with the low prices comes high volatility. Suppose you are a trader who has difficulty dealing with big changes in your portfolio. In that case, you might want to consider stocks that are higher in price.
One of the other factors affecting most penny stocks, especially cheap penny stocks, is their exchanges. The NYSE and Nasdaq offer more penny stocks that institutions often trade. Exchanges can often restrict OTC penny stocks, and brokers often restrict access to certain exchanges, like the OTC markets.
You might find yourself with a high probability of inconsistent liquidity. But not all OTC stocks are bad. So, suppose you are looking for stocks under 50 cents. In that case, it is essential to do your research to spot opportunities and the best trading setups with all these things considered. Let's discover some stocks under 50 cents that are in the spotlight right now.
Surge Energy Inc (OTC: ZPTAF)
Surge Energy explores, develops, and produces oil and gas throughout western Canada. The company holds many interests in various assets, including Greater Swan Lake, Sparky Assets, Shaunavon properties, and many more.
Recently Surge Energy acquired Astra oil Corp for approximately $160 million. Astra expects to generate $58.1 million operating income over the next 12 months. Surge Energy believes that the transaction is an exciting opportunity for the company and its shareholders.
Shareholders in both companies will now have ownership in a sustainable crude oil public company. Furthermore, shareholders will benefit from Surge Energy's dominant position in Sparky crude oil.
It is anticipated that Surge will generate $85 million in 2022. Astra oil does compliment Surge's existing low costs and conventional crude oil assets. They are positioned to be one of the intermediate crude oil companies in Canada.
Additionally, Surge is approaching breakeven, and many investors are keen to know when it will turn a profit. Many analysts following Surge anticipate the company will turn a profit of $78 million in 2022. So, that means that the company will break even a year from now. The average annual growth rate expected is 157%, which is optimistic.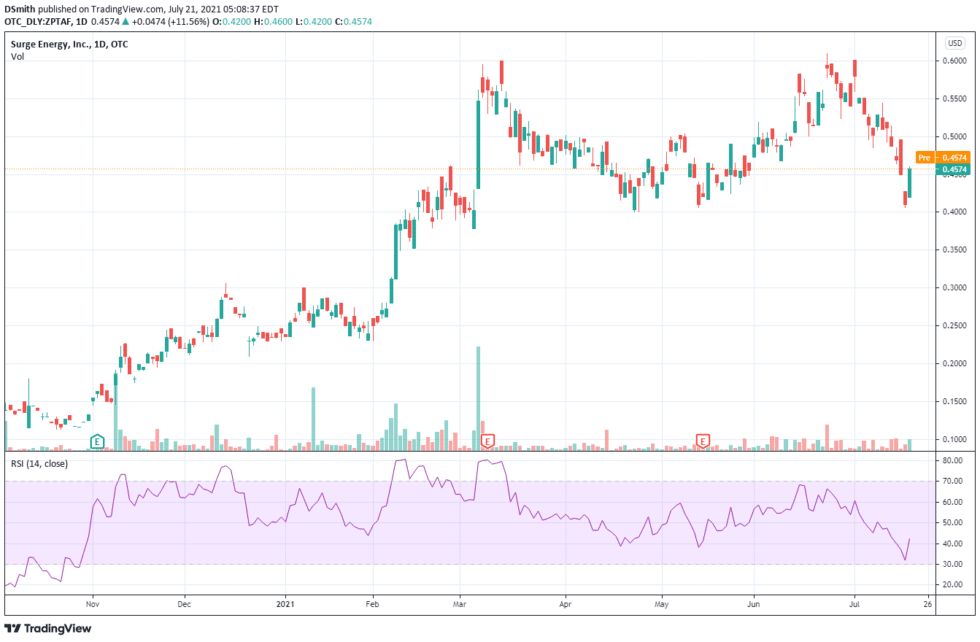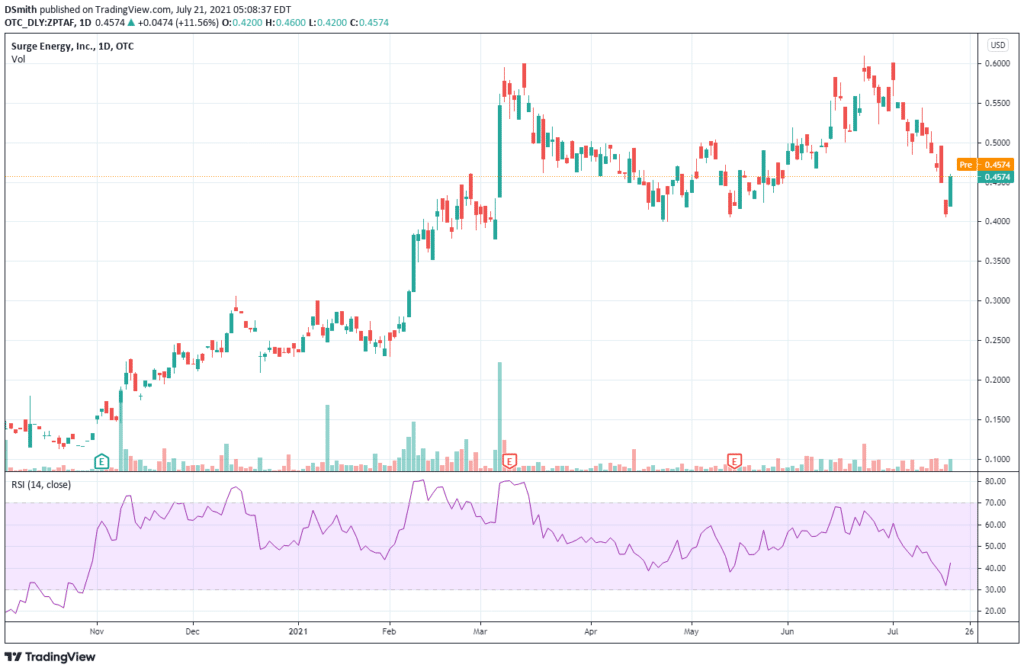 Overall, ZPTAF has been trading steadily throughout the year. Prices have been trading between $0.60 and $0.45. if you look at the volume, it is quite low, although you can witness increased volume on the 4th March, right before earnings. Will prices rise or fall in the coming months? Did ZPTAF make it onto your watchlist?
DarkPulse Inc (OTC: DPLS)
DarkPulse uses advanced laser-based monitoring systems, providing rapid and accurate monitoring of strains and stresses, and temperatures. The company is focused on the sale, installation, and manufacturing of laser sensing systems through its patented BOTDA sensor technology.
Recently DarkPulse signed a teaming agreement with Sursafe LLC who will act as the company's quality assurance auditor and safety support. Sursafe is an integral part of DarkPulse's safety programs, ensuring an incident-free workplace. Sursafe will provide personnel training, ultimately creating a culture of safety in the workplace.
The agreement is critical for DarkPulse. Safety in the workplace is essential for dynamic projects and ensures successful project completion.
Additionally, DarkPulse acquired TerraData, offering a fully integrated, drone-based, and 3d modeled mapping for transportation departments and various industrial applications.
DarkPulse continues to build top-class technology services. They are constantly looking for teams to bring experienced personnel and leading-edge equipment, enabling DarkPulse to operate AI inspection services like land, sea, and air. The acquisition is a game-changer for DarkPulse because of TerraData's experience dealing with the difficult marine environment and providing expert results while eliminating human risk.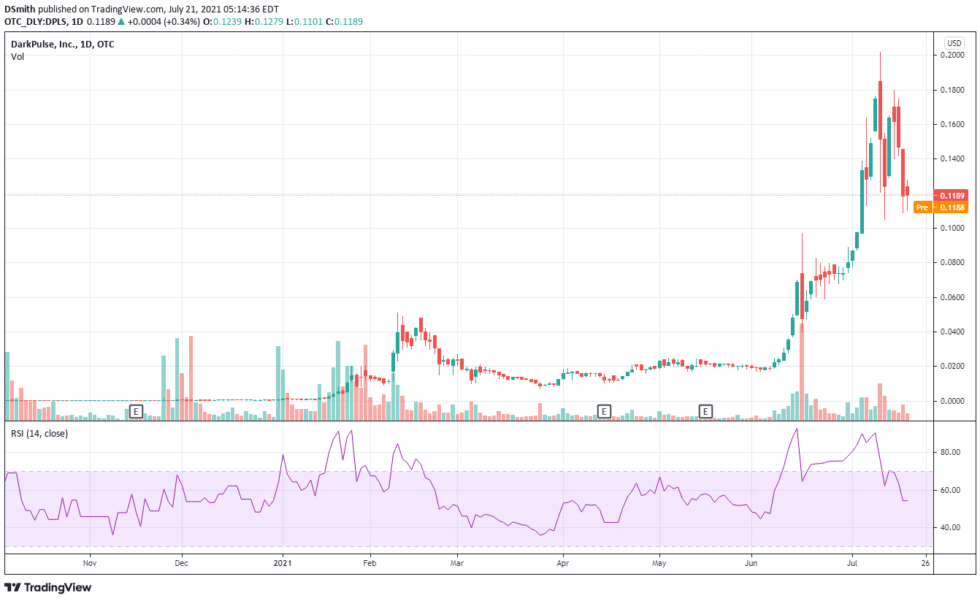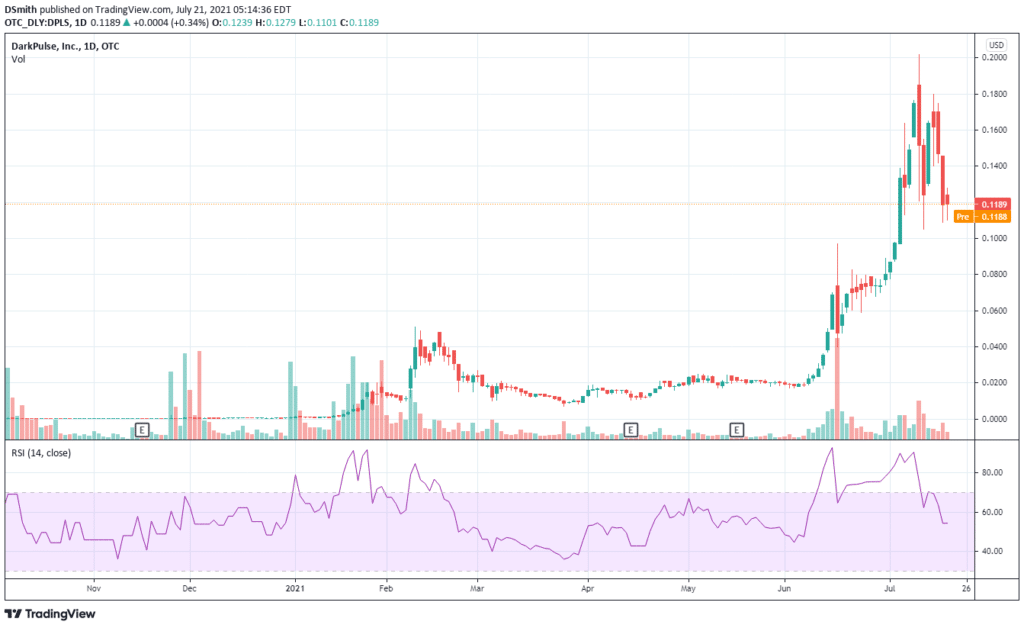 DPLS surged from $0.02 to $0.20 between June and July. Prices are rising, and volume is picking up. Prices reached the overbought reading on the RSI during early July. Prices have now paused and currently trading at $0.11. Will prices continue to rise, or will sellers push the price down further? Did DPLS make it onto your watchlist, and is this stock worth further research?
Majic Wheels Corp. (OTC: MJWL)
Majic Wheels positions itself as a leading player in disruptive industries of software and fintech development and is a Delaware corporation.
Recently Majic Wheels acquired Calfin Global Crypto Exchange. The acquisition is valued at $153.2 million and is a critical milestone for Majic Wheels.
Ultimately, the acquisition will allow Calfin Global Crypto Exchange to expand its reach of blockchain solutions to create a worldwide impact. It will also provide Majic Wheels with the opportunity to expand into significant markets and attract major partners in the future.
Calfin Global Crypto Exchange is currently mining several cryptocurrencies, with its main focus on ETH mining. Calfin Global Crypto Exchange has already completed its proof of concept, with positive results. The planned capacity is for 500 mining rigs. When all the miners are installed, they will run with partially powered renewable energy.
Majic Wheels have congratulated Calfin Global Crypto Exchange on their proof-of-concept reports. The company believes that its strategy will mine the highest yield coins and share the results with its shareholders soon.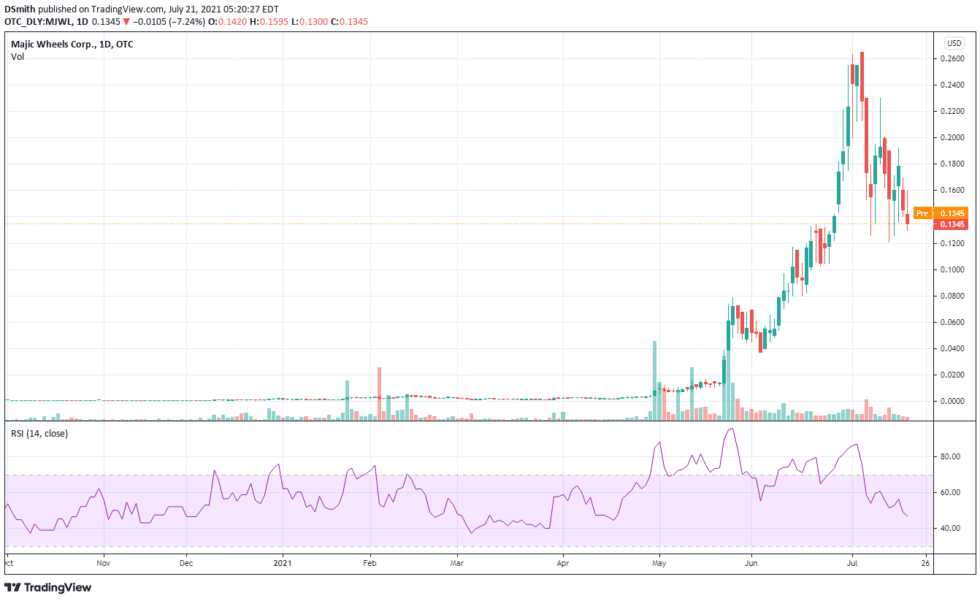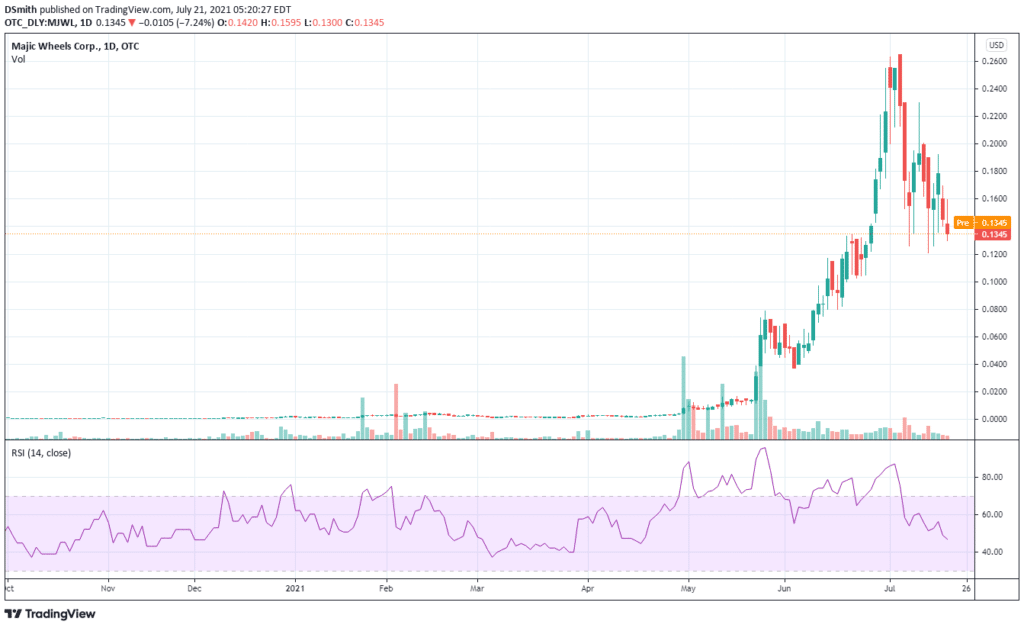 Another interesting chart is MJWL, with prices rising from 0 to $0.26 between May and July. During July, prices reached an overbought area on the RSI and began to sell-off. Volume is relatively low, and prices are now trading at $0.13. Will MJWL resume its uptrend, or will the price continue to sell off? Is MJWL on your watchlist, and is this a stock worth more research?
Trevali Mining Corp (OTC: TREVF)
Trevali Mining is a global base metals mining company. The main revenue stream is generated from base metal mining throughout its four assets. Two of the leading assets include 90% owned Perkoa Mine and the 90% owned Rosh Pinah Mine.
Recently Trevali announced that they appointed David Schummer as the new Chief Operating Officer. David has a vast amount of knowledge and experience with leading large-scale mining companies.
David will be of true value to Trevali, with his global experience in corporate and mining operations. He also has a focus on strong cost performance and asset optimization. David's knowledge of the mining process and progressive approach will be an excellent addition to the company. Ultimately, this will enable Trevali to grow production and enhance shareholder value in the coming months.
Additionally, Trevali announced its 2020 sustainability report, which covers the company's future targets. The sustainability report brings Trevali closer to being one of the world's most sustainable mining companies.
With excellent planning, the team has achieved its sustainability goals for 2020, reducing costs and debt. Trevali will continue to adopt innovative practices and use new technology to achieve net-positive results, both for the environment and shareholders.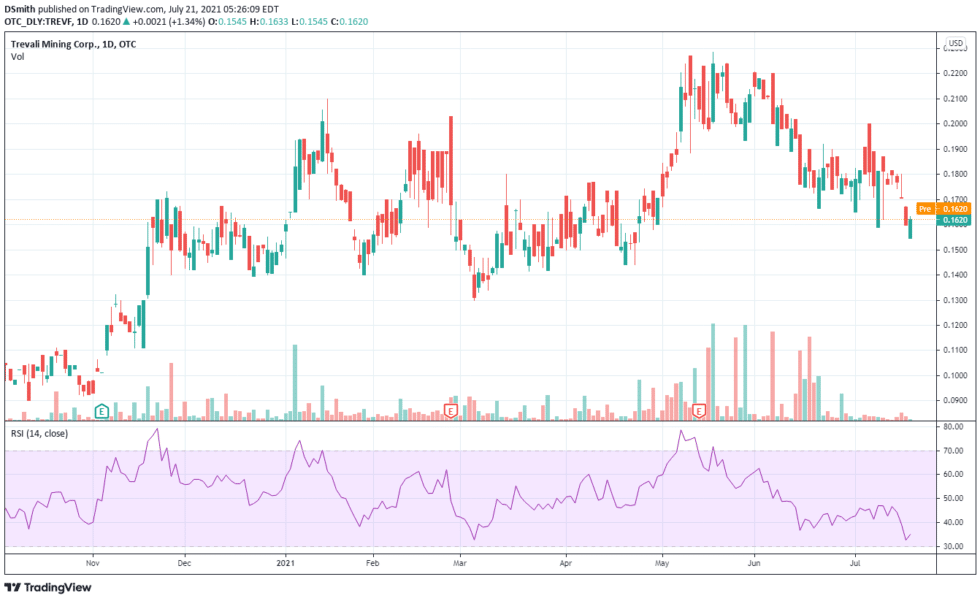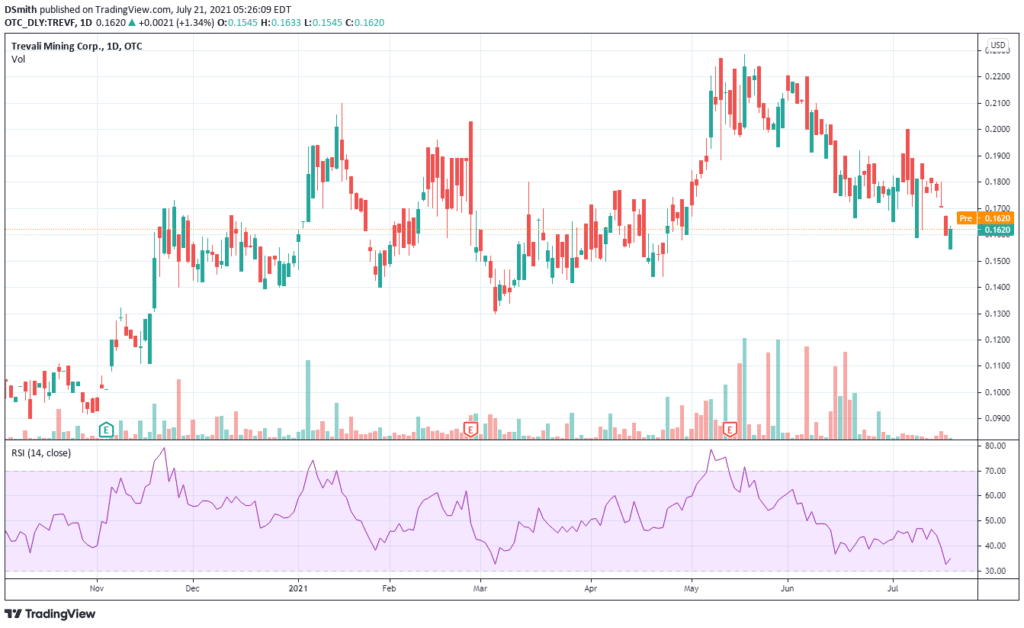 Overall, TREVF has been trading consistently between $0.15 and $0.22 over this year. If you look at volume, there are quite a few volume spikes throughout May and June. Prices are currently trading at $0.16, and the volume is low. Will we see prices rising or falling further in future months? Did TREVF make it onto your watchlist?
Conclusion
There are several reasons why investors buy stocks under 50 cents, often due to thinking that they can't afford to get started. But penny stocks do come with a more accessible price point.
Indeed, investing in penny stocks will not make you wealthy overnight. But if you dedicate the right research and understanding of the markets to make successful trades in stocks under 50 cents.
When looking for a selection of penny stocks, choose those demonstrating high volume, as they are less likely to be volatile. It is good to note when the volume is too low; even one trade affects the stocks price.
When you are looking for stocks under 50 cents, also study the company's financial history. It is good to note that earnings, acquisitions, and other news can send the stock in either direction.
Another good strategy is to look for trading patterns to determine the right time to buy or sell, as the market is very cyclical. You can also use various stocks screeners to scan for stocks that meet your trading criteria. So, with all this in mind, which stocks under 50 cents are you watching now?