Are you looking for EV Penny Stocks To Buy? Here Are 3 Stocks Under $4 To Watch
3 EV Penny Stocks With Momentum Right Now, All Under $4
EV penny stocks have become one of the hottest sectors to trade this year. Given the push by Biden Administration to get the U.S back on track, it makes sense, adopting renewable dependence. Indeed, we are still far away from this, but there are plenty of penny stocks that could ultimately benefit from this.
Ultimately this includes the big names in EV penny stocks and the smaller ones. It is worth noting that many businesses do not work directly in the EV sector, but they will still have exposure to it. EV stocks can include companies like lithium miners, companies producing EV parts, and battery recyclers.
In 2021, making an EV penny stocks list has been easy, with hundreds of names to choose from. However, only a few remain popular, including TESLA (Nasdaq: TSLA), which brings hype to the EV sector. Ultimately, we will see the continued success across the board.
Investors should note that it will take some time because the EV transport system's infrastructure is not up to date yet. But because of this, many businesses are trying to get their share. Considering these factors, here are some EV penny stocks to watch over the coming months.
American Battery Metals Corp. (OTC: ABML)
Electrameccanica Vehicles Corp. (NASDAQ: SOLO)
Ault Global Holdings Inc. (NYSE: DPW)
American Battery Metals Corp. (OTC: ABML)
American Battery Metals is a leader in supplying battery metals through three divisions: battery metal extraction, lithium battery recycling, battery metal extraction, and primary resources. Furthermore, American Battery has built a clean technology platform, increasing the production of primary metals used in batteries, powering electric cars, and various other applications.
Recently American Battery Metals had a mass grading permit approved for their lithium-ion battery recycling pilot plant by Fernley, Nevada. American Battery is now one step closer to site construction work and will immediately submit the Core/shell building permit.
The pilot plant is approximately 1000,000 square feet of building space, including a 60,000-production space. The company is planning to build the plant in two phases.
When the core/shell permit is approved, grading at the site will commence. You can see updates on the progress on the company's website.
Additionally, American Battery Metals purchased a 13.8-acre property in the Tahoe Reno Industrial Center. The center will be used as a battery storage facility, supporting the battery recycling pilot plant.
The purchase of the site is another key milestone for the company towards building the pilot recycling plant. The team is working hard to optimize cost and project efficiencies.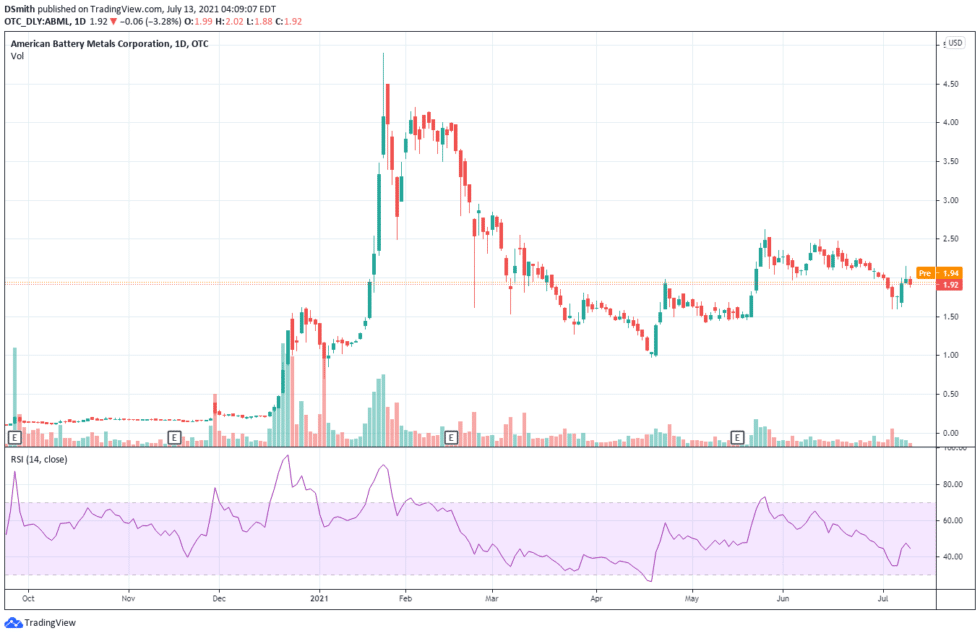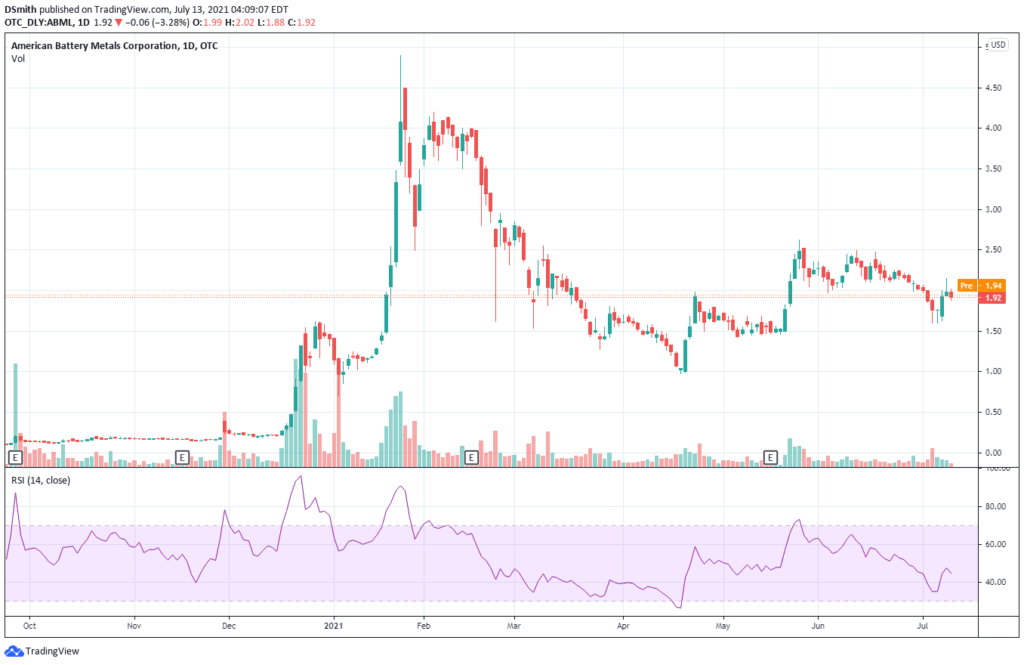 Looking at the chart of ABML, we can see prices running sideways from May. Volume is stable, with neither bulls nor bears in control right now. ABML is currently trading at $1.92, and the question is will buyers step in pushing prices higher? Is ABML worth further research?
Electrameccanica Vehicles Corp. (NASDAQ: SOLO)
Electrameccanica Vehicles has been discussed on our website several times, and it comes to our attention once more.
Electrameccanica Vehicles is a manufacturer and designer of electric vehicles, and their flagship vehicle is called SOLO. This purpose-built single one-seater will revolutionize the driving experience. The company produces a driving experience that is fun, affordable, and environmentally friendly.
Recently The company released its first-quarter results. The company has continued to progress on various initiatives, including increased production, customer-ready designs, and optimizing supply chain management. Electrameccanica plans to scale operations in the coming years with a continued focus on enhancing efficiency and profitability.
Electrameccanica is in a strong financial position, allowing them to invest in long-term growth plans. The company ended the quarter with $260 million in cash, enabling the company to execute initiatives, including expanding production. The company's asset-light approach allowed them to maintain a low-risk profile.
Electrameccanica did have a favorable earnings report, with several analysts raising estimates before the earnings date. It was ultimately an indication of favorable trends for SOLO. The estimates were +25.00% heading into earnings.
A positive reading on Zacks can be a powerful indicator of positive surprises in store. The given stock may outperform the market. SOLO is Zacks Rank #3 with earnings estimates in positive territory.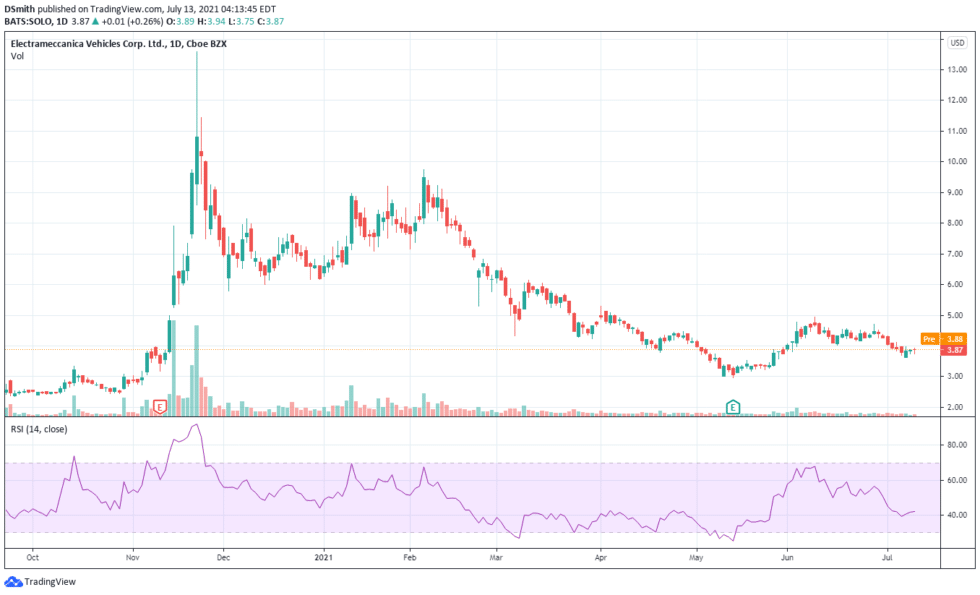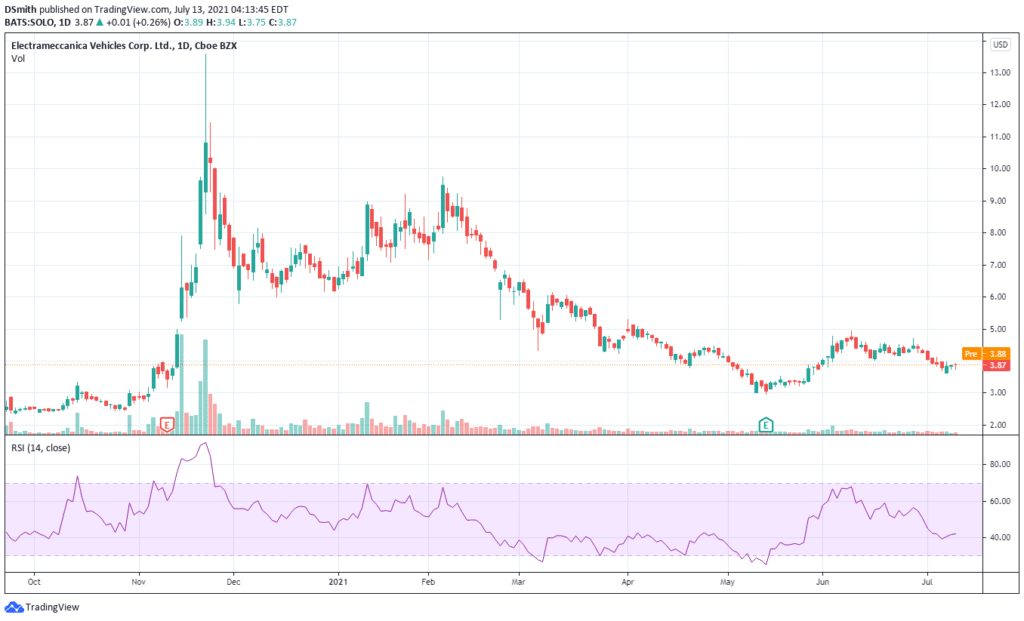 Looking at the SOLO chart, we can see the price decline from February to May. If we look at volume, we can see it's low. SOLO is currently trading at $3.87. The question is, will buyers take an interest to push prices higher in the coming months ultimately? Did SOLO make it onto your watchlist?
Ault Global Holdings Inc. (NYSE: DPW)
Ault Global is a holding company that ultimately pursues growth by acquiring undervalued businesses. The company also provides mission-critical products supporting diverse industries, including industrial, automotive, defense/aerospace, and many more.
Recently Ault Global purchased Adtech Pharma for $3 million. Adtech is an innovative biotech company that has developed a cannabinoid therapeutic targeting glaucoma.
Ault Global is proud to be a partner with Adtech and its experienced team. Ault Global will continue to invest in undervalued businesses and disruptive technologies that have an impact globally.
Additionally, Ault Global hired a new executive vice president, Christopher K. Wu. Ault Global believes that Chris is a great fit for the company. Chris has vast experience in financial restructuring and investment banking. Chris will undertake investment sourcing, business development, strategic planning, and building shareholder value.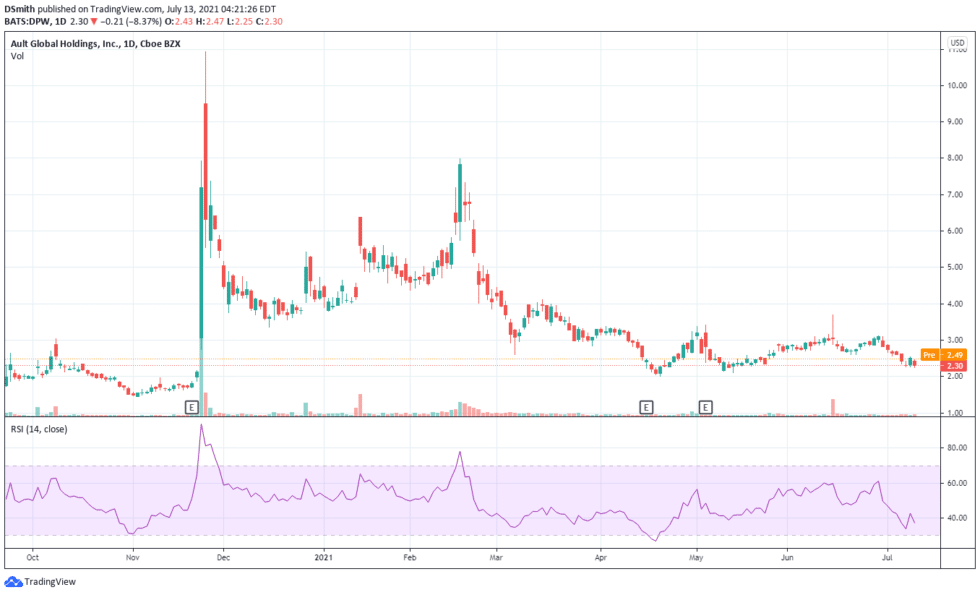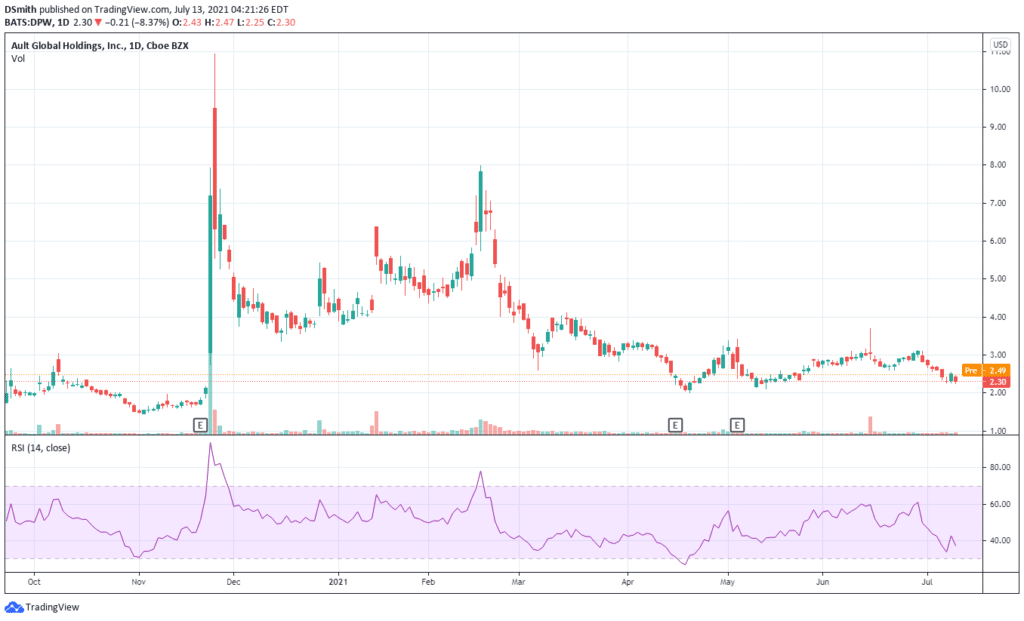 Overall, looking at the DPW chart, we can see prices decline from February to April. DPW has low volume and is currently trading at $2.30, with prices ranging from April till now. The question is, will prices go higher or remain in the range? Did DPW make it onto your watchlist, and is this a stock to research further?
Conclusion
The watchlist should give plenty of ideas on EV penny stocks. At Stock Analyzers, we always look for stocks that have a history running on the news. The above stocks have been running with a real news catalyst, and they also happen to be within a hot sector. So, they don't always need news to run. Often, the EV penny stocks will run in unison with Tesla, and some may run for no reason at all.
Moving into 2021, there are many EV penny stocks to watch. It can include mining companies to EV producers, and much more. Indeed, it is a broad market so that investors can find value in all types of electric vehicle stocks.
The EV market is volatile, but making a list of penny stocks in the EV sector is a great way to prepare for moving forward.
There is ultimately much growth in this sector yet to occur, and electric vehicle stocks will continue to make their mark. With all this in mind, which EV penny stocks are you watching now?