Biotech Penny Stocks To Buy – 3 Stocks Under $5
Biotech Stocks are a popular option; here are three you must watch under $5
Have You Put These Biotech Penny Stocks On Your Watchlist?
Spring has come to an end, and investors are still searching for the best penny stocks to buy. Perhaps you might consider Biotech Stocks Under $5. Whether due to the global pandemic or not, indeed, 2021 has been the year for biotech penny stocks. The pandemic had a negative effect across most industries last year; many of them have now recovered, and some even reached all-time highs. The pandemic has indeed brought biotech penny stocks to the eyes of most investors. The biotech sector has been producing vaccines or treatments for covid, bringing most of these companies into the spotlight. However, companies that are working outside of the pandemic-related sectors have also risen in value.
Increased attention from Covid could be the best explanation for the solid performance of the biotech industry. On April 23rd, the Health Care Select Sector (SPDR Fund XLV) reached record highs of $123.81. It is an indicator of how the sector overall is performing. Because of these record highs, it could indicate overall bullish sentiment.
One of the other reasons that biotech stocks are rising is due to retail investors. It also includes investors buying penny stocks on Robinhood or other brokerages. It is indeed a new phenomenon, but it remains one of the factors to consider. Retail investors tend to prefer more volatile assets, because of the assumed large gains, due to having less capital within their portfolios.
Penny stocks are considerably volatile assets, and the lower the price is, the more volatile it is. But if investors have a good education and tools at their disposal, then using this to your advantage is easy.
Currently, investors are hopeful about the future of the biotech sector, especially if you consider the recent growth already witnessed recently. Covid cases are decreasing, and the distribution of the vaccine is in full swing. You may think this would impact biotech stocks as it shifts attention from them. Still, it has ultimately pushed them higher through most trading sessions.
Biotech Stocks To Add To Your watchlist, All Under $5
Biopharma and healthcare are subsectors of the biotech industry, which will be worth paying attention to.
Indeed, these days you won't get much with $5, but if you want to get the most from your money, then it might be worth investigating biotech stocks under $5. But the main problem is, there are many biotech penny stocks to choose from, and finding one with a promising future is not easy.
So, with this in mind, we have sifted through the bargain bin of biotech's, all under $5. These penny stocks might be worth watching, demonstrating strong exposure within the biotech sector. Are you watching these biotech stocks under $5 now?
Spectrum Pharmaceuticals, Inc (NASDAQ: SPPI)
Spectrum Pharmaceuticals is a biopharmaceutical company. They are focusing on developing, acquiring, and commercializing innovative oncology therapies.
Spectrum has a strong track record in gaining regulatory approvals within the competitive healthcare marketplace. The company's pipeline of products and compounds can transform the company soon.
Spectrum Pharmaceuticals presented Poziotinib Data in Patients with Brain Metastases from their clinical trial (ZENITH20)
CNS metastases are a life-threatening and common complication of metastatic disease found in patients. The results show that clinically meaningful CNS activity of the treatment had been a huge success.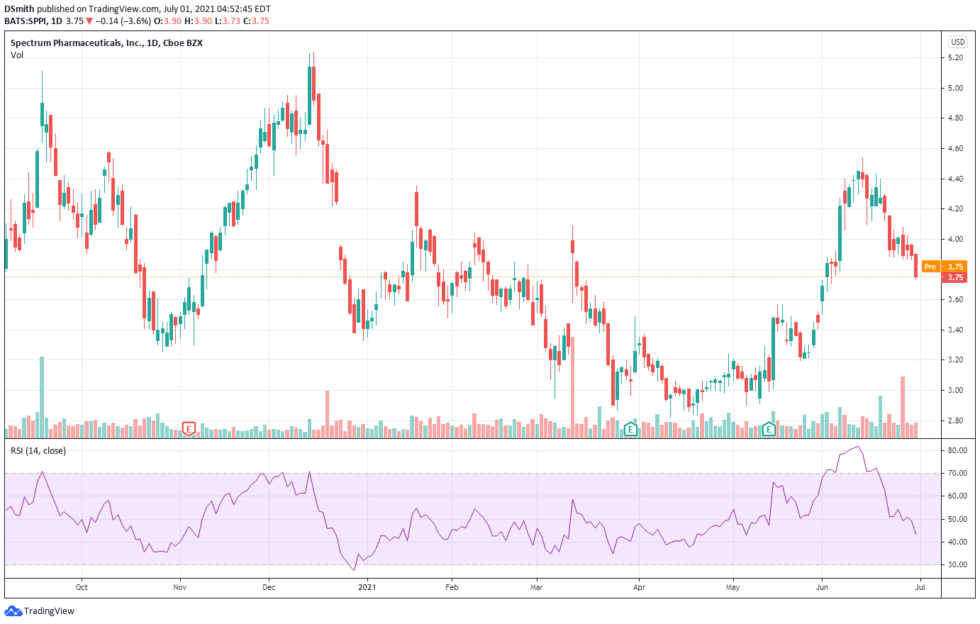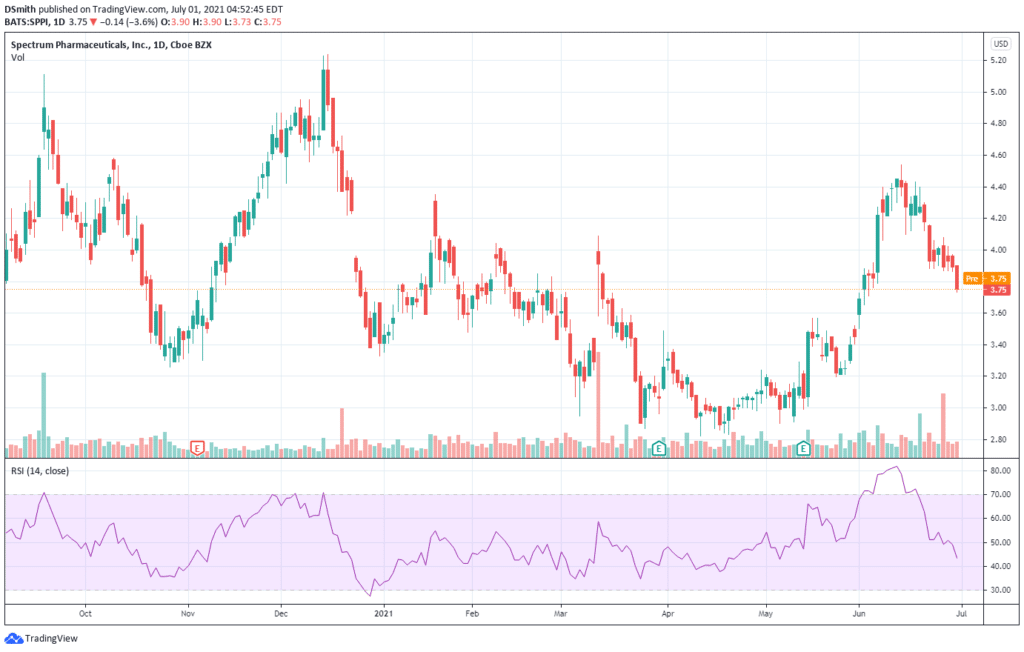 Overall, the performance of SPPI has been good. If you look at the chart from May to the middle of June, you can see prices increase from $2.50 to $4.50. The stock demonstrates good volume and is currently neither overbought nor oversold. Recently there have been some sellers in play pushing the price from $4.50 to $3.75. The question is, could this be a pullback or pause before prices continue upwards? Is SPPI a stock to watch over the coming months?
Aikido Pharma Inc (NASDAQ: AIKI)
Aikido Pharma is a biotechnology company with a diverse portfolio of anti-cancer therapeutics. Aikido Pharma's platform consists of patented technology from leading researchers and universities. The company is currently developing an innovative drug platform through partnerships with renowned institutions, including the University of Texas and several more. The company's impressive pipeline includes therapeutics for prostate cancer and pancreatic cancer. The company will grow the pipeline in unmet medical needs in oncology.
Aikido Pharma has currently filed for a patent to using Ketamine for the treatment of Alzheimer's disease.
One of the biggest breakthroughs in a recent study of depression shows that Ketamine can reverse symptoms of depression, literally within hours to days, when administered by an intravenous infusion. And the study of this drug is growing in popularity throughout other fields also.
.
Alzheimer's disease treatments remain inadequate, and there is still an unmet need for effective methods. There is currently a huge need for targeted delivery drugs, so the patent application is the next step in treating the disease with the psychedelic drug and homing peptides.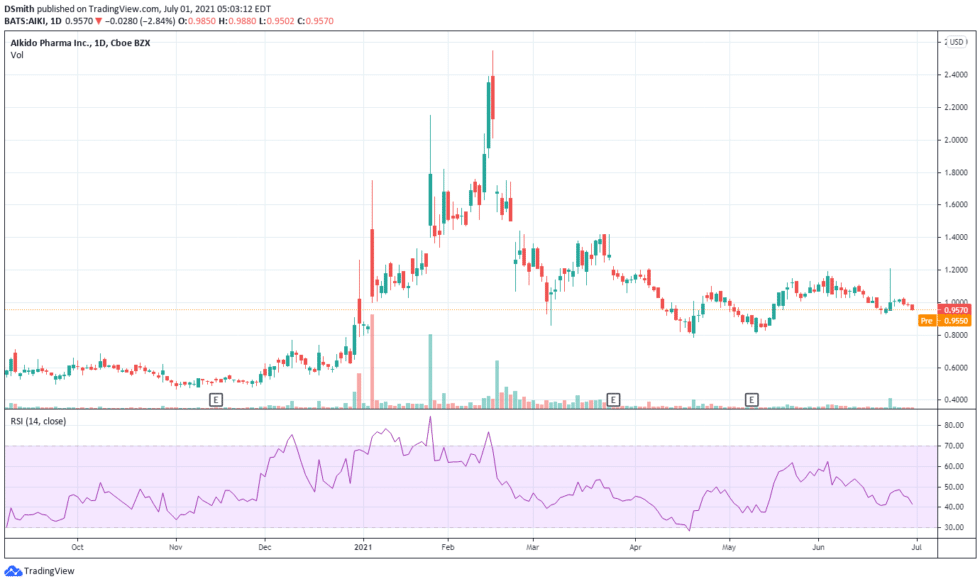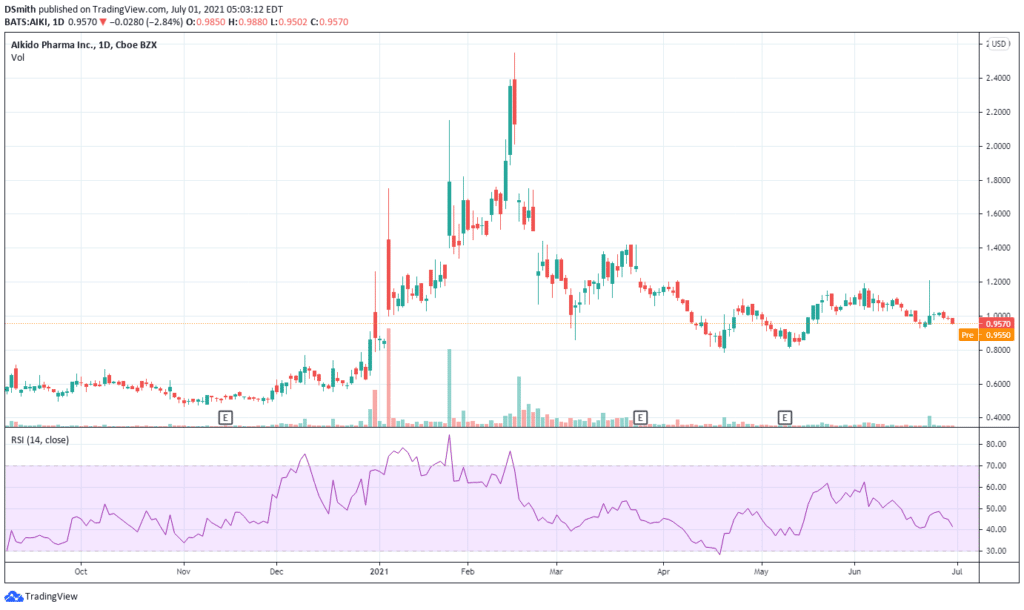 Overall, prices have been ranging from the middle of April till now. AIKI's current price is $0.95. The question is will we see a similar price increase witnessed last December to February. And is there more upside potential for this stock in the coming months? Did AIKI make it onto your watchlist?
Lineage Cell Therapeutics Inc (NYSE: LCTX)
Lineage Cell Therapeutics is a biotechnology company developing innovative cell therapies for unmet medical needs. The company's programs are based on its cell-based therapy platform.
Through this platform, the company manufactures and develops a wide range of treatments for cancer and other serious diseases. The company's programs are in markets with billion-dollar opportunities, including OpRegen® and several others.
Recently Lineage Cell Therapeutics joined the Russel 3000 and microcap indexes.
The addition of these indexes reflects the continued progress for the company, establishing itself as a leader in cell therapy and medicines.
The company believes that this inclusion will deliver tremendous growth in the cell therapy fields. The company has created value for its shareholders throughout the last year, mainly by accomplishing clinical and business milestones across its pipeline.
The Lineage inclusion to the Russel 3000 will expand awareness of their corporate mission and objectives amongst investors to increase the stock's liquidity.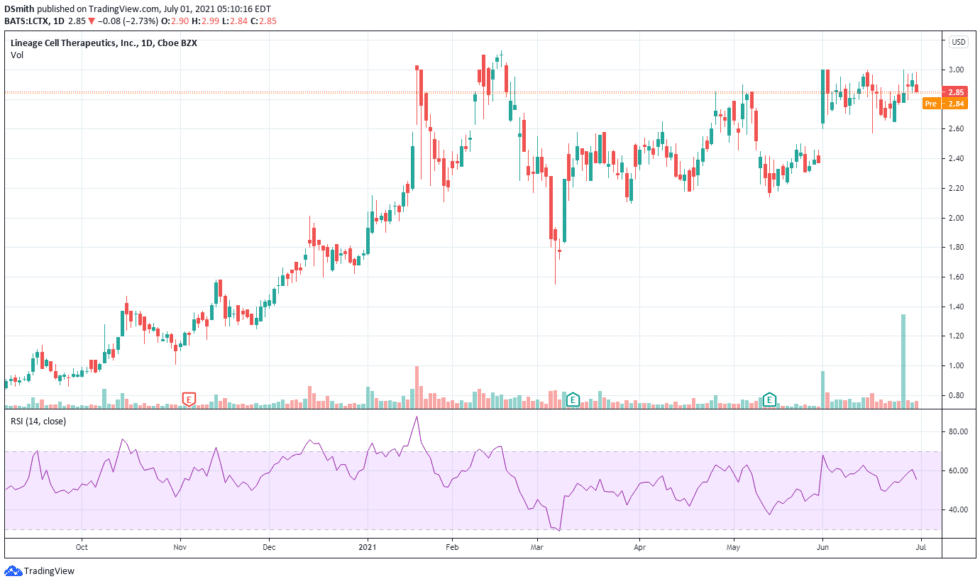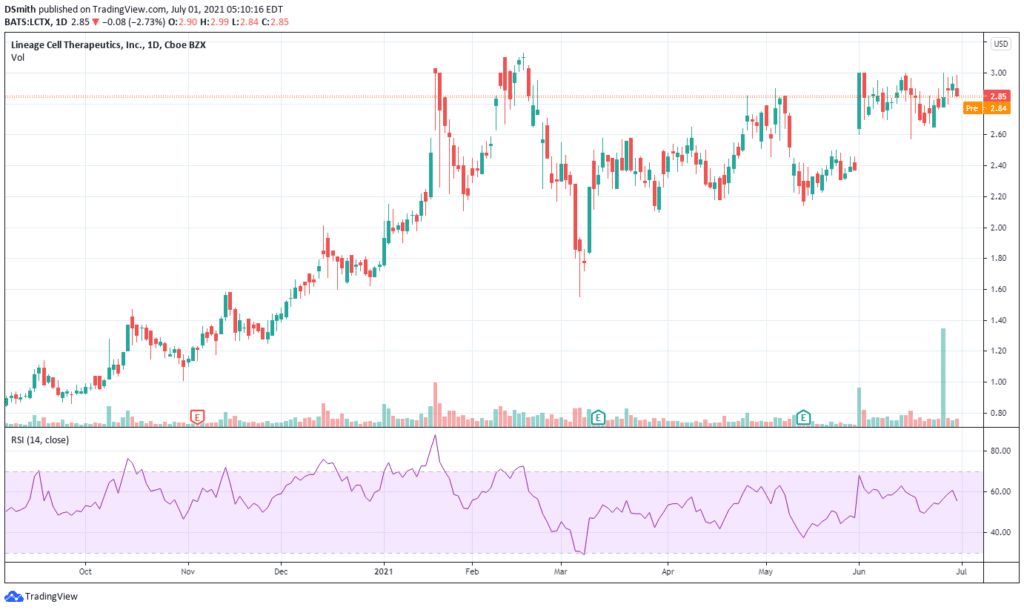 Overall, the performance of LCTX has been trading no higher than $3 for the past year. There was buying pressure in June, causing the stock to gap up, and recently we can see increased volume witnessed on June 25th. Prices are currently at $2.85, and the question is will we see prices being pushed up over $3 in the coming months? Did LCTX make it onto your watchlist, and is this an interesting stock to watch?
Conclusion
These companies have various focuses, from cell stems to vaccines, but they are a part of this growing sector. The biotech stocks performances witnessed recently highlighted by Covid will continue strong in the future years. The biotech stocks under $5 might be a bargain now. Still, these stocks can double or triple in value and even show the potential to become mid-cap stocks soon. So, if you have some unallocated funds in your portfolio, this might be the ideal place to put them to work.