Top 3 Biotech Stocks For June
Possibly the hottest sector to watch right now are biotech penny stocks. During the pandemic, most biotech stocks witnessed their share price plummeting, along with the entire market. As the race to get the vaccines out picked up, traders witnessed a strong momentum throughout the biotech penny stocks.
What began in the interest of biotech companies who were primarily focused on covid treatments soon turned out to be an industry-wide pursuit for the race of the vaccines. The result is now an intense focus on what these innovative companies have been doing throughout the pandemic. As a result, when buying biotech penny stocks, traders must understand exactly what to look for.
The most important consideration is whether their compounds are in the commercialization stage and what they have been doing.
Choosing The Best Biotech Penny Stocks
When we look at the biotech sector, the main product will either be medicine or medicine tech. So, finding a valuable penny stock is about what is in the company's pipeline.
You will find that there is a stringent process most of these companies have to go through to seek approval. As a result, it could be years until their product gets approval from the U.S. or internationally.
A lot of these biotech companies will often license their products to bring in additional income. This can often result in recurring income and large amounts of cash on the balance sheets for years to come. Considering all of these factors, you will then want to investigate the company's financials. Revenue plays a key role when looking at a biotech stock; investors will often look at the cash balance. This will often indicate how long the cash runway has and whether it has the funds necessary to continue ongoing trials.
What Is Happening With Biotech Penny Stocks?
While most investors over at Reddit are pushing all of their attention towards meme stocks, do they have any room left for the biotech stocks?
There are numerous possibilities out there. These are some stocks on the market on the move due to hype, speculation, and B.S. news being distributed. However, there is no shortage of these stocks available in the market.
Try not to narrow down your list to the most popular stocks. Instead, you should aim to build your list through patterns and strategies that work for you.
Some of these biotech penny stocks could offer you that opportunity, so let's look at some of the three biotech stocks to add to your watchlist in June. You will discover some moving on the usual drug news hype, and chart patterns, while others are moving on positive news due to SEC filings.
Top 3 Biotech Penny Stocks
Vascular Biogenics Ltd. (NASDAQ: VBLT)
The company operates as VBL Therapeutics. It is a clinical-stage biopharmaceutical company. They mainly focus on the development, discovery, and commercialization of treatments for cancer. The company has developed three platforms: antibody-based technology, gene-therapy-based technology, Lecinoxoids, and immuno-oncology applications.
In a press release, the company announced a Second Primary Endpoint In Oval and Phase 3 registration to study ovarian cancer.
The addition of progression-free survival as a primary endpoint has important effects on the study of OVAL; it mainly provides the study's success and accelerates the time for potential approval. The current ovarian cancer treatments have already been approved based on the data collected. Still, they have not shown an overall survival benefit.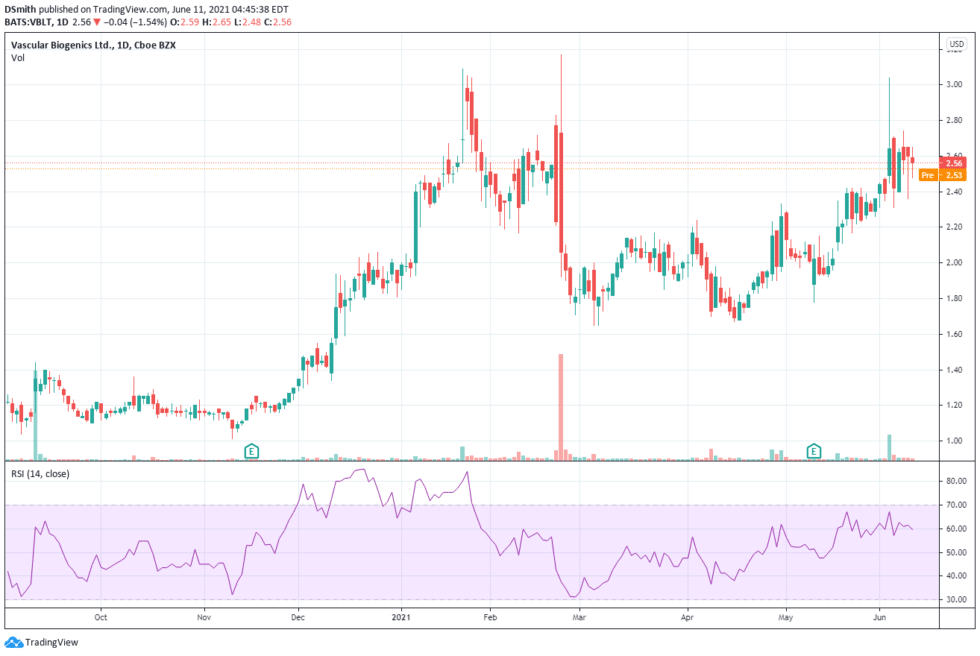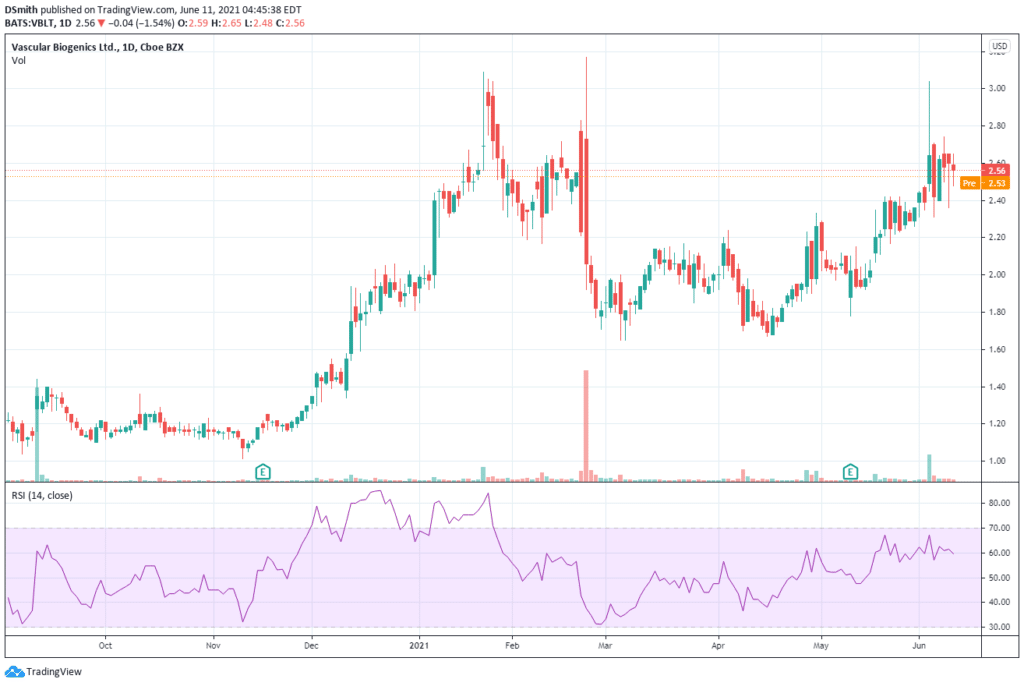 When we look at the chart, we can see an increase in price up to January 22nd, 2021. With prices ruining from $1 to $3. Since that time, prices have been choppy, and prices are now settling at $2.65. Could there be more upside potential in the coming months? Of course, traders will look for more upside potential, but the question is, did VBLT make it to your watchlist?
Enzolytics Inc. (OTC: ENZC)
Enzolytics is a development company involved in commercializing its leading proteins and monoclonal antibodies to treat infectious diseases. The company has been advancing on numerous therapies targeting infectious diseases. One is a patented and clinically tested compound, ITV-1, which studies have shown to be effective in treating HIV/AIDS, and the other is IPF shown to modulate the immune system.
In a press release, the company announced the production of Monoclonal Antibodies to address future pandemics. The company aims to accelerate health care discoveries and developments.
Enzolytics collaboration with Intel Corporation will open up new innovative pathways for drug development and discovery.
The company continues to seek new biotech partnerships to advance effective therapies to cure existing and new illnesses.
The main aim is to accelerate its development in highly significant therapies and test its monoclonal antibodies in combination with its patented anti-HIV peptide. In addition, the company continues to seek dialogue with pharma companies to develop therapeutics to treat infectious diseases.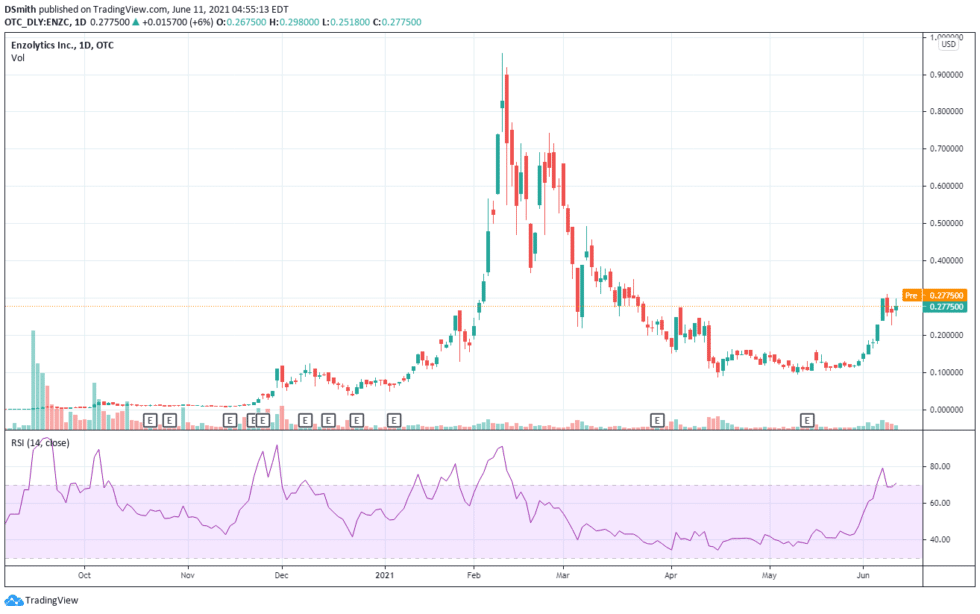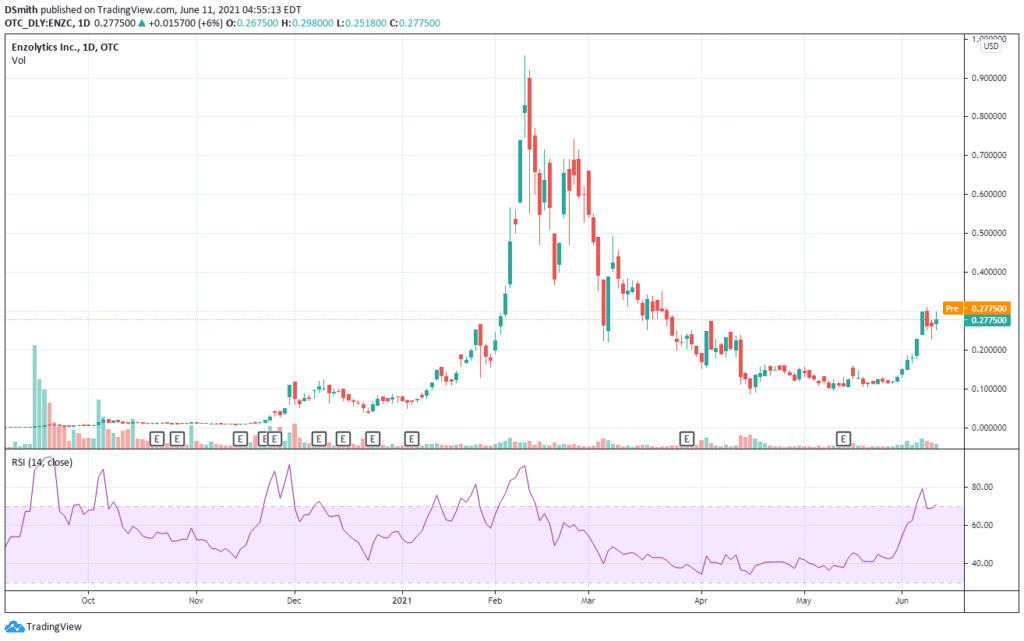 When we look at the chart for ENZC we can see a rally taking place from December 2020 running to February 9th, 2021, with prices increasing from $0.048 to $1. After that, prices started to come down hard, falling to $0.08. Prices are now rising to $0.27. Could this indicate a potential rally as we head further into summer, or could it be part of a larger correction? This could be a stock to investigate further. Did you put ENZC on your watchlist, or do you prefer to wait for continued momentum to the upside first?
Sesen Bio Inc. (NASDAQ: SESN)
Sesen is a late-stage clinical company. Its main aim is to advance targeted fusion protein therapeutics to treat cancer patients. The company's lead program is Vicineum™, which is currently in the follow-up stage of phase 3 registration. The company currently holds worldwide rights to Vicineum™, excluding the Middle East, Greater China, and North Africa.
The company announced its partnership with Qilo Pharmaceutical. Qilo is part of the manufacturing network for the commercial supply of Vicineum™ products. In February 2022 was accepted by the FDA for their Biological Licence Application.
The company plans to promote to physicians and patients throughout the U.S. upon approval. The company's commercial product supply is already widely available to Urology clinics during the fourth quarter of 2021.
Qilu Pharmaceutical mainly supports Sesen with commercial manufacturing and supply frameworks to aid in global supply. In addition, the agreement expands the company's network of global partners and providing a reliable supply of Vicineum™ globally.
The company believes that they have developed a reliable and robust supply chain with their Global manufacturing partners. Qilu has extensive expertise in supplying products for commercial sale worldwide, which will ultimately position them to meet the global demand for Vicineum™.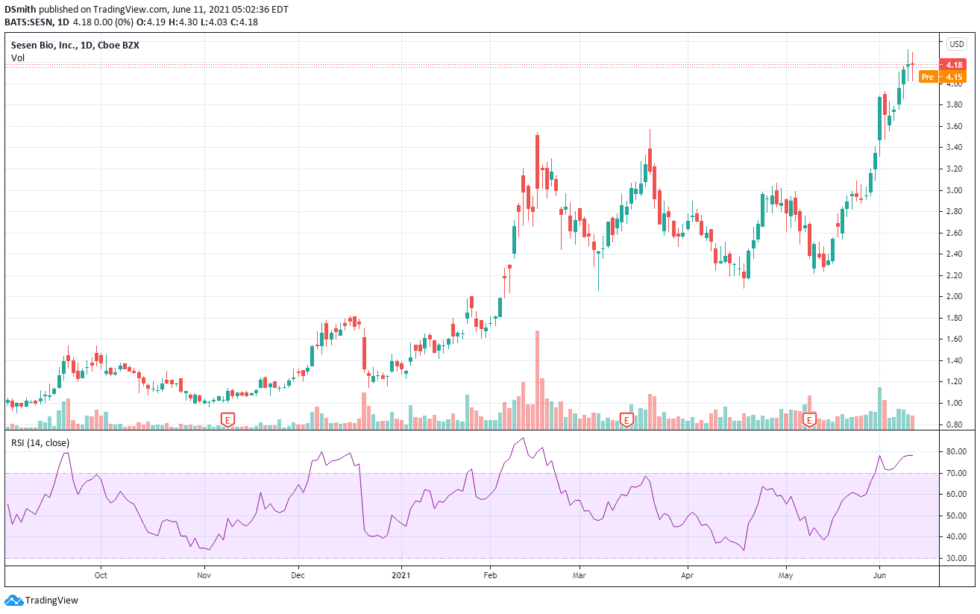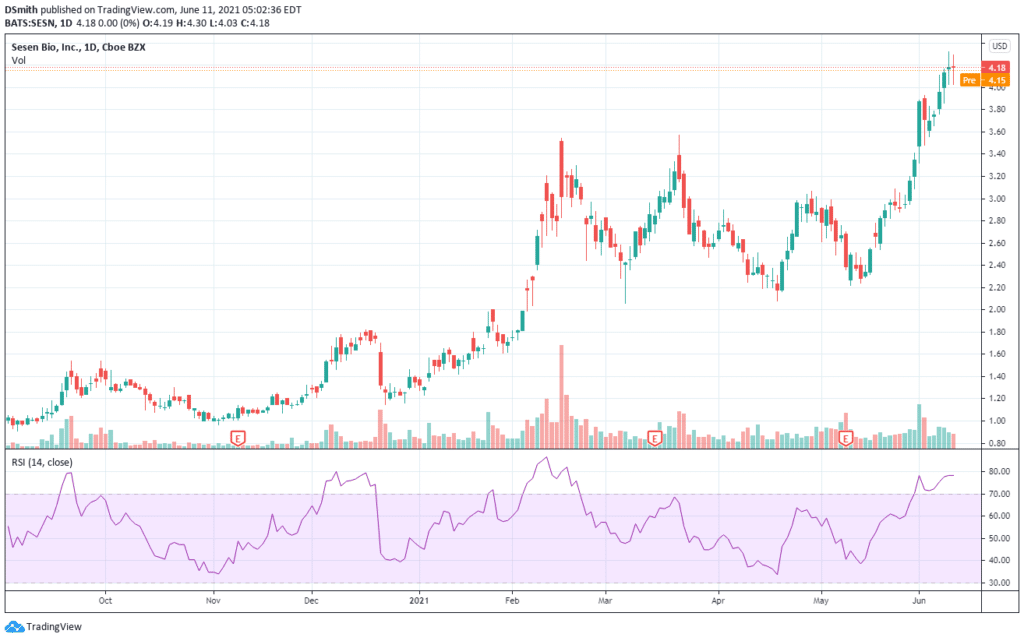 When we look at the price chart, we can see prices caught in a descending triangle during the first three months of 2021. Currently, prices are going from strength to strength, breaking out of the triangle and heading to $4.18. Could this be a potential for more upside during summer, or will prices pause?
Traders will anticipate future upside potential and look for trading opportunities to enter the trend. Did SESN make it to your watchlist, or do you prefer to wait?
Conclusion
Biotech penny stocks are mainly in small companies that are in the developmental stage. These companies are desperate to raise cash to develop their products for trials and testing. Therefore, as investors, we should trade them with caution.
Trading these kinds of stocks can be very volatile. You may also witness huge price swings both to the upside, and downside, mainly caused by positive moves or bad clinical trial results.
If you are the sort of investor looking to take advantage of the price swings, they can indeed offer opportunities. Picking the best biotech penny stocks is mainly about understanding the market moves. Some of these stocks may have significant value in the short term, while others could have more long-term potential.
As investors, it is essential to learn how to trade penny stocks effectively; studying the various industries will always be essential to your portfolio. In addition, in 2021, there are many stocks to keep track of. So, considering all these facts, which biotech penny stocks made it to your watchlist?