4 Stocks To Watch This Summer
The dominance of 5G has not come to a halt; even during the pandemic, technological advancements have continued to dominate. But the question is, is it the right time to trade 5G penny stocks? What is 5G? and what stocks have the market been focusing on?
Could 5G Penny Stocks Be The next Big Sector?
Will we see 5G stocks running like Marijuana penny stocks, like the market done in the past?
As traders, we are always looking for the next hot sector. When it comes to penny stocks, we get excited about the new developments in technology and jump right in.
Predicting the markets is not advisable. It is always best to study the market's past performance, being prepared to react as soon as the next big sector presents itself.
We will address what 5G is and some 5G penny stocks to watch throughout this post. So read on and prepare to discover one of the hottest sectors.
What Is 5G?
5G is 5th generation wireless technology. It comes right after 4G, making it faster and capable of supporting even more wireless devices than the previous 4G technology.
5G provides higher peak data speeds, greater reliability, and connectivity, resulting in higher performance. All these advancements will pave the way for new and exciting technological advancements.
This means growth, competition, and more companies out there wanting a slice of the action.
It is still unknown when the 5G technology will be widely available. But during this time, there could be excitement and anticipation of this new technology before it arrives.
It is too easy for us to become excited about all the new technologies on the horizon, aiming to improve our daily lives. We have seen many changes during the pandemic, reflecting on how people work and live. As a trader, we need to understand and do our background research.
Trading 5G Stocks
The changes caused to our daily lives brought around by the pandemic resulted in new traders coming to the markets—some of them hoping to get rich quickly or looking to trading as a career move.
Making money out of penny stocks is possible, but it is not easy. It does take time, dedication, practice, and study. Building a good penny stock list is essential across various industries for better exposure.
Before you dive into 5G penny stock trading, always make sure you have a good education and you have taken the time to do the research.
It is always essential to know what you are doing before jumping in. Hopefully, some of the educational articles throughout the Stock Analyzers website will provide more information. You can also discover the numerous trading courses online to further your education. 
4 Top 5G Penny Stocks To Add To Your Watchlist
When choosing 5G stocks, you have many potential companies on your radar like Hewlett Packard Enterprise Company (NYSE: HPE), Telefonaktiebolaget LM Ericsson (NASDAQ: ERIC), and KT Corporation (NYSE: KT). But what about much cheaper stocks, like the ones found in Robinhood, where penny stocks are the key focus. We will be looking at listed stocks throughout this post, mostly under the $5 mark, which includes no OTC stocks. Currently, we wanted to present the trending 5G stocks to watch throughout the coming months.
Some of the major attractions of stocks under $5 have several risks, like high volatility trading or just getting in too early. There is always a risk in choosing lower-priced stocks, but the rewards may be much greater than blue-chip stocks. We have included a list of the top trending 5G penny stocks. The question is will they be a buy right now, or is it better to wait?
Hewlett Packard Enterprise Company (NYSE: HPE)
Hewlett is a computer giant providing solutions to customers allowing them to capture and act upon data. It also offers servers and the internet of things, including WIFI access points, support services, and leasing for customers and businesses.
Hewlett interviewed with Yahoo Finance Live to discuss the tech industry and the company's financial results.
Hewlett had better than expected quarterly earnings due to strong demand across the board including, Their Edge Aruba business, Storage, high-performance computing, and server business. Due to the pandemic, the company expects this demand to continue, resulting in changes to business operations and models experienced by most companies globally.
The company gives customers exactly what they need to control their data in more effective and innovative ways. The annual growth rate expected is between 30% to 40% every year for the next three years.
In the past year, the company acquired Silver Peak. The company merged it with their Aruba Edge business. It is now an SD-WAN provider, growing by 17% every year. The company sees incredible demand for their Aruba services, and the company expects this demand to continue.
Hewlett has been in a range since 23rd April. Prices are steady at $16, and the stock is also showing steady volume. Traders will look for upside momentum to continue. Did HPE make it onto your watchlist? Or do you prefer to wait?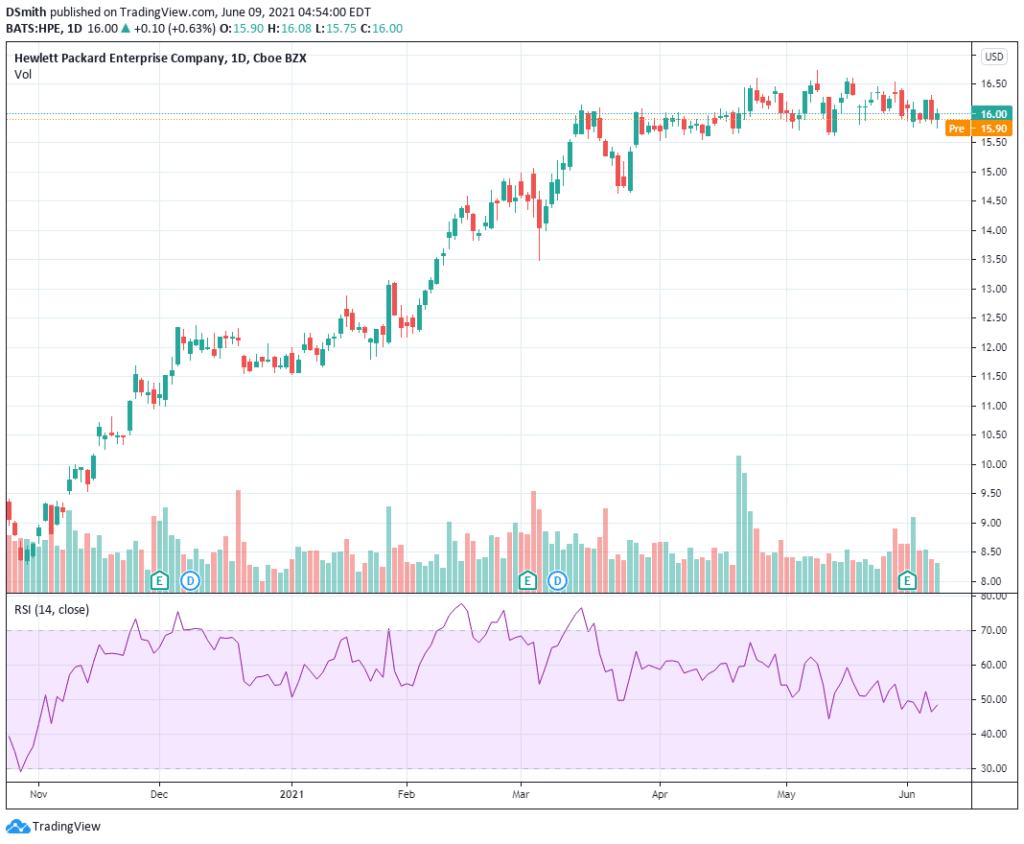 Telefonaktiebolaget LM Ericsson (NASDAQ: ERIC)
The company provides communication infrastructure, software solutions, telecom, and various other sectors. It mainly operates through four categories: networks, managed services, digital services, and emerging business.
ERIC is looking to display strength as it nears its next earnings report. The company report earnings of $0.14 per share, which represents a 40% yearly growth.
Analysts are expecting earnings to be $0.78 per share and revenue at $28.53 billion. The estimates would mark changes of +21.88% and +12.07% compared to the previous year.
If you look at Zacks Rank, ERIC has a rank of number 3, which is a HOLD. The industry sector holds a rank of 167, putting the industry at the bottom 35% of all 250 industries.
The share price indicates a potential correction dating back from the 21st of April 2021. The price is settled at $13.15, and traders will look for upside potential. The prices have been somewhat volatile this year.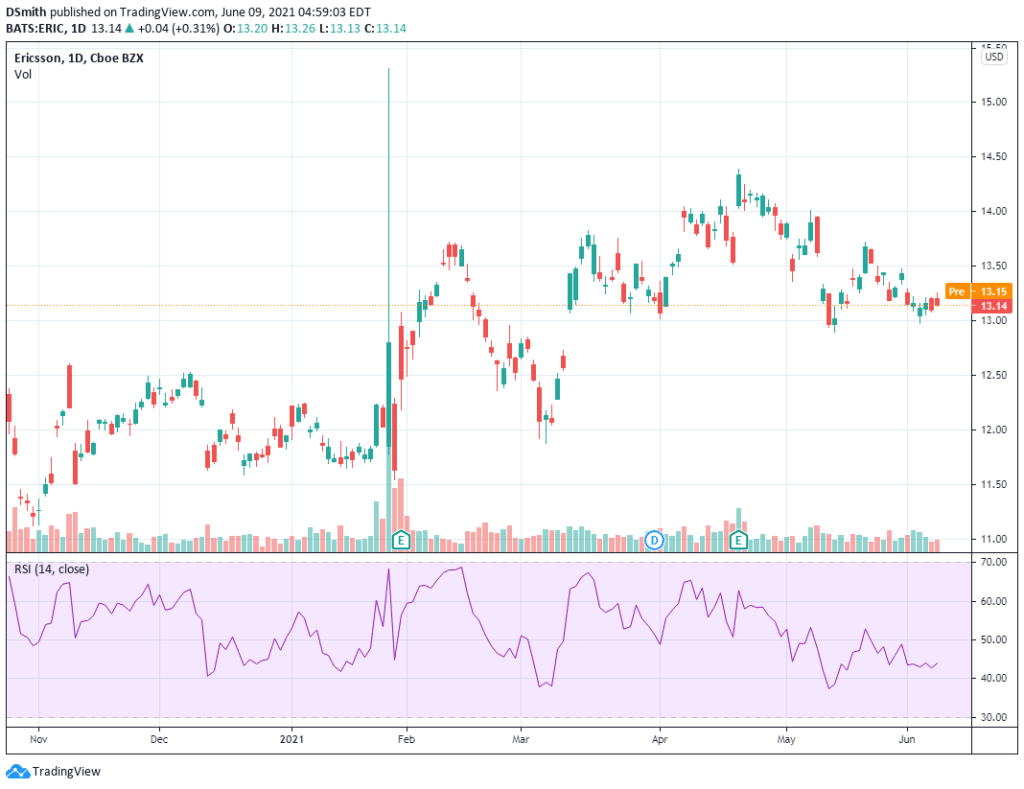 KT Corporation (NYSE: KT)
KT provides telecommunications and platform services internationally.
The company offers fixed-line telephone services, broadband internet connection services, media, and content services.
Zacks Rank tried to determine if KT was a great value stock currently in a recent press release. Zacks Rank mainly focuses on earnings estimates and estimate revisions to find potential winning stocks.
Zacks Rank has given KT a value of #2, which is a BUY.
They also gave it a Grade A for value. The stocks have a P/E Ratio of 7.17 compared to the industry average of 12.22.
The data that Zacks Rank collected on KT Corp shows that it is most likely undervalued. When you consider its earnings strength, it stands out as one of the market's strongest value stocks.
KT Corp has been going from strength to strength from the 9th February 2021. The share price has increased to $15.31 from $10.51. Price is demonstrating a potential pullback to the $14.84 level. Traders will anticipate continuing momentum and further upside potential soon. Did KT make it to your watchlist?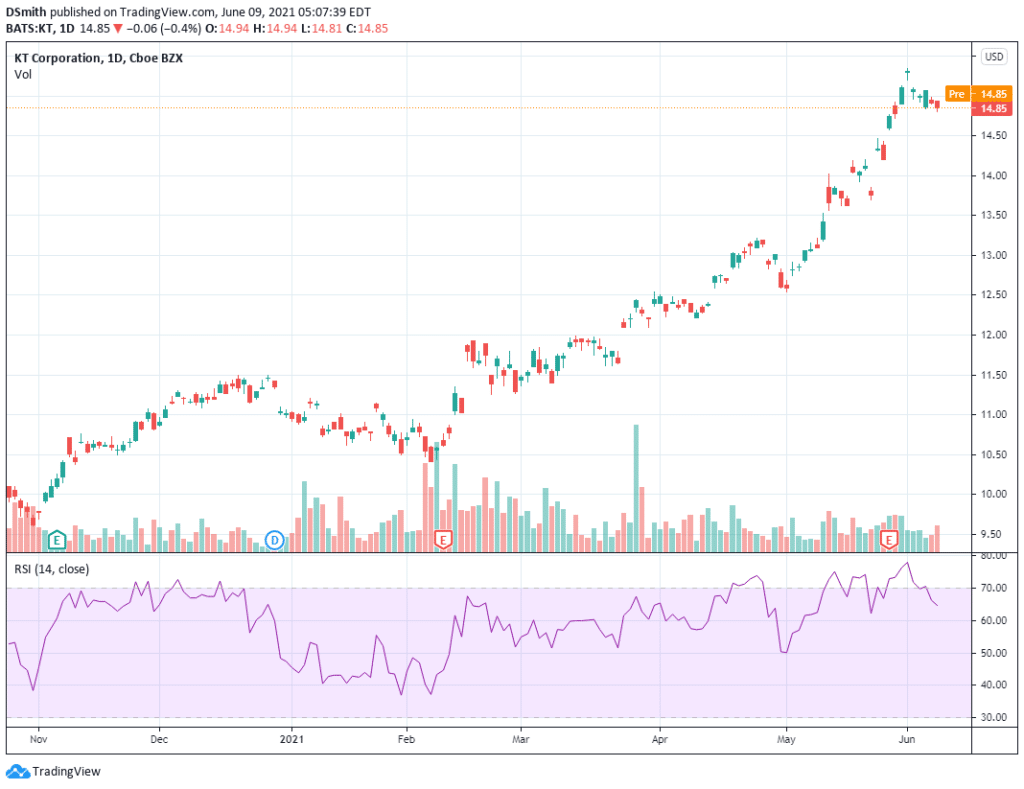 Cheetah Mobile Inc. (NYSE: CMCM)
Cheetah operates an internet company Throughout The People's Republic of China, the United States, and internationally. The company offers a wide range of internet services to its customers including, memory boosting, security master, mobile gaming, mobile advertising, and more.
A recent press release simply wall street analyzed the company in further detail to discover if traders should add the stock to their watchlists.
Even though Cheetah is not a large-cap stock, its decent share price growth indicates an opportunity for miss pricing over the last few months. There has been less buying to push the stock to a fairer value.
The stock price is low according to most price multiple levels. Its PE Ratio is 4.78x below the peer average of 52.79x, indicating that the stock is trading lower than the software industry. Interestingly, the share price is volatile, resulting in more opportunities to buy because the price could get lower or rise in the future.
Even though Cheetah is trading below the industry standard PE Ratio, the prospect of negative growth will bring risk.
Cheetah's share price has been extremely volatile. We witnessed a spike to $5 back in Feb 2021. Price then started to drop in the subsequent months to $2. Prices are now at $2.64. Could there be room for further upside? Traders will have to wait and see. Did CMCM make it to your watchlist? Or do you prefer to wait?