5 Electric Vehicle Stocks To Watch – Penny Stocks Under $5
Did You Miss These EV Stocks Under $5?
Are you an investor who feels like they might have missed out on EV stocks Under $5? Then you are not alone. Over the last few months, many names witnessed incredible performances in this emerging sector. It is not only TESLA (Nasdaq: TSLA) that has been in the spotlight. Some are now choosing stocks like NIO Inc (Nasdaq: NIO) as the better bet for EV stocks. APPL is also coming into the scene (Nasdaq: AAPL). Building a penny stock list of this emerging market will help you keep track of emerging stocks within the sector.
Some have been fueled by the level of momentum within the sector, raising some interesting points to be considered. Firstly NIO, was a penny stock, ultimately being covered by most financial newsletters, and now leaving the penny stock range for good, or at least for now.
Electric Vehicle Penny Stocks – Are There Any Left?
After TESLA's Battery Day event, new interest started to grow, and we began following other EV stocks under $5. Kandi Technologies Group Inc (KNDI Stock) and Electrameccanica Vehicles Corp (SOLO Stock), and many more. We then witnessed momentum coming into these stocks, and they are now removed from the list of Sub-$5 levels. Could there be a trend emerging in this sector?
My personal opinion is, the entire EV sector should be something to watch closely. It is not just about carmakers. You need to think about the raw materials, technology, screens, and other products needed for so many new electric vehicle companies emerging.
Prime examples include CBAK Energy (CBAT Stock) and Platinum Group Metals (PLG Stock). These stocks have been widely discussed in various financial newsletters, and both have experienced explosive performances.
But when you look at these two stocks, the momentum was based on raw materials and components for the EV sector that brought them into the spotlight. So, with all these things considered, some EV stocks under $5 to watch still trade for pennies.
CBAK Energy Technology Inc (NASDAQ: CBAT)
CBAK Energy Technology is a leading high-tech company engaging in the manufacturing and development of high-power lithium batteries.
The main products include electric vehicles, electric tools, energy storage, and much more. In January 2006, CBAK was the first company to become a lithium battery manufacturer in China that was listed on the Nasdaq.
Looking over the last 12 months, we have witnessed a spectacular share price rise, with prices surging over 504%. There could be so many more gains in store if the business fundamentals stack up.
If you look at CBAK Energy Technology over the last year, the company has grown its earnings per share and moving from loss to profit.
It is great to see shareholders rewarded by 504% gains. It seems that the sentiment around the company has been positive.
You could view the TSR improvement of 12% to indicate that the business is improving with time.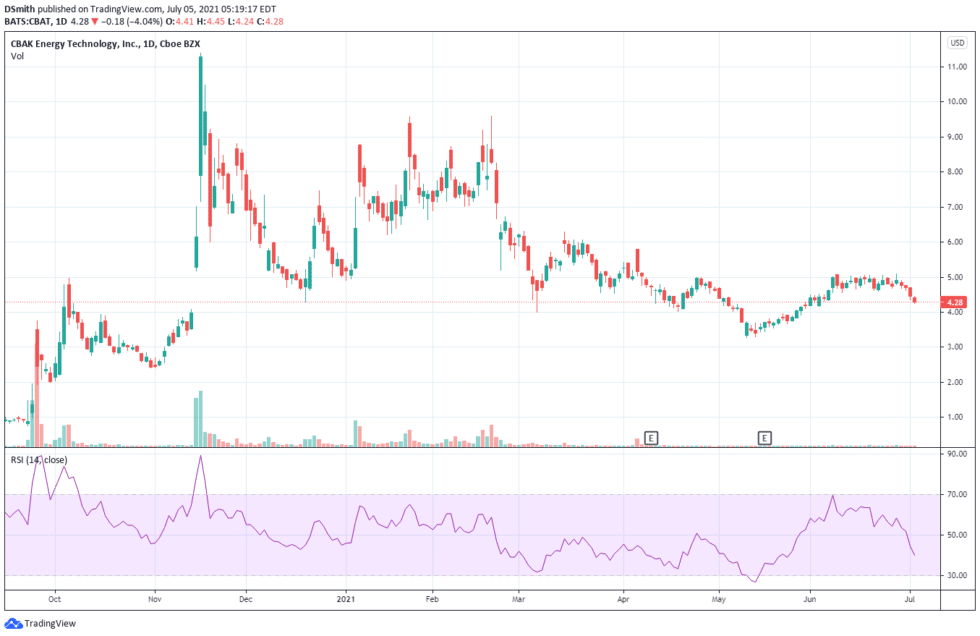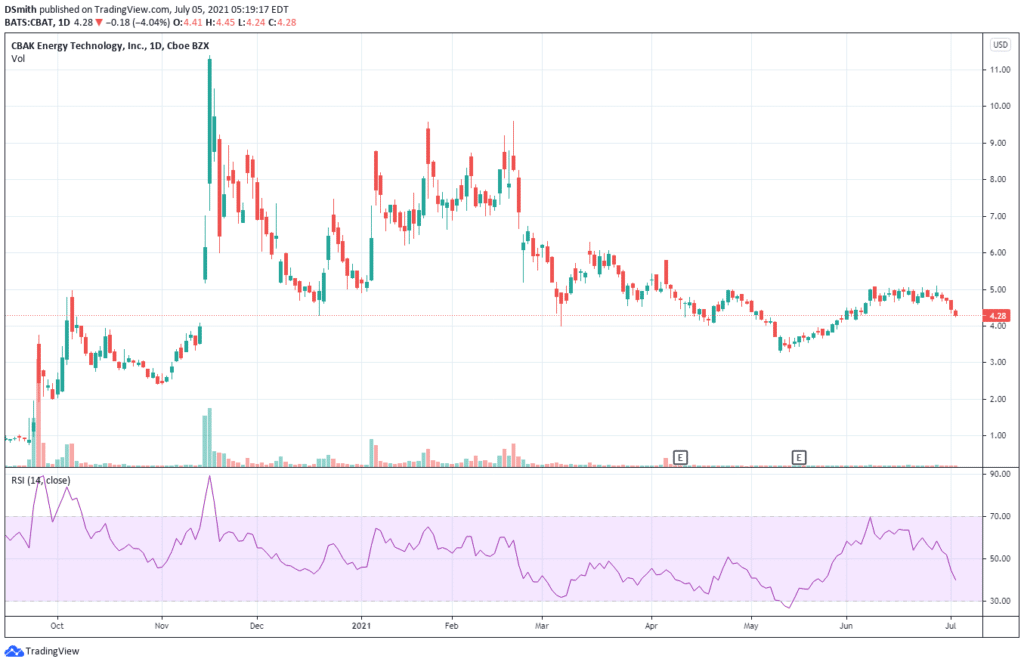 Overall, CBAT has been trading between $3 and $5 since May. If you look at the volume, you can see it is relatively low, and it has been that way all through this year. CBAT is now trading at $4.38, and the question is, could CBAT see more upside potential in the next few months? Is CBAT worth watching?
Westwater Resources Inc. (NYSE: WWR)
Westwater Resources is focused on developing battery-grade graphite. Westwater's main projects are The Coosa Graphite Project, an advanced natural flake graphite project, and depositary of 41,9000 acres in east-central Alabama.
Westwater Resources will bring the first of its kind processing plant to the state of Alabama. Westwater will put Alabama at the forefront of production and essential materials in batteries powering electric vehicles and various other products and equipment.
The company believes that it will make Alabama a leader in graphite production and the place to go for battery manufacturing. It will also highlight Westwater as a key player in the fast-growing electric vehicle sector. Home to four major auto plants and the company's ability to source precious materials for the lithium-ion batteries used in electric vehicles will ultimately attract manufacturing jobs to the state.
Westwater will build the innovative plant in Alabama, and construction will begin later this year. The plant will be in operation by 2022. The plant will employ 100 permanent workers.
The plant complements the auto industry in Alabama and what they are doing with EV's, with several automotive firms announcing expansions to offer electric vehicles specifically.
Currently, all graphite used or needed in the US by the electric vehicle industry is imported mostly by China. The domestic production of graphite will ultimately reduce the dependencies on foreign sources.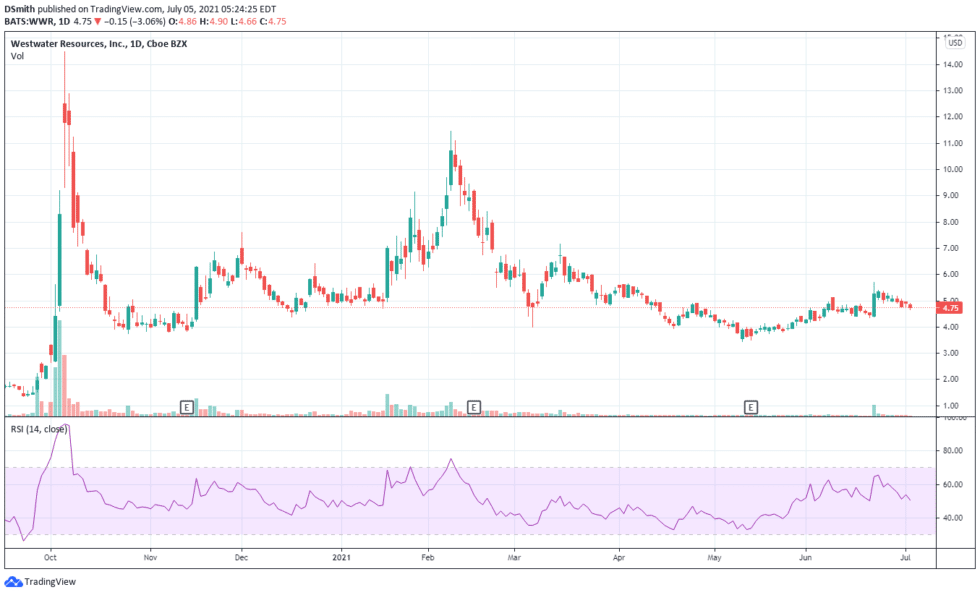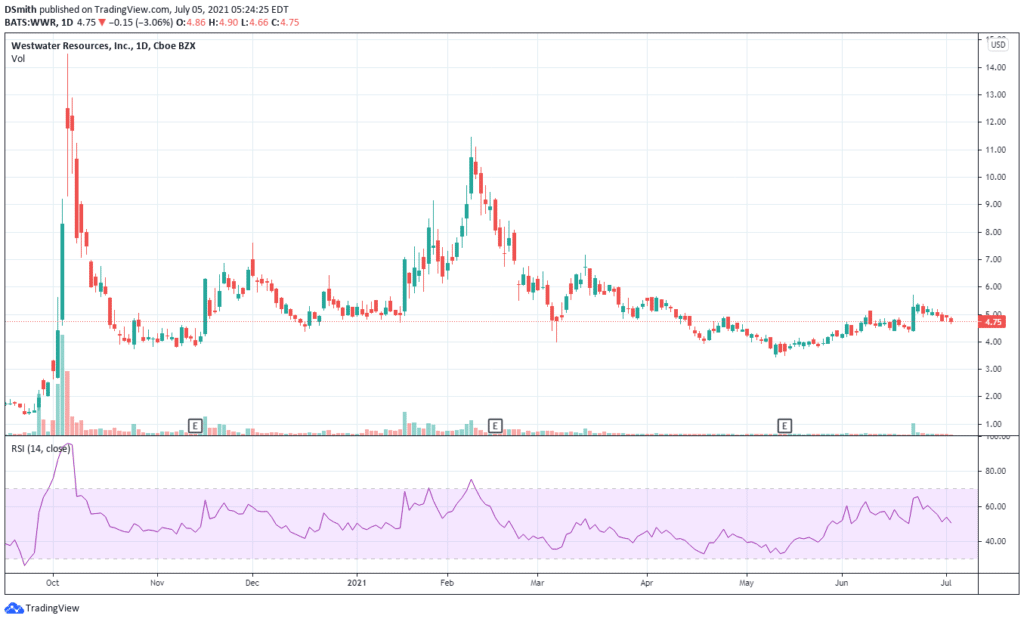 Overall, the prices have been trading between $3 and $6 since May. Volume is also low on this stock since the beginning of the year.
WWR is now trading at $4.75. The question is, will we see increased momentum in the next few months? Is WWR a stock to add to your watchlist?
Ayro inc. (NASDAQ: AYRO)
Ayro inc engineers primarily and manufactures electric vehicles. These purpose-built vehicles are customizable and meet the buyer's needs.
The company's EV's are eco-friendly alternatives to gasoline vehicles. Their leading electric vehicle is Club Car Current, the only zero-emission light-duty EV available.
Ayro inc's Club Car Current will be manufactured by Karma Innovation and Customization Center (KICC). The Club Car fills the gap between full-sized trucks and small utility vehicles.
Ayro intends to deliver light-duty trucks and electric delivery vehicles to organizations across the U.S.
Ayro is excited about the vehicle's release and believes this is a huge step forward for the company to become net-zero by 2040. Karma will ultimately help Ayro meet the strong demand from customers. By delivering purpose-built electric vehicles which are fully customizable and affordable to meet the needs of businesses of all sizes and types.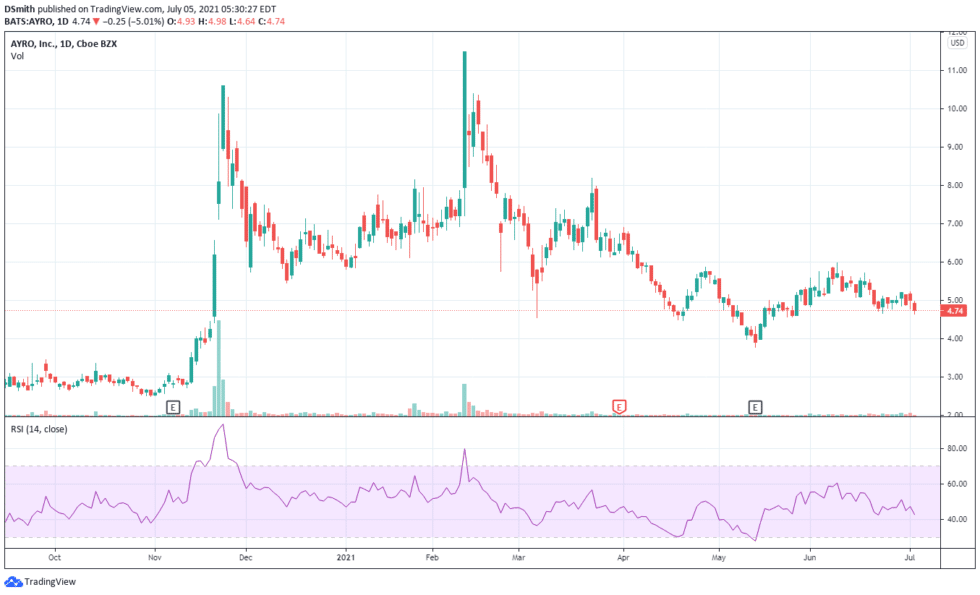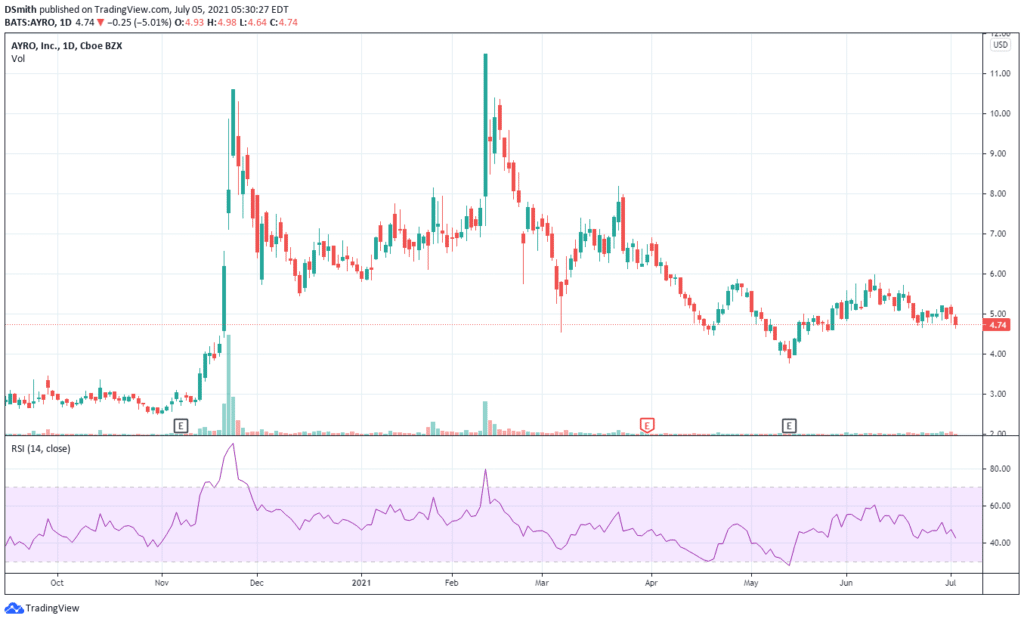 AYRO has been trading between $4 and $6 since May. Volume is low for AYRO since February. AYRO is currently trading at $4.74, and the question is, will we witness more upside moves in the coming months? Did AYRO make it onto your watchlist?
Polar Power Inc. (Nasdaq: POLA)
Polar Power manufactures and designs power generators, renewable energy throughout the U.S and internationally. The company currently offers DC hybrid power systems and DC solar hybrid power systems.
POLA is not under $5 but is an interesting company to watch, showing potential growth in the coming months. It might be worth more investigation.
A recent report covers how Polar Power manages its debt and if investors should be concerned about it.
When you look at the debt of POLA, it has $2.41 million debt, but its balance sheet holds $11.4 million, so it has $8.9 million cash net.
The report suggests that Polar has a conservative balance sheet and won't have trouble eliminating its debt. Overall, Polar boasts net cash, so it is evident that it does not have a heavy debt load.
Ultimately the company will have to be profitable to decide whether it can strengthen the balance sheet over time.
Finally, Polar has at least $8.95 million on its balance sheet to spend on growth. The balance sheet is significantly liquid.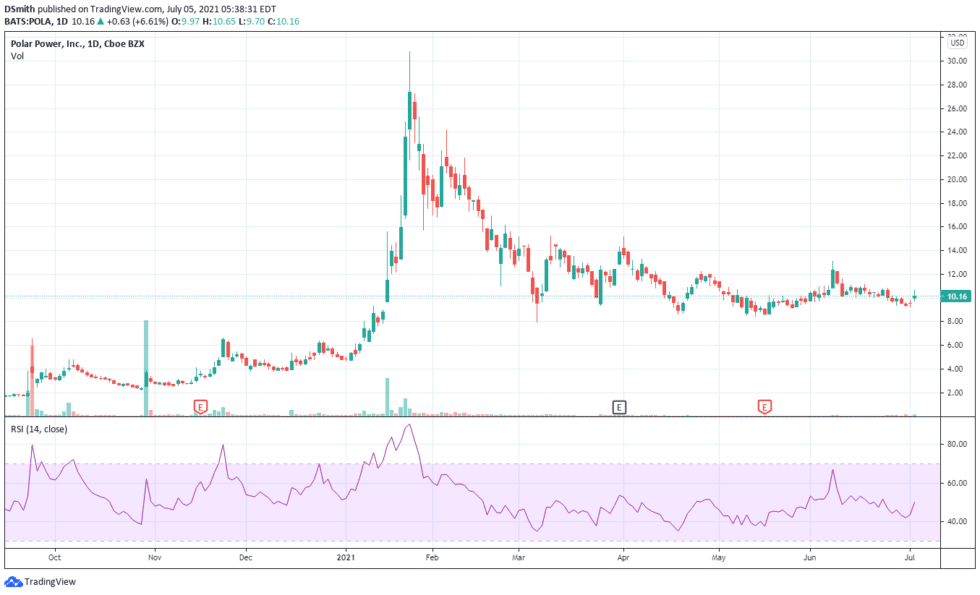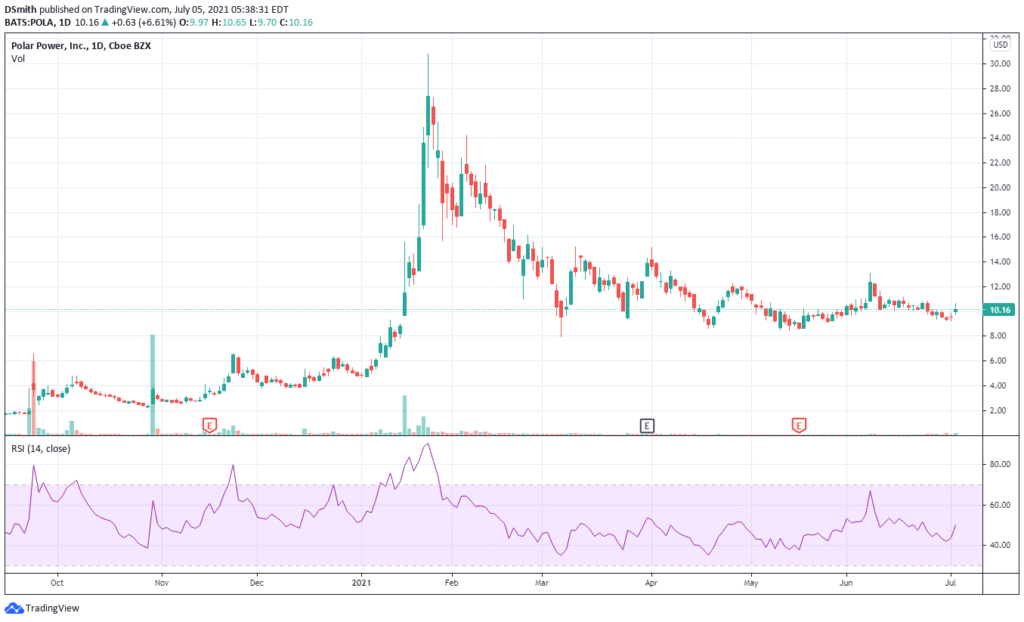 Overall, prices have been trading between $8 and $13. You can see the low volume throughout the year. Prices are currently trading at $10.16. Will POLA see momentum in the coming months, and did POLA make it onto your watchlist?
Electrameccanica Vehicles Corp (NASDAQ: SOLO)
Electrameccanica Vehicles is a designer and manufacturer of electric vehicles. The company's leading EV is called SOLO. A single-seater and purpose-built vehicle. SOLO ultimately provides a unique, fun, and affordable driving experience. Electrameccanica Vehicles has been building specialty cars for 61 years.
As investors, we are always looking for stocks that a poised to beat the earnings season. Electrameccanica Vehicles may be one of those companies. The company will release earnings soon, and things are shaping up positively for their report.
SOLO has seen some favorable earnings estimates recently. With analysts raising estimates right before the earnings, which is a decent indicator of some underlying trends for their report.
Overall, analysts have recently bumped up their estimates, giving the company an increase of 25% heading into earnings. Positive Zacks earnings can be a powerful indicator, producing positive surprises or outperforming the market.
SOLO currently has a Zacks Rank of #3 and an ESP in positive territory; investors may want to consider SOLO ahead of earnings. The EPS suggests that there are good things in store for SOLO.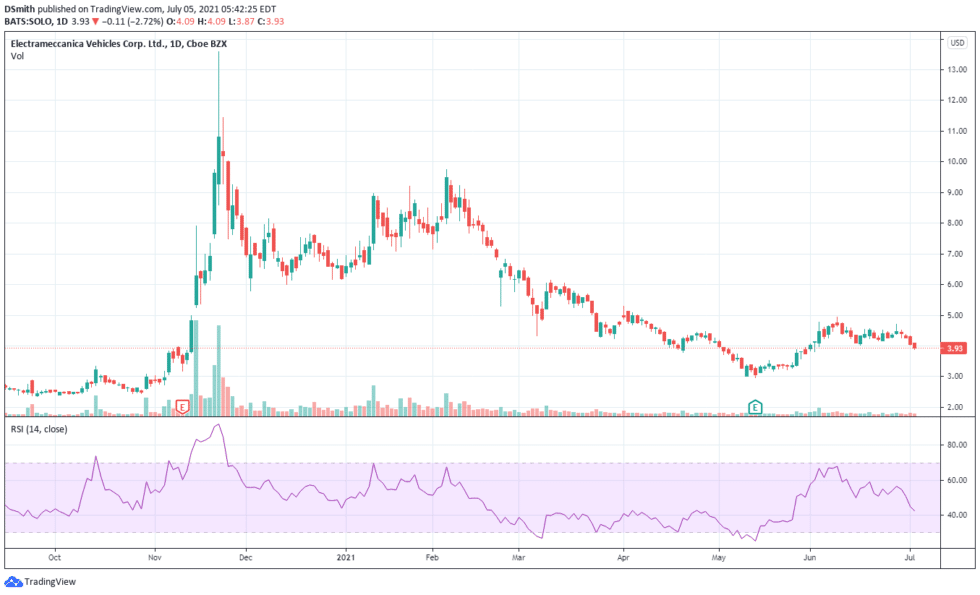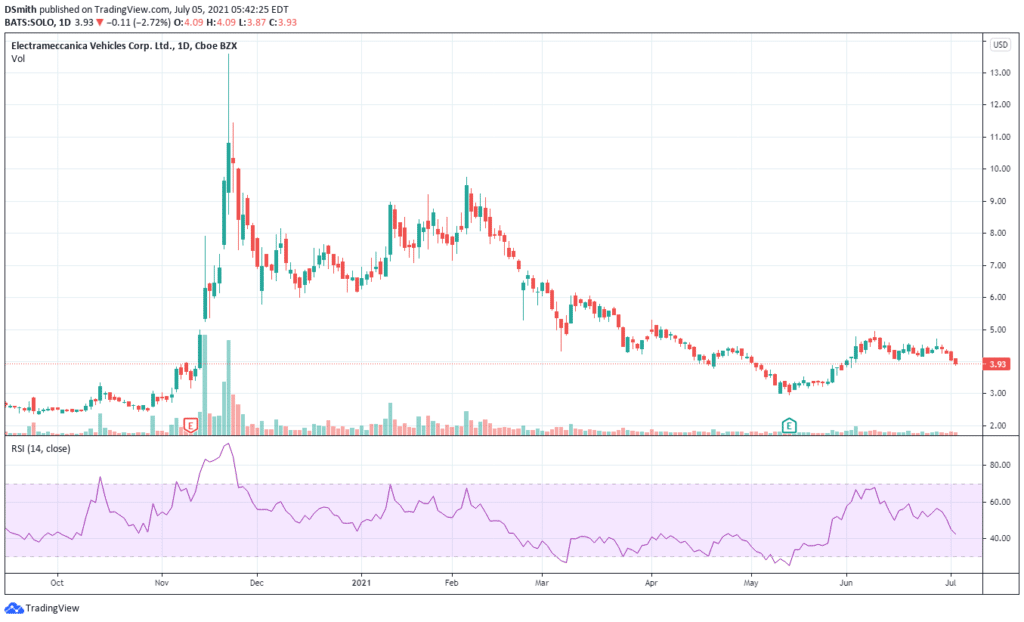 Overall, SOLO has been trading between $3 and $5 since May. Currently, the volume is low, and prices are trading at $3.93. The question is, is there more upside potential for SOLO in the coming months, and is this a stock worth more investigation?
Conclusion
EV stocks under $5 are considered cheap stocks, or indeed any stock trading below $5. The securities exchange considers these stocks to be penny stocks. Cheap stocks can be an attractive investment with very little upfront capital and potential gains.
If you want to spot stocks under $5, you should look out for undervalued companies. Often, companies that have suffered a crisis may see their prices dip into single digits. The declines could be due to high debt, pricing pressure, or increased competition. All of these factors can spook investors and send prices sinking.
The company may ultimately turn these things around, and the market could shift in favor.
Investors might also want to look for growth potential, with some stocks trading under $5 because they are small. But that small company can grow rapidly.
With all things considered, which EV stocks under $5 are worth watching?