Discover The trending Reddit stocks to Buy 2021
Which Reddit stocks to buy 2021 Are Investors Watching Now? Discover These 4 stocks.
4 stocks On Trending On Reddit To Watch Now
Finding Reddit stocks to buy 2021 is a great way to stay ahead. But certain penny stocks are trending; does that mean they are worth the investment.
Investors should always practice due diligence when finding the right penny stocks to trade and understand why they are moving. Using due diligence will ultimately determine and help you build a stock list on what companies are exhibiting bullish momentum and what ones are doing the opposite.
Investors have hundreds of Reddit stocks to buy 2021. Using Reddit can narrow down your list and ultimately put you in an advantageous position. Indeed, penny stocks on Reddit can be an excellent strategy. Still, it is wise to note that these stocks can also be incredibly volatile.
This is mainly due to the trending nature of the stock and the high volume associated with it. Taking this into consideration, here are 4 Reddit stocks to buy 2021.
1847 Goedeker (NYSE:GOED)
1847 Goedeker is an industry-leading e-commerce destination for furniture, appliances, and home goods. Geoedeker acquired Appliance Connection in June 2021; the Acquisition enabled Goedeker to create the largest pure-play online retailer in household appliances throughout the U.S. The company is a one-stop-shop for many leading household brands, including Bosch, Whirlpool, and many more.
Goedeker recently signed an agreement with a Florida-based premium luxury appliance retailer. The Acquisition will enable the company to have a more significant investment in the Florida market.
The Acquisition is Goedeker's long-term strategy, allowing them to expand their reach throughout Florida and south-eastern U.S markets. It will ultimately change the way Americans purchase appliances. The operation will also allow them to expand their foothold and current operations across the nation.
Additionally, Goedeker retained Lambert & Co to lead its investor relations strategy. Lambert & Co will ultimately enable the company to grow its operations and reach a wider array of investors. Furthermore, Lambert & Co will provide long-term sustainable growth opportunities. For the company in the future.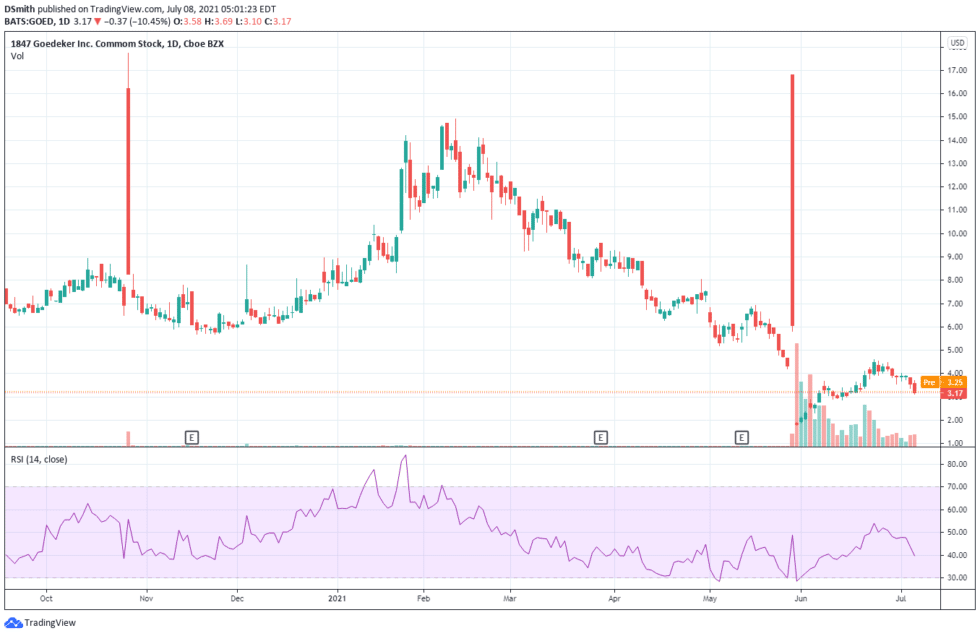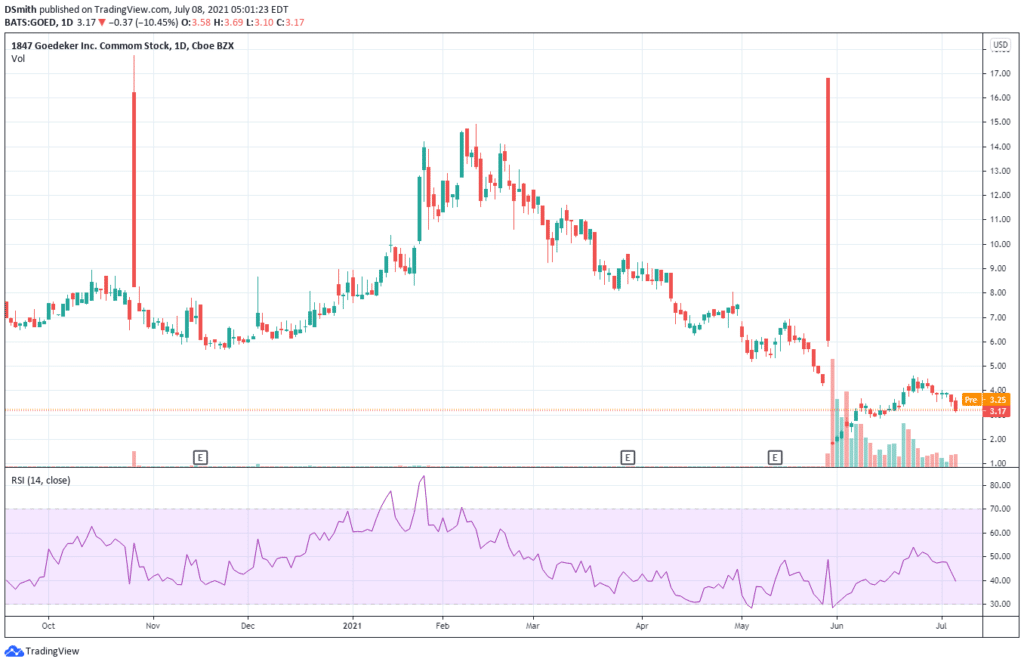 Looking at the chart for GOED we can see prices decreasing from the beginning of the year. In June, we can see some volume spikes, ultimately pushing prices lower. GOED is currently trading at $3.17, and the question is, will the price turn to the upside or continue to decline? Did GOED make it onto your watchlist?
Iterum Therapeutics PLC (NASDAQ: ITRM)
Iterum Therapeutics is a clinical-stage pharmaceutical company. The company is dedicated to combating the global crises of multi-drug resistant pathogens to improve people's lives affected by life-threatening diseases globally. The company's leading compound is Sulopenem, an anti-infective compound going through phase 3 clinical development. Iterum has received Qualified Disease Product and Fast track designations for its oral formulations of Sulopenem.
Iterum Therapeutics stock recently soared 18.3% due to the FDA not requiring an advisory committee review of the filing for Sulopenem to treat urinary tract infections. It is ultimately great news for the company because they have one less hurdle for Sulopenem to win FDA approval potentially. The FDA will announce its decision by July 25th.
Indeed, Iterum is not a large company with a market cap of $121M. The company has several institutional investors, implying that analysts within the institutions have looked over the stock, and they like what they see.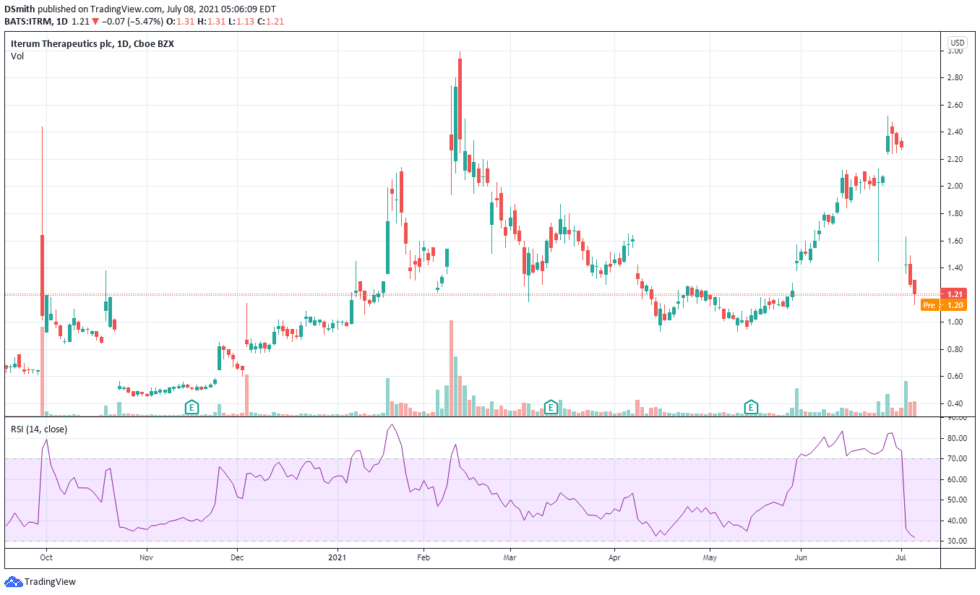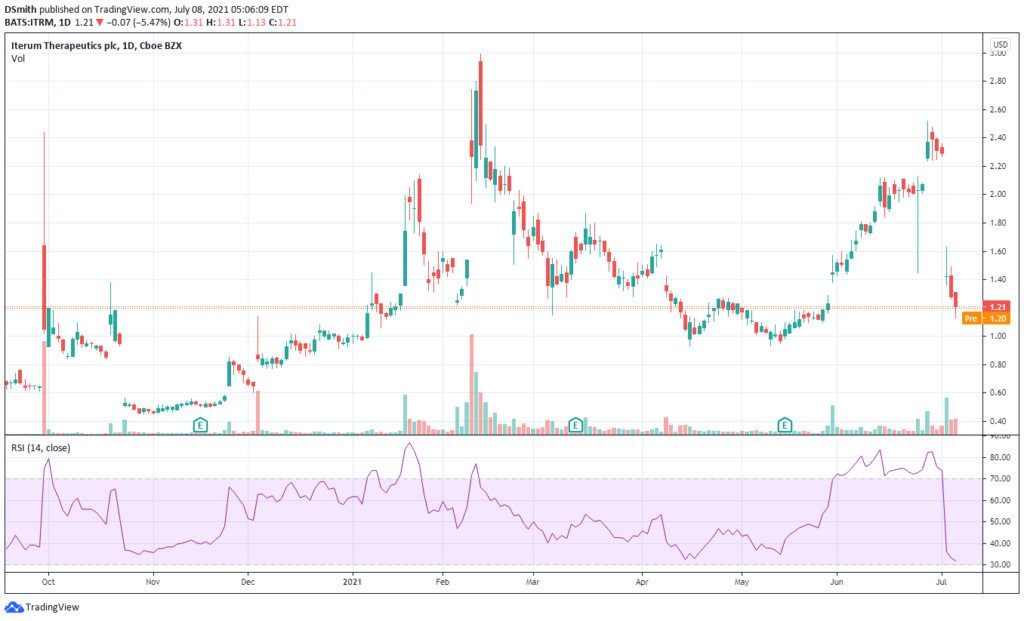 Since May, prices have been steadily increasing, with buyers pushing the price from $1 to $2.50. Recently we have witnessed a huge gap down on July 2nd. Will buyers come back and take control and push prices higher, or will it continue to decline? Is ITRM a stock to watch in the future months?
Alto Ingredients (NASDAQ:ALTO)
Alto Ingredients is a leader in the production of specialty alcohols and essential ingredients.
The company focuses on three markets: home and beauty, health, food and beverages, and renewable fuels. Alto Ingredients customers are consumer product and food and beverage companies.
Alto Ingredients has been recently added to the Russel 3000 index; Russel 3000 will add the company to the appropriate value and growth indexes.
The inclusion of the Russell 3000 index is an important milestone for the company. The inclusion complements the company's efforts to increase its visibility. It will help maintain a leadership position in specialty alcohol and essential ingredients markets. It will broaden Alto's exposure to the investment community.
Additionally, Alto announced the sale of its fuel ethanol production facility in Madera to Seaboard Energy California. The sale proceeds will reduce the assets, expenses, and interest by over $4million annually. It will ultimately allow the company to focus on driving revenue and profitable growth in the future.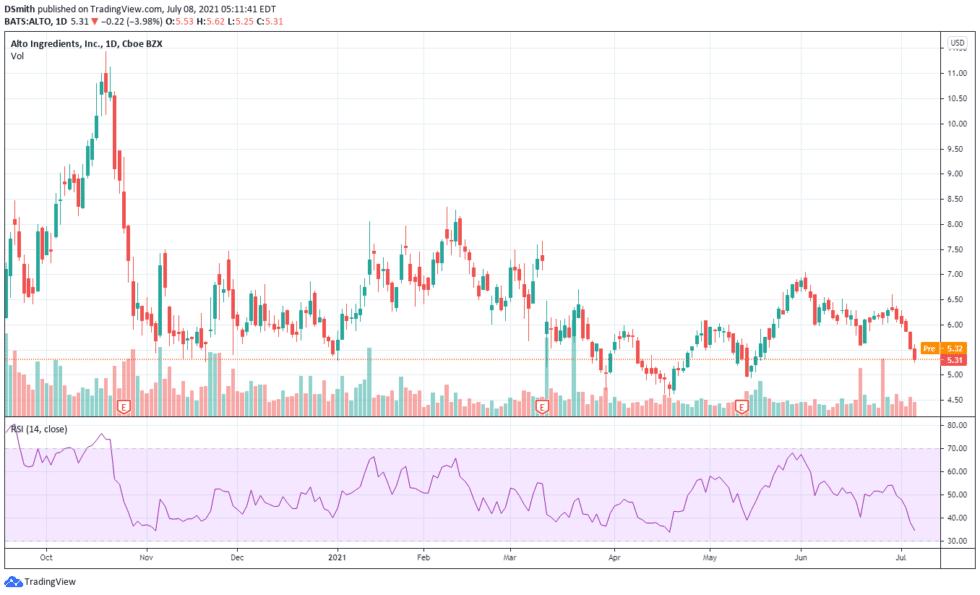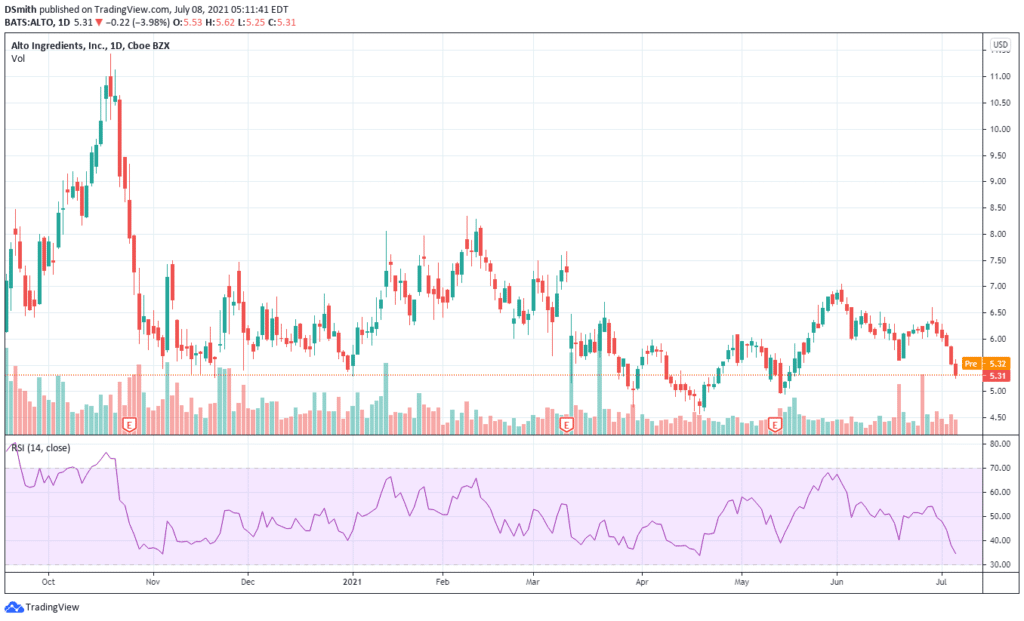 SINCE APRIL, the ALTO chart has been trading sideways, with neither buyers nor sellers taking control of the price. We can see steady volume in ALTO from both buyers and sellers. ALTO is currently trading at $5.31, but what direction will it take in the coming months? Could there be any upside potential for this stock? Is ALTO a stock worth further investigation?
Ideanomics Inc. (NASDAQ: IDEX)
Ideanomics is a global leader in the convergence of financial services and industries that are experiencing technological disruptions. The company's mobility division facilitates the adoption of electric vehicles through its vehicle procurement. Ideanomics Capital and mobility provide global partners and customers with their leading technology services. The company also offers shareholders to participate in the high potential growth industries.
Ideanomics recently announced the appointment of Mani Iyer as the new CEO. The new CEO will ultimately position the company for manufacturing and distribution to scale its electric tractors.
The world continues to adapt and move toward electric vehicle usage for the future.
Mani will lead the revolution to scale the company's operations, to drive market share through innovative product offerings. The company is well-positioned for rapid growth and expansion in the coming months.
Farming and utility operations sectors are now transitioning to cleaner and efficient alternatives. Mani will ultimately bring a wealth of experience, along with his significant network of dealer relationships. Mani will be of great value to Ideanomics to be a leader in zero-emission regenerative farming movements.
EV tractors have already proven to be superior to their diesel counterparts when it comes to overall performance and operating costs. Ideanomics intends to position itself as the go-to brand globally for farmers and business operators.
The global agricultural tractor market is valued at $75B, and the 40-HP segment contributes to 60% of its demand.
Additionally, some analysts have rated Ideanomics as a buy with a target price of $7 (A potential 122.9% increase) Ideanomics shares have surged 185.4% over the year already.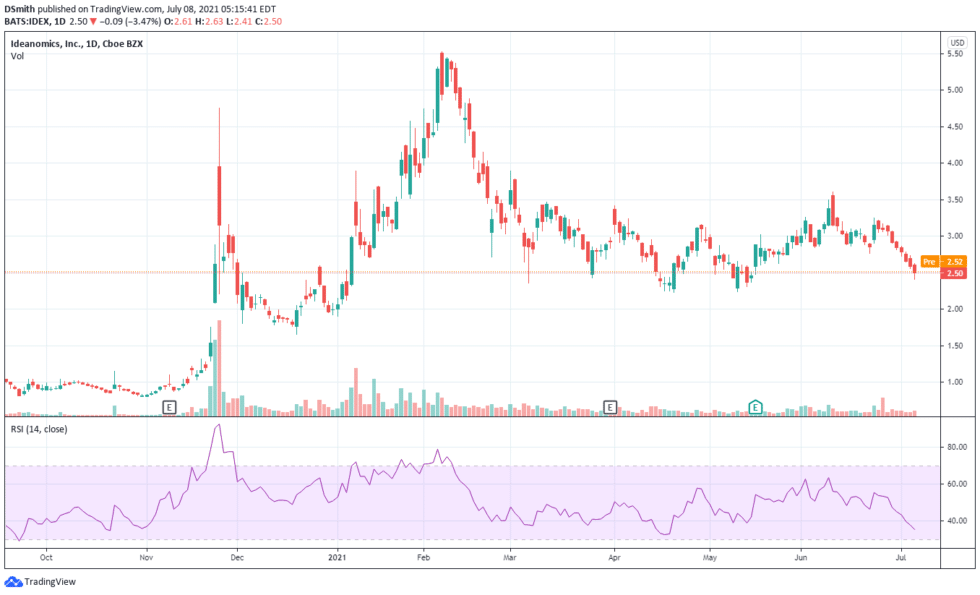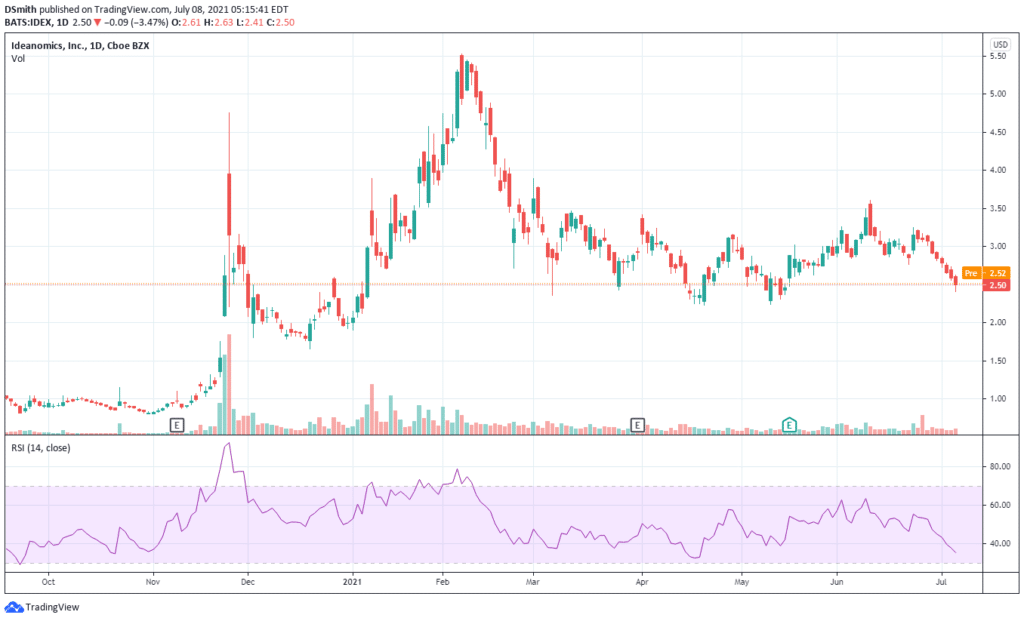 Overall, IDEX has been trading sideways since March, with neither bulls nor bears gaining any real advantage. Prices are now trading at $2.50, with sellers trying to push lower. The question is, will the buyers step back in to push prices higher? Is IDEX a stock to watch in the coming months?
Conclusion
The Reddit stocks to buy 2021 are handpicked stocks from trending penny stocks on Reddit, which investors are watching right now. 2021 started positively with penny stocks and markets in general, but prices have been up and down since then. Hopes are now reaching new highs due to the roll-out of the vaccines, and many investors are positive about the future months ahead.
However, it will take time to completely recover with new variants arising for us to contend with. But we can ultimately see the glimmer of bullish market sentiment. Considering all of these factors, which Reddit stocks to Buy 2021 are you watching now?