4 Trending Reddit Penny Stocks To Buy This Summer 2021
Summer is finally here, and penny stocks are on the move as we consider Reddit penny stocks to buy.
Although in summer, it is not unusual to witness the market slowing down in volume. Traders now have more access to platforms like Robin hood and Zacks Rank, so this could mean that this is a thing of the past. Social media plays a major influence also in most penny stocks, especially on platforms like Reddit. As investors, we can only hope that the volume remains incredibly high.
During May, we witnessed a 12% rise in (NASDAQ: SNDL) Sundial Growers Inc; this was due to the influence on Reddit and WallStreetBets.
The traders on these platforms aim to beat the short intuitional positions; they invest primarily in emotions rather than fundamentals. This can be an excellent strategy, as traders sit on the sidelines and find the most talked-about penny stocks on Reddit.
As traders, it is always good to do your research, as thousands of penny stocks are available to you. But there is only a handful offering true value to investors. Because of all the choices we have, traders can often find penny stocks that might look great in the short term but may not have value over the long term.
Social media can indeed have a lot of influence to move these stocks very quickly. Ultimately this can involve big gains or big losses; the majority of traders will hop in out of fear or the thought of missing out.
Trading penny stocks might not take a doctorate in economics. Still, it is wise to learn how to trade by educating yourself and doing research. One way to avoid losing money is to make trades in potentially winning stocks.
So let's look at our four potential Reddit penny stocks to buy that have been discussed on the platform for your summer 2021 watchlist.
4 Reddit Stocks For June 2021
(NASDAQ: SNDL) Sundial Growers Inc engages in producing and manufacturing cannabis products for the adult-use market throughout Canada. The company distributes and produces inhalable products from pre-rolls to vapes. The company is based in Calgary, Canada.
During May, Sundial Grower's share price rose by 12%. Sundial released its quarterly results and announced an acquisition. For most investors, the month seemed like a roller-coaster. But during May, the price soared by 12.3%, with extreme moves experienced in both directions.
Throughout the first three weeks in May, the company reported its extremely mixed first-quarter results and announced a new acquisition.
There was a reversal in momentum in May's final week, with shares jumping by 35% throughout the week.
The company announced that it would acquire Inner Spirit Holdings along with its retail cannabis network. Investors keen to get in on the growing cannabis sector resulted in a meme stock frenzy that also moved names like GameStop (NYSE: GME). And AMC Entertainment (NYSE: AMC)
the market witnessed a rally running from the 25th May to 3rd June, with prices increasing to 1.50 per share. The price has settled on 1.09 for now. Investors are hopeful to see momentum in Sundial Growers continue. With all these things in mind, is this penny stock on your watchlist?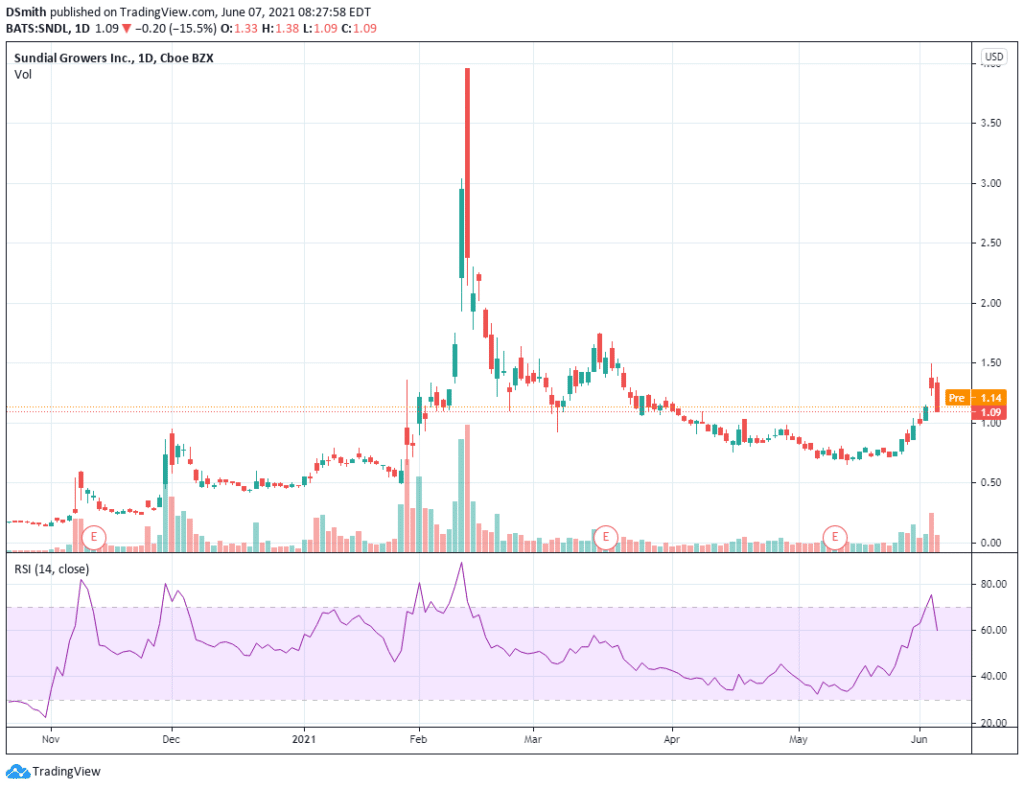 (NYSEARCA: GLD) SPDR Gold Trust, the investment reflects the price of the gold bullion. The trust holds gold bars and issues baskets in exchange for gold. The fund's main objective is to seek out the performance of the price of the gold bullion and represents a cost-effective investment in gold for investors.
The Gold Bullion has pleased investors during May, with a 7.7% increase in prices. It is currently moving to its best monthly gain since July 2020.
Analysts assume that the upside in bullion prices is due to rising U.S inflation levels and weakening of the U.S dollar.
"Gold is drawing its strength from inflation fears and some inclination of the yields, according to a Reuters article he mentioned. The dollar is staying weaker; that's fairly supportive. Gold bulls now have eyes set on $2,000, and most are thinking it's going to go much higher." Stephen Innes, Managing Partner of SPI Asset Management.
Analysts at Morgan Stanley expect gold to maintain its prices above $1,700 an ounce throughout the year.
SPDR Gold Trust has been soaring since April 2021, and prices are still increasing. Prices reached $178.75 and settling on $174.76 for now. It is not uncommon to discover that several of the gold-related ETFs will be moving in tandem with the rising prices of gold. Investors are keen to see continued momentum to the upside and hope gold will break resistance at $1.1919, meaning that gold may rise to $1.953. Is SPDR Gold Trust on your summer watchlist? Further research in SPDR may change your perspective.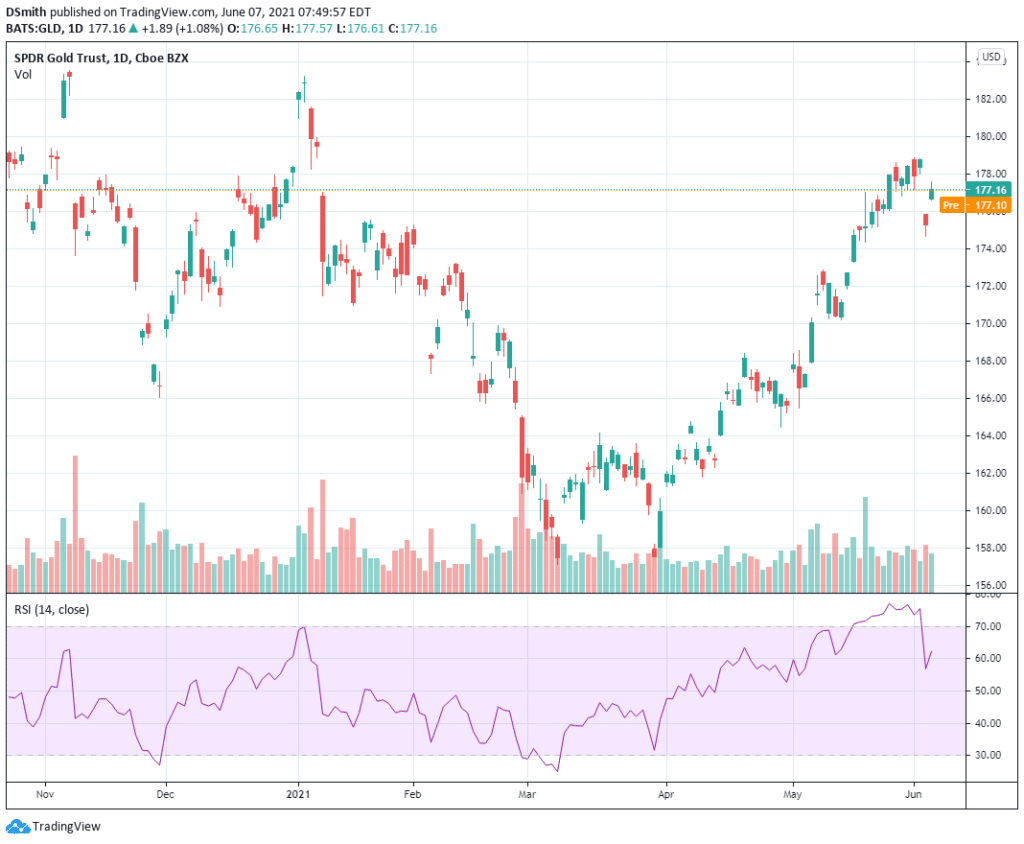 (NASDAQ: NAKD) Naked Brand Group Ltd is a designer and retailer of men's and woman's underwear and swimwear throughout the United States. Along with the company's retail outlets, it also sells its products online through www.fredericks.com. The organization is based in Double Bay, Australia.
The company has recently offloaded most of its brick-and-mortar operations. When shareholders approved the sale of its Bedon subsidiary, to complete its plans to become a fully e-commerce based business.
The company is currently hunting for mergers and acquisitions for its online business to complement its existing operations.
The organization has a solid balance sheet with no debt and an asset-saving operating model.
Naked Brand has become increasingly popular on social media sites like Reddit throughout the recent months. The management used the trading frenzy and surge of the stock prices to conduct several share offerings. The capital rose from the surging prices to pay off its debt completely and raised $270 million in cash reserve.
All these things place Naked Brand in a strong financial position moving forward.
Naked Brand rallied from 24th May to 3rd June, when the company reached $1 per share. It has now settled on 0.69, but investors will look for continued momentum. The current prices could be considered as a potential short-term correction, with investors seeking possible upside continuation. With this in mind, is (NASDAQ: NAKD) in your list of stocks to watch this summer?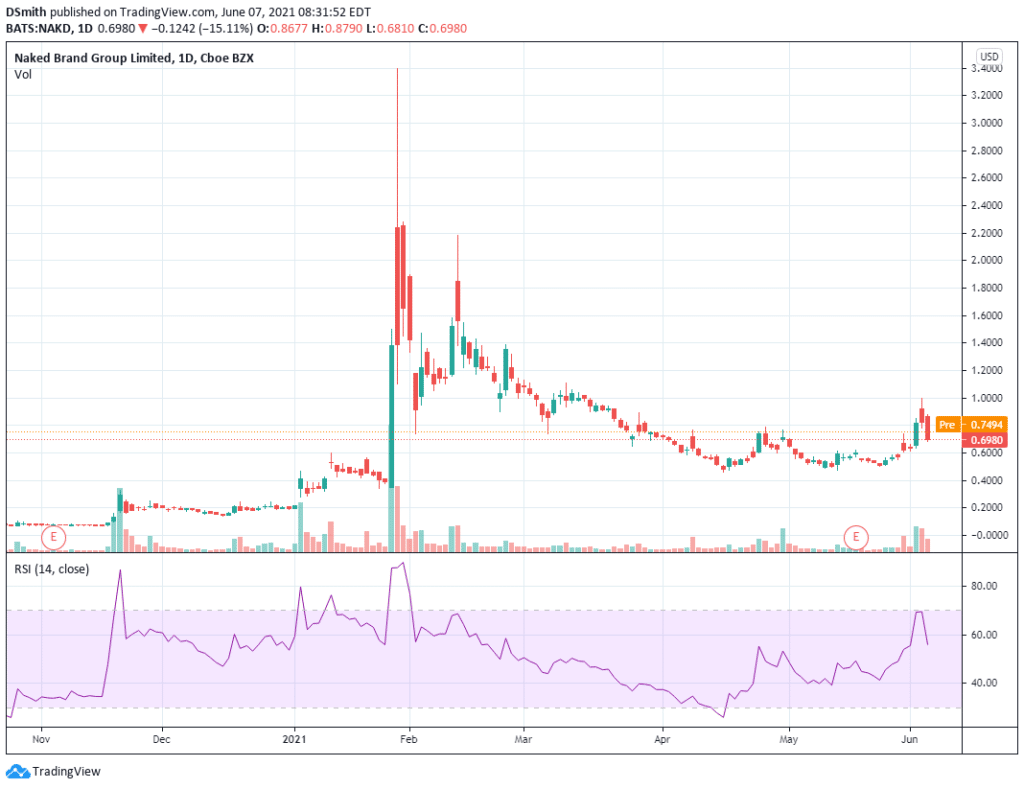 (NASDAQ: CTXR) Citius Pharmaceuticals Inc is a pharmaceutical company dedicated to developing and commercializing therapeutic products to growing markets. The organization is based in Cranford, New Jersey.
Citius announced its new ground-breaking programs in its pipeline. Also, they announced its new partnership with Novellus Pharmaceuticals to develop Mesenchymal stem cells to treat acute respiratory distress.
The company is aware of the problems found in cancer patients that can often become infected with most surgeries and treatments. And when these patients become infected, it can be life-threatening.
The company's leading product addresses the common problems of bacteria in the bloodstream. Which can cost the industry billions every year, is a revolutionary therapy call Mino-Lok, avoiding most complications or discomfort.
The company presented its financial summary with its diversified portfolio to potential investors. It highlighted the $104 million already banked, meaning that they have the financial capital to fund all of the programs in their pipeline.
Citius Pharmaceuticals Inc rallied between 13th May. With Citius reaching $2.52. Prices have currently settled at $2.34, and investors will look for increasing momentum for a continuation in prices. The question is, did Citius Pharmaceuticals Inc make your summer watchlist?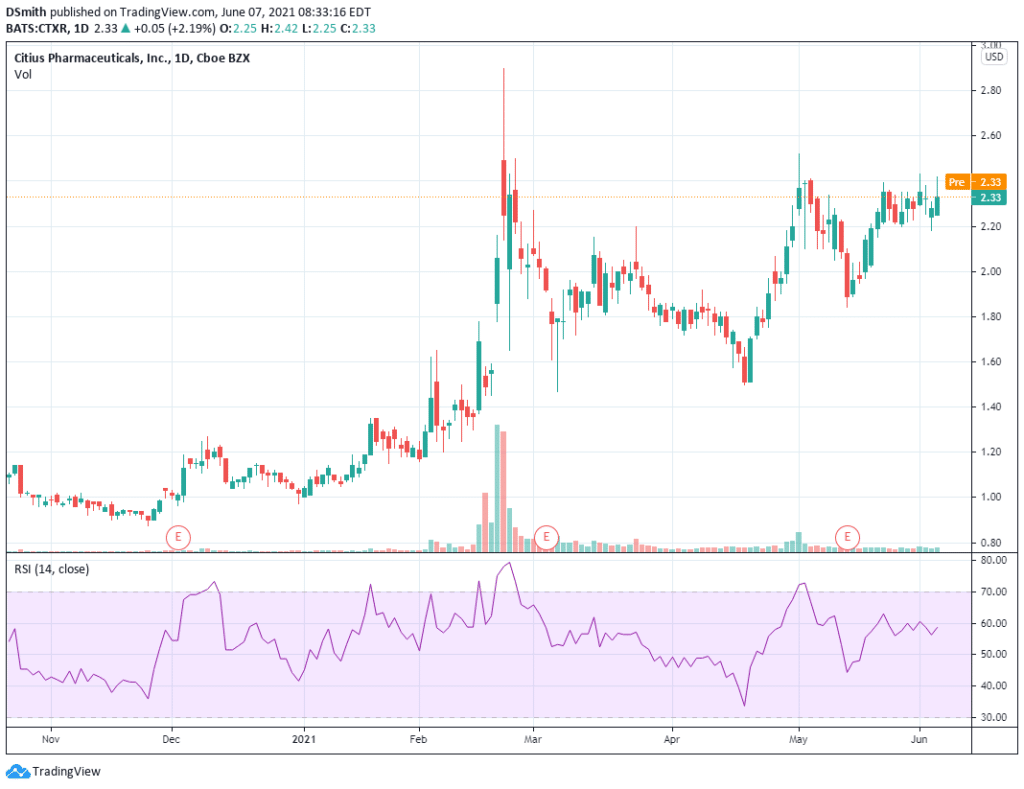 What Penny Stocks Are You Watching During Summer?
We have looked through some of the top Reddit penny stocks to buy and considering each top-performing stock on its merits.
As we move into summer, investors remain hopeful about the prospects of the market.
Trading over the past few months has been volatile and less than ideal. But there have been many positive factors occurring on the horizon, including the potential end of the pandemic, economic recovery, and worldwide reopening.
It is good to be mindful if you consider trading penny stocks. Finding the best penny stocks to trade is essential; it should involve commitment and research to investigate the stock to the best of your ability.
But as traders, we have so many stocks in play right now it can be challenging to know where to start. Hopefully, our top 4 Reddit penny stocks to buy will assist you on your journey to choosing the ideal stocks for your watchlist.
But with so many stocks moving right now, only time will tell how the market will move over the next few months and years.