4 Best Biotech Penny Stocks To Watch In June
Might you be considering trading the best biotech penny stocks in June? Buying and trading penny stocks have been popular this year. Most stocks demonstrating low prices and high volatility, meaning that the potential to grow a profitable portfolio has been considered by many investors. Additionally, there is such a wide-based selection of penny stocks to buy, giving you many options to consider. This year has made it even more essential to build a penny stock watchlist, but you must consider a few things first.
Firstly, it's important to note that trading penny stocks can often be risky than blue chips. News, social media and current market trends can hold an influence on price movements. Penny stocks are low cost and therefore may undergo huge price swings in either direction, which can also be frequent. In some cases, this can lead to impressive intraday gains; in other cases, this can ultimately result in loss. That is why doing your research on penny stocks is essential and is the key to all investments.
Finally, you need to consider current events, and this can be overlooked by most traders, even though it seems obvious. Numerous investors can fail to consider micro and macromedia events. Often these could be worldwide events or industry occurrences. Often penny stocks are extremely volatile, and you should take these major influences into account. When you look at the best biotech penny stocks, it can be even more essential.
Best Biotech Stock For 2021
When you examine the biotech industry, you will discover that it can often be more speculative than most. When a press release is in circulation, a new drug is approved, or industry presentation occurs, making prices ultimately move.
The price action can be positive or negative, but you need to realize whether you are in the know or not.
During the past year, prices have remained bullish in the biotech industry. The last few months have increased focus on these best biotech stocks due to the pandemic. The companies dominating the blue-chip biotech wave at present are (NYSE: PFE) and (NYSE: JNJ), but you have plenty of small caps to watch as well.
It might seem obvious but focusing on the companies who are involved in Covid. But it is also good to note that there is momentum amongst companies that do or do not have any involvement in the vaccines.
Another thing to consider is what does the company has in its pipeline. This is often the ideal way to ensure future momentum.
4 best Biotech Penny Stocks For Your watchlist
The biotech sector is at the cutting edge of science. Every year we witness more companies releasing new and innovative drugs, research, and medical devices. The sector mainly thrives off competition, which might be one of the main reasons investors look to this sector in uncertain times.
It can be challenging to make a biotech watchlist for 2021, but it can be rewarding and profitable if done precisely. Always be mindful of doing your research and due diligence. This will ultimately be the key to finding biotech stocks demonstrating momentum. You should also aim to be on top of industry-wide announcements, news, and regulatory measures.
Why are Biotech Penny Stocks Rocking This Week?
For one thing, many catalysts are driving this sector with drug news, institutional investments, and Reddit hype. But it is essential for traders not to jump in, instead build your watchlist and trading strategies, and always stay disciplined. With all this in mind, we selected the four best biotech penny stocks to watch now.
Rigel Pharmaceuticals, Inc. (NASDAQ: RIGL)
Rigel Pharmaceuticals is a biotech company and a leader in discovering and developing novel small molecule drugs to improve patient's lives with the following disorders, including cancer and rare immune diseases. The company currently has an FDA-approved product called TAVALISSE®, a pill to treat patients with chronic immune thrombocytopenia. Currently, to product is available in Europe and Canada.
Rigel Topped their 1st quarter earnings and revenue estimates recently. The company released its $.022 per share and beat Zacks consensus record of $0.01 per share. The report shows earnings of 2.100%, and during the last four quarters, the company has surpassed their estimates three times.
The company posted earnings of $81.02 million for the quarter ending in March 2021.
So, what is next for this innovative company? Rigel has indeed underperformed the market throughout the year, but what's next?
Research often shows that there is a correlation between trends and near-term stock movements.
It is possible to track these figures yourself or use a tool like Zacks Rank, which has incredible precision in researching earning estimate revisions.
The estimate revisions for Rigel were mixed, and Zacks Rank currently indicates a HOLD #3, meaning the shares may perform in line with the market.
It will be interesting to see what estimates come out of the fourth quarter in the days ahead. The current consensus estimates are $0.12 and $64.54 million in revenue. But it is always best to be mindful of industry moves that can directly impact the stock price performance.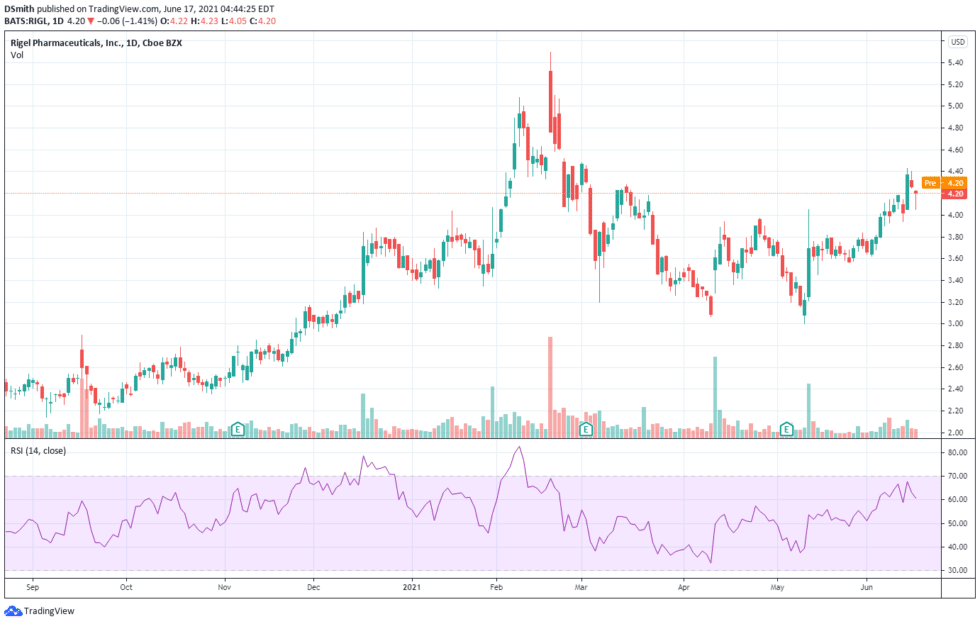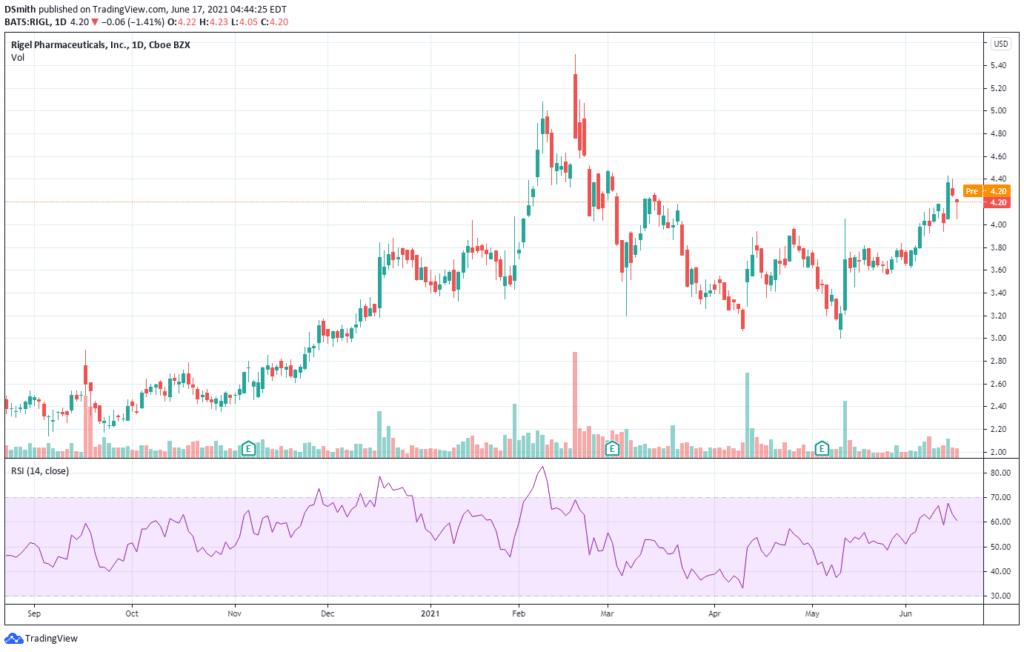 RIGL rallied from 25th September 2020 to 17th February 2021. There was no stopping price action in this period. Shortly after it peaked at $5.51, it started to fall in price to $3.09. Prices have now settled on $4.20.
Could this be the start of continued momentum, with prices indicating opportunities for investors? Did RIGL make it onto your June watchlist?
Catalyst Pharmaceuticals (NASDAQ: CPRX)
Catalyst is a commercial-stage biopharmaceutical company. That mainly focuses on developing, licensing, and commercializing high-quality medicines to treat rare diseases.
The company's new drug application for Firdapse®, tablets for treating LEMS, has been approved by the FDA and is available throughout the United States. Additionally, it has been approved in Canada to treat patients.
Catalyst's recent share price gain of 567% over the last half-decade was an excellent return for long-term investors. The share price has remained up by 34% throughout the last quarter.
During the last five years of share price growth, Catalyst has moved from loss to profit. This is the kind of transition that can often result in a strong price gain, as we have already witnessed.
Throughout the last three years, Catalyst has ultimately improved its bottom line. This is reflected in the share price, with investors up by 27% for the last year. It is a great indication that the company has a long-term track record, providing shareholders with annual growth of 46% throughout the last five years.
It is always interesting to track share price over the long term and better understand the company; you need to consider all the factors.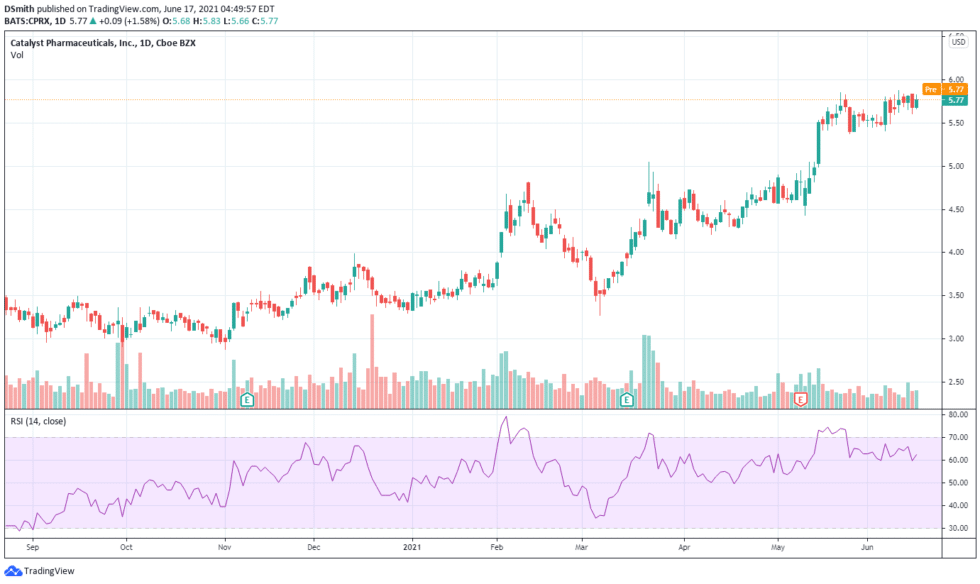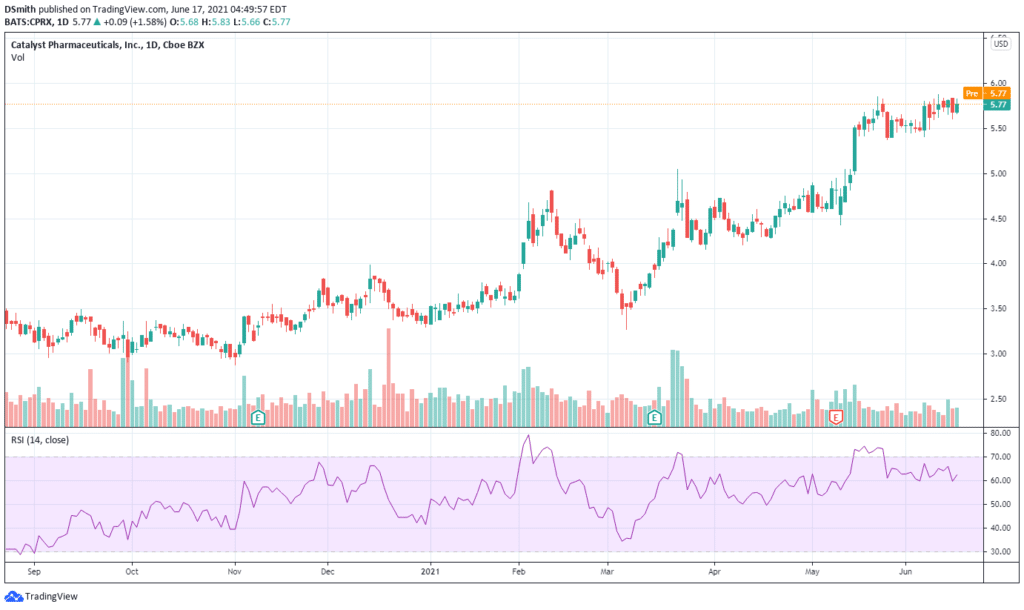 CPRX has demonstrated share prices going from strength to strength. Prices have been increasing steadily from the first half of the year.
Prices have increased from $3.37 to $5.77. The chart shows the steady volume and up-trending momentum. The question is, will prices continue to increase or pause for breath. Are you watching CPRX?
GT Biopharma Inc. (NASDAQ: GTBP)
GT Biopharma is a clinical-stage Biopharma company mainly involved in developing and commercializing immuno-oncology products. Their leading product is TriKE™, a cell engager platform designed to enhance and harness cancer-killing abilities.
Currently, the company has a worldwide license agreement with Minnesota University to commercialize further and develop their TriKE™ technology.
GT Biopharma is to be added to the Russel 2000 index, which will be effective on 28th June 2021.
The company feels that this is a crucial milestone for them, reflecting their continued progress in developing the first-class therapeutics. GT welcomes the enhanced visibility and long-term growth potential in the broader investment community.
The FTSE Russel determines memberships based on objectives, market capitalization, and style attributes. The membership in the small-cap Russel 2000 will be in place for one year, based on Russell 3000.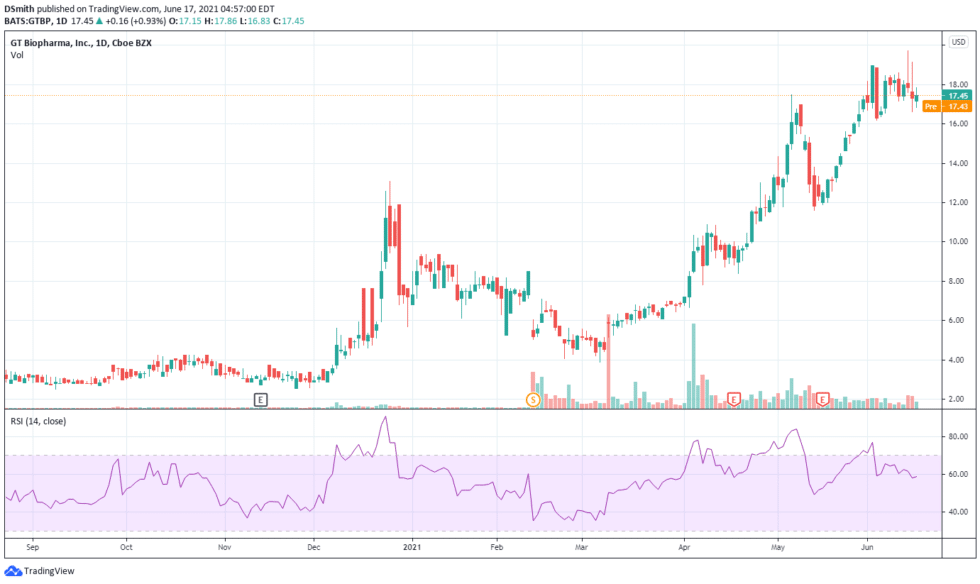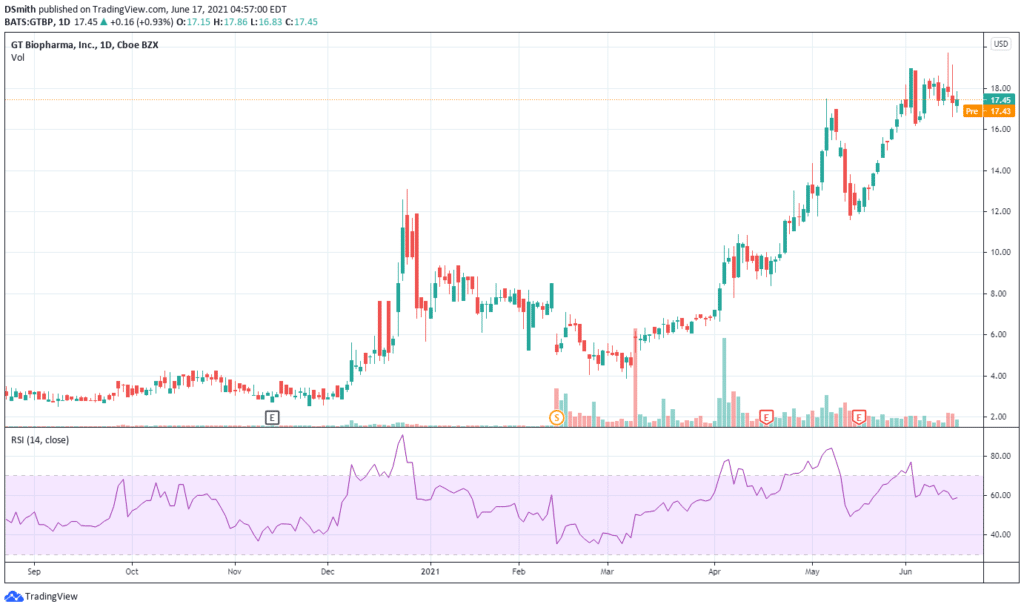 There is no stopping GTBP, with prices on the rise since November 2020. GTBP's price has increased from $2.26 to $17.45 and shows continued momentum to the upside. Traders will look for opportunities to enter the trend in the hope of potential upside gains. The question is, will GTBP continue the momentum, or will it take a pause. Are you watching GT Biopharma?
Asensus Surgical Inc (NYSE: ASXC)
Asensus Surgical is a leader in digitalizing the interface between surgeon and patient to promote a new era of performance-guided surgery. It is unlocking clinical intelligence for surgeons to practice new standards in surgery. Their leading product is Surgical Unit™ which increases surgeon's control and reduces variability through machine vision and augmented intelligence.
Asensus Surgical will join the Russel 2000 microcap index on 28th June 2021 and remain for one year.
Asensus Surgical believes that this inclusion will increase visibility and exposure to investors. The milestone reflects all of the work and effort in creating value for its investors, customers, and patients through its innovative technology. The company will continue to enhance its Senhance System's technology to surgeons and patients globally.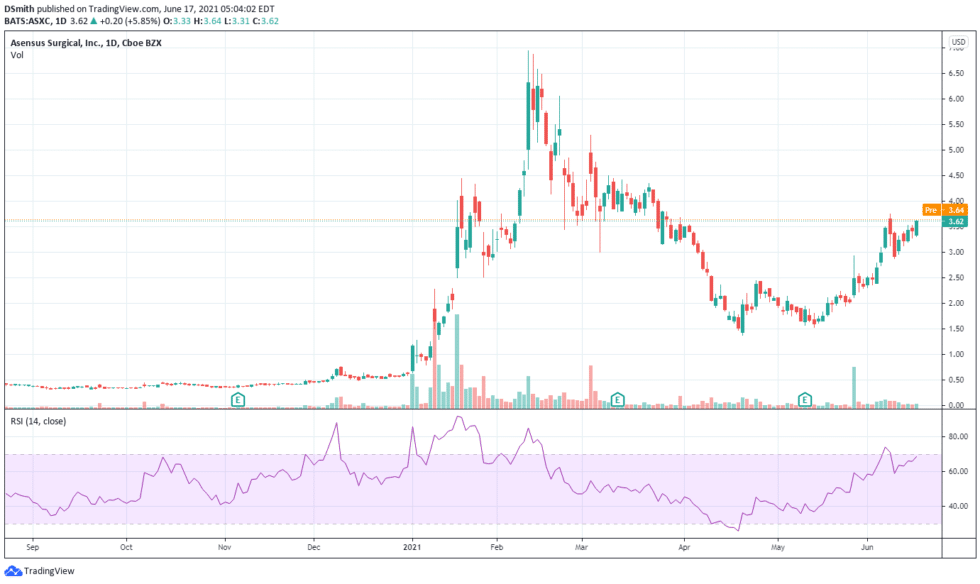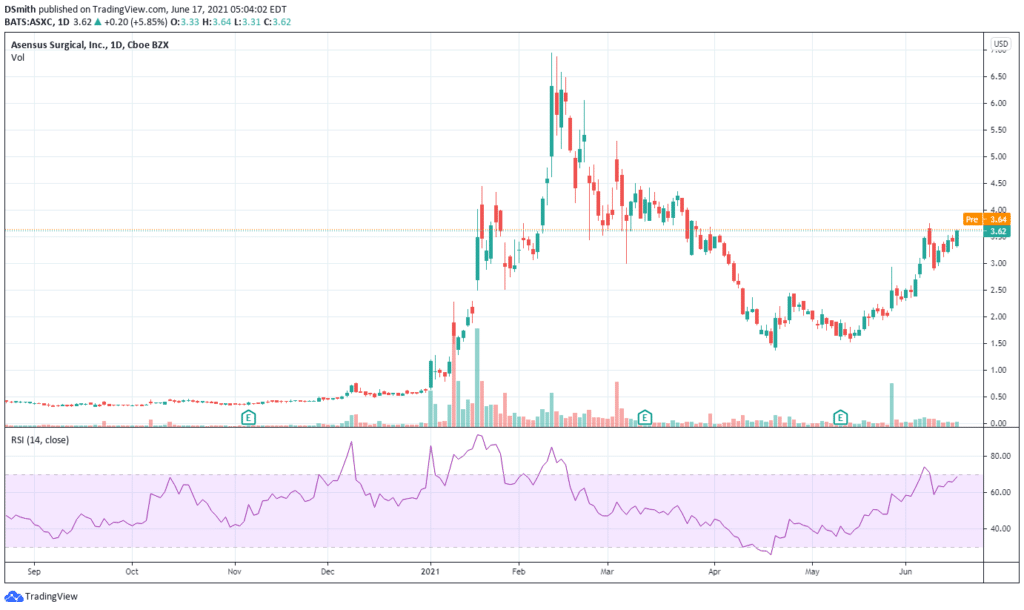 ASXC rallied from January to February 2021, with prices increasing from $0.67 to $7, prices fell to $1.44 in April. Share prices are now rising and settling at $3.62. Could this be a sign of continued momentum, or will prices range or fall? Could this indicate interested traders who think the price is undervalued? Only time will tell? Did ASXC make it onto your watchlist, and is this an interesting company to investigate further?
Conclusion
With all things considered, finding the best biotech penny stocks to watch will ultimately involve knowing where to look.
The internet makes it easy to investigate and study these penny stocks with potential, to give us an objective overview on performance and possible future growth.
As previously mentioned, investors need to do the proper groundwork and research to find the best biotech penny stocks showing the greatest potential in the short and long term.
Ultimately this will entail knowing what is in the pipeline and what drugs or technologies are currently being approved. The question is, which biotech penny stocks made it onto your watchlist?