3 Lithium Penny Stocks In The EV And Energy Markets
When investors are looking for penny stocks, it's important to find opportunities across the industries. Currently, there are a wide variety of penny stocks in the lithium industry that may be worth watching. Lithium happens to be one of the hottest commodities which are in demand globally. This has affected energy stocks and tech stocks.
The main reasons for this are, Lithium happens to be the main component in the majority of batteries that are used today. This also includes electric vehicles, smartphones, and anything else electronically powered. It is not surprising to discover that lithium penny stocks have come into the public eye.
This is evident with the meteoric rise of Tesla Inc (NASDAQ: TSLA). In addition, in a recent report, analysts stated the demand for Lithium could triple by 2030, which is an incredible amount of growth over such a short period. But this does make sense when batteries do account for 70% of lithium consumption.
The same report also stated that the lithium-ion battery sector is estimated to be more than $46 billion by 2026. The lithium-ion battery market was worth $4 billion in 2020, so this is a major increase predicted into the future.
Currently, we find ourselves in an advantageous position, given that the supply right now of Lithium is very low. As a result, over the last months, Global X Lithium & Battery Tech ETF (NYSEARCA: LIT) has increased by over 130%. So, with that growth rate in mind, here are the lithium penny stocks in the energy and EV markets that could be worth watching.
Bacanora Lithium (LSE:BCN)
Bacanora Lithium Plc is a development-stage mining company. It primarily engages in the exploration, identification, and acquisition of mineral properties. In addition, the company explores battery-grade Lithium. Its leading project is the Sonora lithium project, consisting of 10 mining properties covering 100,000 hectares in Sonora, Mexico.
Richard Sneller of Bacanora Lithium Plc shelled out £58K to buy stock, at £0.58 per share. The purchase might not be a big one, but it has increased the price by 2.7%, which can ultimately be a good sign.
It was the largest purchase made by an insider over the last 12 months, showing that the company felt optimistic at the time. It is always good to discover the price an insider pays for the stock, and it will catch your eye when the purchases are made above the current prices. It ultimately implies that they believed the shares were worth buying.
Even though the insiders did buy the shares, they never sold them throughout the last 12 months. As a result, insiders currently own about 2.3% of the shares worth roughly £4.2M.
It is great to see the insider purchases and long-term transactions to give investors more confidence. However, the company did not make a profit over the last year.
It would be good to see higher levels of insider ownership. Still, the analysis suggests that the company expects a positive future.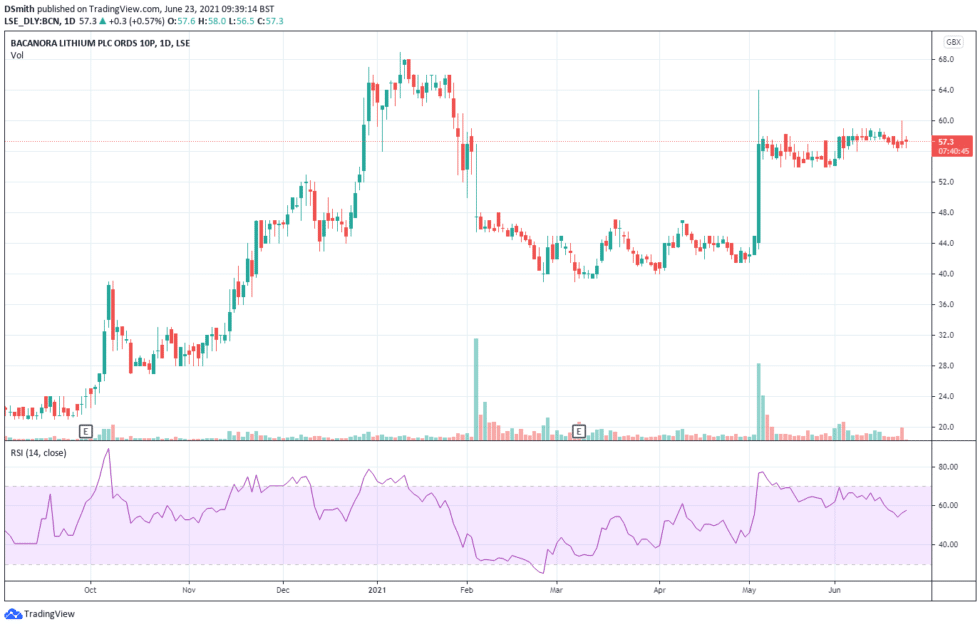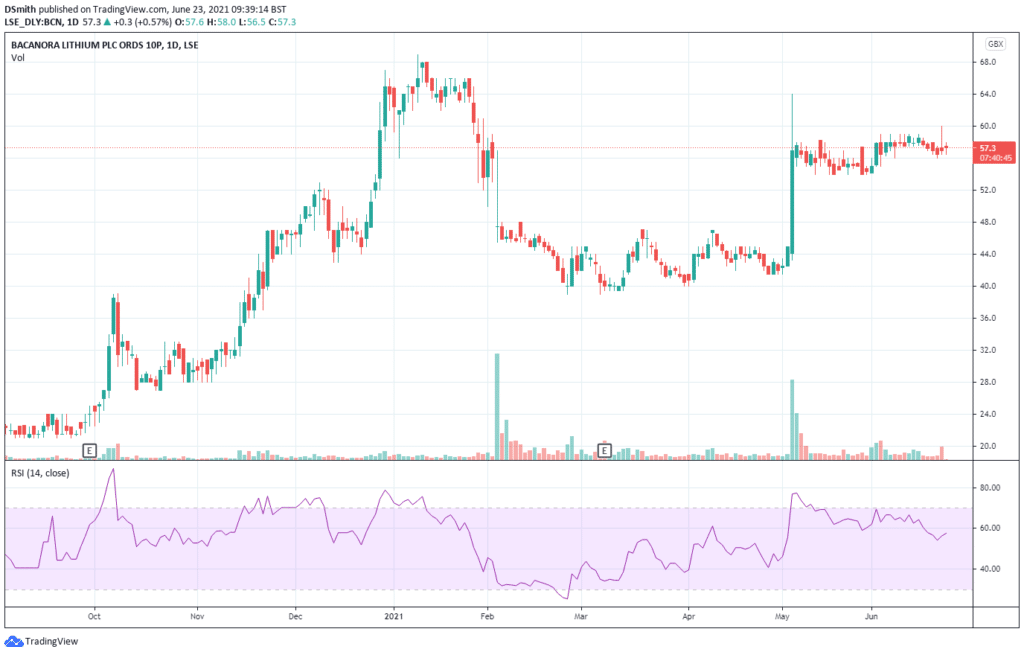 When you look at the BCN chart, you can see major buying pressure in May, when prices went from £41.50 to £64.30 with increased volume. Now BCN share price is meandering, settling at £57.30.
Could the prices rise again from this range or plummet further? Did BCN make it onto your watchlist, and do you think it is worth more investigation?
Romeo Power (NYSE:RMO)
Romeo Power is an energy technology leader, delivering electrification solutions for commercial vehicle applications. The company's suite of hardware and innovative battery management systems deliver reliability and performance configured to the customer's needs.
The appointment of Kerry. A Shiba is to become Chief Executive Officer, bringing over 30 years of financial experience. Additional CFO Lauren Webb will become Chief Strategy and Commercial Officer, developing the corporate strategy and business developments.
Romeo Power believes that the new roles will effectively optimize the performance and operations of the company. They are also confident that they can transform the commercial and industrial transportation industry.
Kerry. A Shiba is delighted to be part of the team. The collaboration will push the envelope in EV technology and innovation.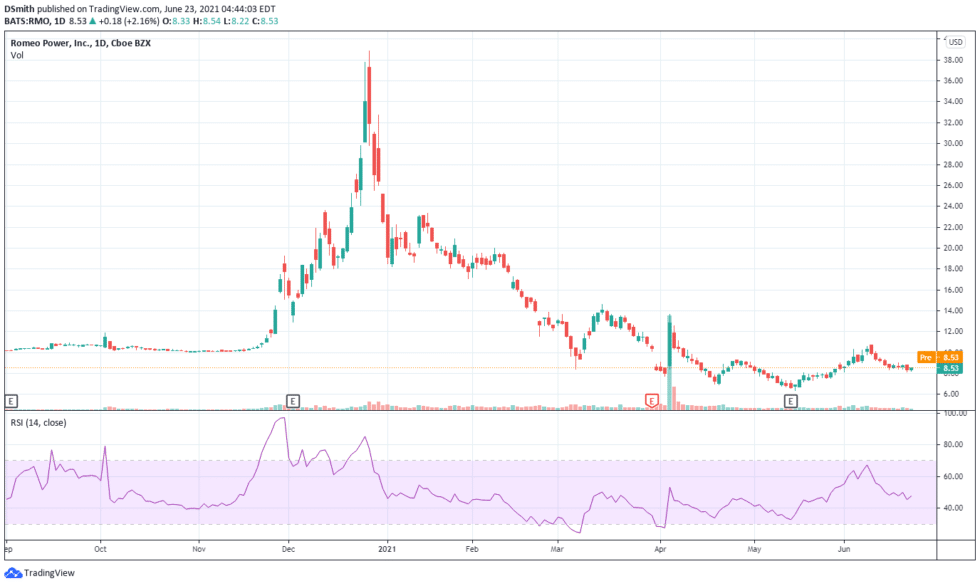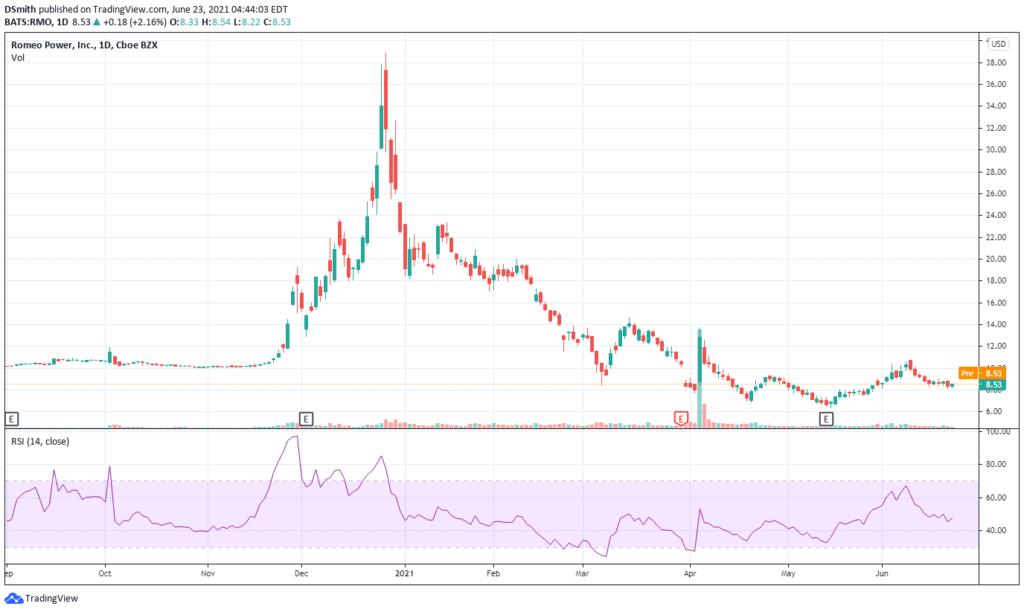 Looking at the RMO, prices have been falling since the start of the year.
Prices are now meandering at $8.53. Could this be a bounce in the price? Or is more upside potential possible in the coming months? Did RMO make it onto your watchlist, and does this seem like an interesting stock to investigate further?
Electrameccanica Vehicles Corp. (NASDAQ: SOLO)
Electrameccanica Vehicles Corp is a development stage organization. It develops, manufactures, and sells electric vehicles throughout Canada.
The company operates in two categories, custom build vehicles and electric vehicles. The company's leading product is SOLO, a single-seat vehicle, and is currently developing a two-seater vehicle called Tofino. The company currently sells its vehicles on an online platform electrameccanica.com, along with ten retailer locations.
Last year, the electric vehicle industry was one of the high-flying industries. As a result, most stocks, including startups, experienced meteoric rises. Investors had been aggressively buying the stocks due to the EV mania, disregarding fundamentals or valuations.
The landscape did indeed seem invincible till last year. However, investors are now aware that not all of these stocks will make it big in the extremely competitive sector.
SOLO is one stock that had a huge following rising 188% in 2020; this is a huge amount of growth demonstrated in such a short timeframe.
The flagship SOLO EV can run up to 100 miles on a single recharge, boasting top speeds of 80 miles per hour. Also, its price is very reasonable at $18,500, currently available for pre-ordering.
Things could indeed be different in the future. Due to the auto industry going through a radical makeover, with more single-seaters and three-wheeled EVs hitting the roads, all promising lower costs.
Electrameccanica Vehicles is playing its marketing cards exceptionally well, using both traditional and digital media, along with social media strategies. As a result, SOLO will increase its brand awareness and enthusiasm for its leading product SOLO. In addition, the company is focused on expanding its retail outlets, currently owning 20 stores throughout the United States.
Electrameccanica Vehicle's success will depend on the mass adoption of the three-wheeled, single-seater electric vehicle. If you look at the Zacks Rank for the company at present, it is #3 HOLD. The company is ambitious about expanding to the west coast in the US. However, it still is unclear if Americans will welcome the vehicles with open arms. So, prospective investors might want to wait for encouraging numbers and more clarity before they buy the dip.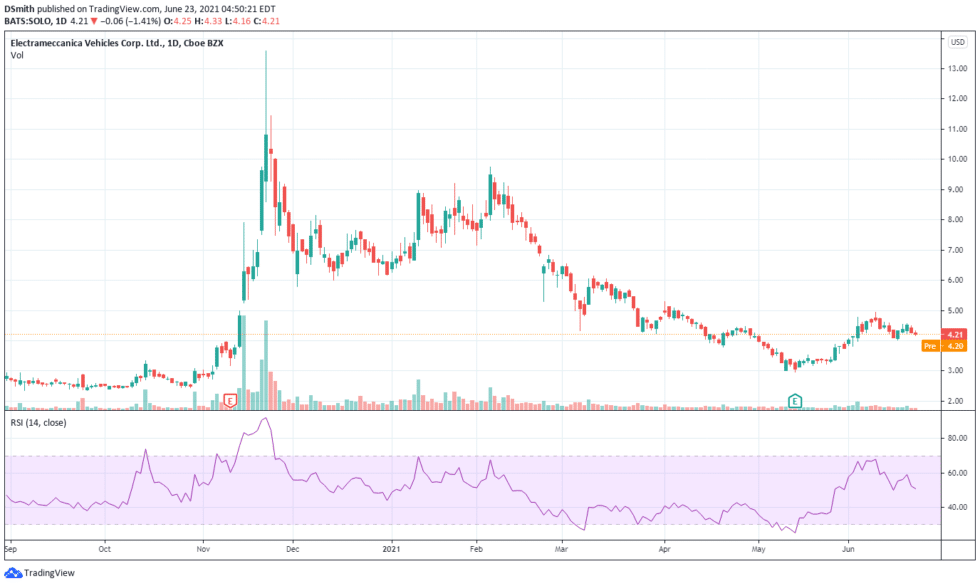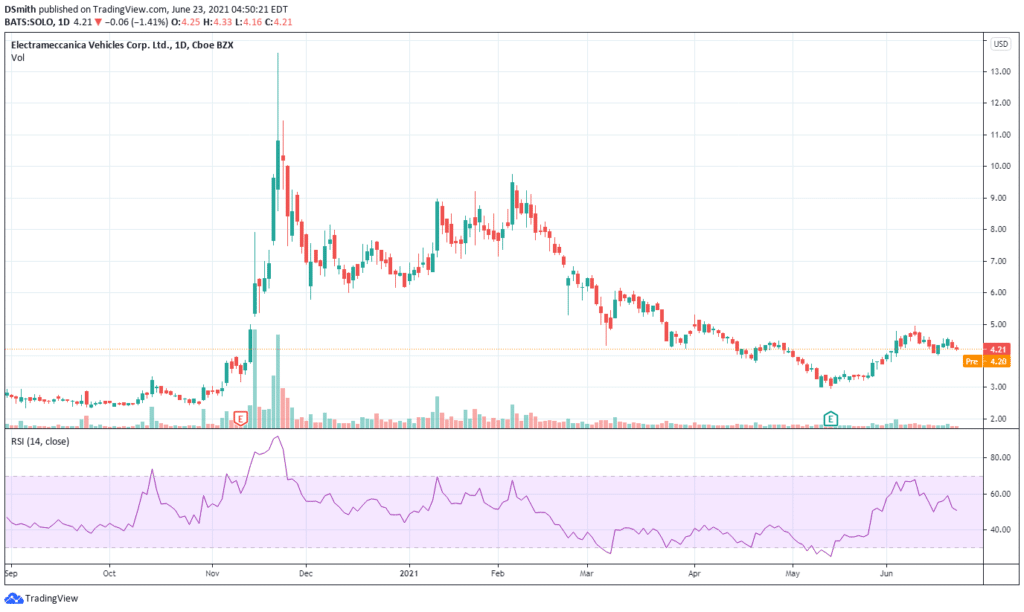 Looking at the SOLO chart, we can see prices have been falling from February 2021, from $9.80 to $3. Prices are now at $4.21. Could this current price action in June be a bounce, or will prices experience a rise? Did SOLO make it onto your watchlist, and do you prefer to wait for more price action to occur to confirm the future direction?
Conclusion
Finding the best lithium penny stocks can be a challenge, especially if you don't have the right tools at your disposal. To build an effective watchlist, you need live news feeds, excellent research methods, and trading education. But making a penny stock watchlist will help you through all of your trading decisions in the long run.
With lithium penny stocks or stocks in general, it is essential to consider the current and future direction that the given company will take. There is so much potential throughout the markets currently, and there are hundreds of lithium penny stocks to choose from. With all these things in mind, do you think lithium stocks are worth it?