We offer very detailed and comprehensive analysis to our ever-growing list of dedicated subscribers.
Another stock to put on your watchlist is nasdaq:otel, Otelco Inc, providing wireless communication services Throughout the U.S. Otelco services include long-distance and local telephone, high-speed data lines, network access, transport services, and cable television services. The company is the largest of 20 local exchange carriers throughout the U.S.
They also actively serve rural markets and competitive wholesale and retail communications services, hybrid cloud hosting services through various subsidiaries. You can check out more information on their website here. www.Otelco.com.
Otelco is a US-based company that is publicly traded under the symbol nasdaq:otel. The company currently serves Maine, Alabama, Missouri, Vermont, Massachusetts, and West Virginia. In addition to the telecommunication services, it also offers managed services and cloud hosting services for small and mid-cap companies. The company derives revenue from local services, internet, transport services, and various other industries depending on telecommunications services.
nasdaq:otel Company Overview
Otelco prides itself by offering mission-critical systems, including internet access, business phones, and residential customers. The company offers a reliable service accessible to all and resolves issues quickly through their experienced networking specialists.
The company offers bespoke services throughout the U.S and works to the customer's unique inquiries.
The company aims to be dynamic and supportive in this competitive telecommunications field. It offers a wide range of services to capitalize on its market share while providing the best services to its many customers throughout the United States.
nasdaq:otel – Sector Information
The chart below shows the annual statistical growth of worldwide spending in the telecommunications industry from 2019 to 2014. Global telecommunications services are expected to decline by 1.4% in 2020, which is mainly due to the pandemic. In 2021 the forecast is due to increase by 1% compared to 2020.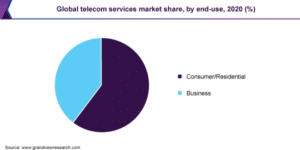 The telecommunications service industry is a Trillian dollar business expected to grow throughout the next few years. Telecommunications spending in 2019 reached $1,44 trillion and is expected to reach $1,707,69 Billion in 2021.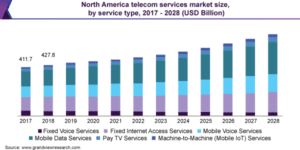 The key factors affecting telecommunications services include;
Growing demand for mobile subscriptions, soaring demand for high-speed internet, and increasing demand for managed solutions.
Trends within the sector
The worldwide telecom services market size was valued at $1,657.7 Billion in 2020, with an expected annual growth rate of 5.4% from 2021 to 2028. These figures are mainly due to rising spending on 5G infrastructures and shifting customer inclination for next-generation technologies and smartphones. This consumer demand is driving the sector into market growth. Other factors include;
mobile subscribers, demand high-speed connectivity, and increasing demand for managed services. Over the past few decades, the communications network has continued technology advancements to meet the growing demand for speed and innovation.
Latest trends within the telecom industry include innovative technologies like artificial intelligence for securing networks, growing demand for 5G, and increasing demand for the internet of things, delivering ultra-high-speed internet connectivity, wearable health monitors, and much more technological advances.
nasdaq:otel – Fundamentals
Otelco is currently trading at 11.74, increasing by 0.17%; the company's volume is 12.00K shares and has a market capitalization of 40.06M, and is traded on the Nasdaq exchange.
The company's one-year performance is 115%, and its five-year performance is 149.79%. Otelco's 52-week range is between 3.92 and 12,5. Otelco's PE Ratio is 6.40, and its revenue ttm is $46,55M, making it $13.60 revenue per share. Otelco's earning date is 3rd May 2021
Financial Strength                Value Industry
Quick Ratio                                       0.90
Current Ratio                                    1.20
Long Term Debt to Total Capital  0.71
Total Debt to Equity                        2.75
Interest Coverage                             3.10
Leverage Ratio                                  5.30
Looking at the ratios in more detail
You can see the current ratio is 1.2. This is quite a low figure, but not low enough to cause any major concern. Ideally, if you looked for stocks above 1.0, and stocks over 2.0 should be even better. The current ratio indicates how a company can cover its short-term debts with its short-term assets.
The quick ratio is 0.9 is below 1.0 but should be ideally over 1.0. The higher numbers are always better. The quick ratio mainly takes the cash into account and focuses on accounts receivable and marketable securities. Using this number, we can get a better idea if the business can cover what it owes in the short term.
The long-term debt to total capital shows the financial leverage of a company. The company's ratio is 0.71, which is acceptable. It would help if you aimed to look for stocks below 1.0, and they should be ideally between 0.4 to 0.6.
The company's total debt to equity is 2.75 is acceptable, and above 2.0, you should look for stocks mainly above 2.0, and the higher, the better. Debt to equity swaps is common in the financial world. They enable the borrower to transform its loans into equity.
The company's leverage ratio is 5.30, and you would ideally look for stocks under 0.5 or less. It is ideal to find a company's assets that are not financed by debt. Many investors can tolerate higher ratios.
nasdaq:otel has recently crossed the 200 MA and continues in a range. A breakout at a resistance level roughly around 12.5 would indicate the continued uptrend. A break below support at approximately 11.50 with a retest of resistance may define a new downtrend. It is ideal to wait for the breakout in either direction to confirm trading decisions, either to the upside or downside.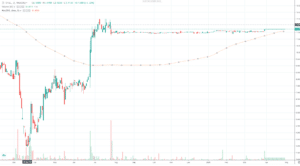 Otelco maintains steady volume and trades above the 200MA, indicating a possible continuation of the uptrend. The stock is not overbought or oversold at this time. Although this is not the best indication of when to buy or sell as stocks can remain overbought or oversold for years. Waiting for confirmations of price action is always best.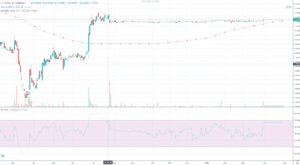 The company continues to trade in a range and has remained in that range since last May. A breakout in either direction with a retest would confirm a continuation or change of trend.
nasdaq:otel – Financial news
nasdaq:otel Fourth Quarter Operational And Financial results
The entire revenue for the fourth quarter of 2020 is $15.5M, and $62 M for 2020

Operating income for 2020 is $11.5M

Net income for 2020 is $6.3M

Reduced debt to $65.9M
The results are based on the company's execution strategy of data speed enhancements throughout the fourth quarter.
The revenues declined by 0.5% for the fourth quarter due to reduced access fees and voice services. This was offset by increased internet, transport, and managed services.
Summary
nasdaq:otel is fully committed to meeting the consumer's needs for internet speed, even though the company faces challenging times due to the pandemic. The company saw its customer base increase by 1.1% in 2020. At the end of 2020, the projects provided gigabit internet capability to over 27% of the market. The company also increased available speeds of up to 75mbps to around 9% of the market. Currently, Otelco has roughly 21% speeds ranging up to 75mbps. The company's main objective is to improve its service capabilities and adding new customers. The company will continue to invest in its broadband networks and deliver faster internet services.
nasdaq:otel Insider Buying
many companies perform well in the years after insider buying, but on the other hand, it can proceed with challenging periods for a company. But it is reasonable to highlight if insider buying matters. Many investors do realize that company leaders will buy or sell stock in the company. But, most countries will require a discloser of these transactions.
The main aim for investors is not to follow insider transactions but to be aware of them and keep note of what is going on in the company. It is said that insiders are more likely to buy their own company's stock when they are about to reveal new agreements with suppliers or customers.
The most significant insider buying was $1.5M of shares, and was happy to purchase the shares for around $11.52, suggesting that they had confidence in the company's future.
It is always welcome to see some insider buying, but it is important to note if they are below the recent share price.
Investors always like to keep a check on how much of the company is owned by insiders. It can be assumed as a good sign when insiders own significant company shares. Insiders currently own roughly $21M of shares, 52% of the company. It is an excellent sign to see such a percentage in a company and reflects on how it has the best interests for its shareholders.
The insiders have indeed shown a lot of interest in this company. With its high insider ownership, it would indicate that the insiders think it has merit. While it is always good to keep track of insider buying, it is also good to consider the company's risks before making any investment decision.
Otelco fundamentals are good overall, and the general trends within the telecommunications sector project growth and stability into 2028. This is mainly due to increased consumer demand for high-speed internet access and mobile subscriptions.
nasdaq:otel entire revenue for the fourth quarter of 2020 is $15.5M, and $62 M for 2020; this was mainly due to its customer base increasing by 1.1% in 2020. The company's main objective is to improve its service capabilities and adding new customers.
Investors always like to keep a check on how much of the company is owned by insiders. It can be assumed as a good sign when insiders own significant company shares. Insiders currently own roughly $21M of shares, 52% of the company. It is an excellent sign to see such a percentage in a company and reflects on how it has the best interests for its shareholders.
Buy or sell
There are many reasons you would want to buy nasdaq:otel, many reasons to sell the stock, and perhaps you have reasons to avoid it altogether.
If you are on the sell-side, you may consider the company's debt, and you may await the price to dip below the 200 MA or a breakout under 11.50 (support) to confirm a new downtrend. You may also wait for a decline in volume or an overbought reading to confirm your decision.
You might not be pleased about the company's fundamentals and perceive it as being overvalued. You may not agree with insider buying or the overall business operations of the company.
If you are on the buy-side, you may like the fundamentals and perceive the company to be of excellent value.
You may also believe it is undervalued and shows growth potential. You may see it as a good sign that the company is trading above the 200MA in a range, and you eagerly expect a breakout above 12.5 (Resistance) for a continued uptrend and waiting for a retest (pullback) to test the new support. You may wait for confirmation with increased volume or price going into the oversold area.
Either way, you look at nasdaq:otel, it is a potential player in the communications sector showing promise to investors and traders. The telecommunications industry is a growing sector with growing consumer demand for high-speed access and mobile subscriptions. This is one of the major industries for prominent technological advances throughout the last decade.
If you enjoyed reading nasdaq:otel. You might also enjoy reading about otcmkts: cnttf—a company producing medical and recreational cannabis throughout Canada.
Discover all the objectives and growth strategies of this pioneering company, discovering whether it is a buy?
Stock Analyzers aims to bring you stocks that show potential for future growth and development. To be informed, sign up for our newsletter, receive up-to-date information immediately straight to your inbox, and be informed ahead of the crowd.